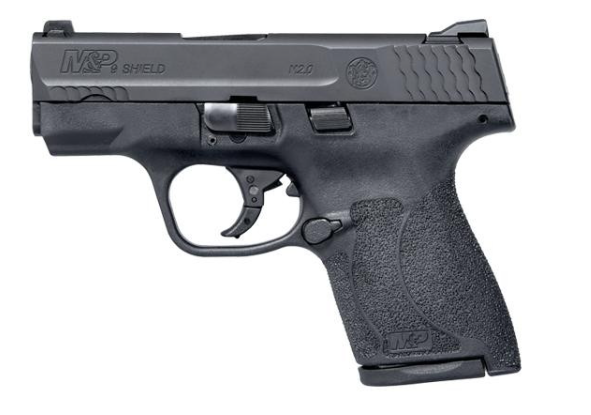 Single-stack 9mm pistols offer a slimmer profile and reduced weight compared to their double-stack counterparts. They're ideal for concealed carry, but sacrifice capacity. For many, the tradeoff is well worth it.
Quick links:
There are a lot of great single-stack 9mms on the market. Let's get into them.
If you wear your single stack in a KYDEX holster, get our holster pad and enjoy pure comfort!
What is a single stack?
Single-stack pistols align ammo in a vertical stack for a slimmer gun profile. This vertical ammo lineup creates a streamlined profile, perfect for discreet carry. While you sacrifice capacity, the payoff is a featherweight firearm that practically vanishes under clothing. 
Single-stack guns do not have bulky grips to imprint tell-tale lines across your cover outfit.
Why a single stack?
The slender frames of single stacks disappear under clothing like a spy on a secret mission, free from revealing lumps, bumps, or the dreaded printing effect.
While double-stack magazines cram in more rounds, some single-stack 9mms serve up 10, 11, or even 12+ rounds of compact firepower.
And single stacks shine where it matters most—the range. Their slender grips reduce wrist torque, while light frames and low recoil equate to lightning-fast target acquisition and follow-up shots.
7 best single-stack 9mm guns
For shooters prioritizing easy concealment and lightweight carry, single-stack 9mm pistols pack high performance in petite frames. These compact firepower houses are optimized for discreet everyday carry without sacrificing reliability or capacity.
The best-in-class single-stack 9mms include
Glock 43

Smith & Wesson Shield

Sig Sauer P220

Springfield Armory XD-S Mod. 2

Ruger LC9s

Walther PPS M2

Kimber Micro 9
Glock 43
Glock 43
Image source: https://us.glock.com/en/pistols/g43
Caliber: 9x19mm

Capacity: 6+1 rounds

Length: 6.26 inches

Height: 4.25 inches

Width: 1.02 inches

Barrel Length: 3.39 inches

Weight: 17.95 oz (unloaded)
The Glock 43 features a slim profile with a width of just over 1 inch. Despite its small size, it still offers a full grip length for a secure hold and accurate shooting.
The polymer frame absorbs recoil effectively while the matte black finish resists corrosion and wears well over time. The pistol uses a striker-fired action with Glock's safe action system featuring three automatic safeties. The trigger has a relatively short takeup and reset for faster shooting.
Lights on the Glock 43 consist of dot sights with a white outlined rear and white dot front. The sights allow for one-handed operation to rack the slide if needed. Standard magazines hold 6 rounds but extended 7-round magazines are also available. With the flush-fit 6-round magazine, the G43 is a highly concealable pistol. Despite the short barrel length of just over 3 inches, the Glock 43 is accurate at typical self-defense distances.
"The Glock 43 is a well-rounded firearm that blends power, comfort, and reliability into a compact package. It's perfect for concealed carry, backed up by an impressive track record and the trust of countless users worldwide. Whether you're new to the Glock family or a long-time fan, the Glock 43 is worth considering for your everyday carry." —Sharp Shooter Optics
Smith & Wesson M&P Shield
Smith & Wesson M&P Shield
Image source: https://www.smith-wesson.com/product/m-p-9-shield-ez-no-thumb-safety
Caliber: 9mm

Capacity: 7+1 rounds

Length: 6.1 inches

Height: 4.6 inches

Width: 0.95 inches

Barrel Length: 3.1 inches

Weight: 18 oz (unloaded)
The M&P Shield is under 1 inch wide and is one of the thinnest single stack 9mms available.
The M&P Shield features a polymer frame with an aggressive grip texture. The ergonomics allow for a natural point of aim. The striker-fired action has an excellent trigger with a short, crisp break. Sights are simple with a white dot front and a white 2-dot rear. Controls like the slide release and magazine release are easy to operate.
Standard magazines hold 7 rounds. Magazine extensions with grip sleeves are available for 8 rounds while keeping the flush fit for concealed carry. The 3.1-inch barrel provides a good balance between size and velocity. Accuracy is suitable for self-defense needs out to 25 yards or more. The polished feed ramp aids reliability with various ammunition types.
This user's wife loves the Shield as it is "100% reliable so far and extremely accurate."
Wear your Shield with comfort with a GunZee holster pad.
Sig Sauer P220
Caliber: 9mm

Capacity: 8+1 rounds

Length: 7.1 inches

Height: 5.5 inches

Width: 1.5 inches

Barrel Length: 4.4 inches

Weight: 27.5 oz (unloaded)
Sig fit a flush 8+1 single stack magazine into the P220's durable alloy frame—impressive for a full-size 9mm. The P220 maintains concealability with its 1.5" width.
The 4.4" barrel and 7.1" overall length provide a smooth, accurate shooting experience. The DA/SA trigger allows the first double-action pull with subsequent single-action pulls. This traditional Sig trigger promotes precision shot placement. The ergonomic grip has frontstrap checkering for control.
Low-profile combat night sights make quick work of sight acquisition in all conditions. The stainless steel slide has front cocking serrations and a Nitron finish for extreme corrosion resistance.
Springfield Armory
XD-S Mod. 2
Caliber: 9mm

Capacity: 7+1 rounds

Length: 6.3 inches

Height: 4.4 inches

Width: 1 inch

Barrel Length: 3.3 inches

Weight: 23 oz (unloaded)
The Springfield Armory XD-S Mod.2 has a slim 1" profile and compact 6.3" length for easy concealment, while still providing a 7+1 9mm capacity. The striker-fired trigger allows for a short, crisp pull. The grip texture and contours promote a secure, controllable hold.
The low-profile sights on the XD-S Mod.2 consist of a fiber optic front paired with a Tactical Rack rear sight, supporting rapid target acquisition. The match-grade 3.3" hammer-forged barrel enhances accuracy. Despite its petite size, the XD-S Mod.2 handles recoil very effectively.
Weighing just 23 ounces unloaded, the XD-S Mod.2 carries comfortably on the waist or in a pocket holster. The snag-free design enables efficient draw from concealment. This micro-compact 9mm combines portability and 7+1 capacity.
Ruger LC9s
Caliber: 9mm

Capacity: 7+1 rounds

Length: 6 inches

Height: 4.5 inches

Width: 0.9 inches

Barrel Length: 3.12 inches

Weight: 17.2 oz
Following the success of their LC9 model, Ruger upgraded it with a striker-fired trigger system to create the LC9s.
This pistol utilizes a durable polymer frame that minimizes weight yet still absorbs recoil effectively. The textured grip frame provides a secure hold during rapid fire. The LC9s feed ramp and barrel are specially treated for reliability with a variety of 9mm loads.
With its 7+1 capacity in a flush-fitting magazine, the LC9s provides ample firepower in such a small, concealable package. The long, light trigger pull aids accuracy for follow-up shots. Sights are basic but usable, with a fixed front and adjustable 2-dot rear. The blued, alloy steel slide resists corrosion and keeps weight down. 
Walther PPS M2
Caliber: 9mm

Capacity: 6+1 rounds

Length: 6.3 inches

Height: 4.4 inches

Width: 1.04 inches

Barrel Length: 3.2 inches

Weight: 21 oz
The Walther PPS M2 is one of the thinnest single stack 9mm pistols on the market with a width just over 1 inch. It builds on the original PPS design with ergonomic upgrades adapted from the Walther PPQ.
The PPS M2 uses a striker-fired trigger for smooth, consistent performance. The trigger guard and grip have been enlarged and textured for better control and handling. It also has a reversible magazine release and slide stop.
This pistol utilizes 3-dot steel sights for greater visibility and accuracy at self-defense distances. The 3.2" barrel provides reliable performance and accuracy in a compact package. The PPS M2 is available with 6 or 7-round magazines. Despite its slim profile, the all-steel construction provides durability and weighs 21 ounces unloaded.
"The Walther PPS is only an inch thick and weighs 21.5 ounces. The PPS is 6.3 inches long and packs a nice 3.2-inch barrel. There are smaller guns, but the Walther PPS does an excellent job of combining concealment and firepower." —CrossBreed Holsters
Kimber Micro 9
Caliber: 9mm

Capacity: 6+1 rounds

Length: 5.6 inches

Height: 3.9 inches

Width: 1.1 inches

Barrel Length: 2.75 inches

Weight: 15.6 oz
Despite its tiny size (just 5.6" long and under 16 ounces unloaded), the Micro 9 delivers full-size firepower with its 6+1 capacity. The polished feed ramp ensures reliability with a variety of 9mm ammunition. The slide is stainless steel for durability, while the frame is lightweight aluminum alloy.
This micro-compact pistol maintains excellent Kimber accuracy and handling. The single-action trigger provides a smooth, crisp break ideal for accuracy. machining and quality control result in match-grade accuracy from the 2.75" barrel.
Buy our holster pad and get the best of the EDC carry of your Kimber Micro.
What to look for in a single-stack 9mm gun?
There are several key factors to keep in mind when you're choosing the optimal pistol for your needs. When comparing quality options, focus on the following:
Size and dimensions. Carefully weigh dimensions like length, height, width, and heft. Find a frame petite enough to vanish under clothes yet ample enough to get a solid grip.

Magazine capacity. Look for options that provide the highest capacity in a flush-fitting magazine for the size. Larger capacities like 10+ rounds in ultra-compacts are a plus.

Trigger qualities. The trigger pull should be smooth, consistent, and have a clean break. Striker-fired pistols often excel here.

Sights. Distinct, high-visibility sights like night sights or fiber optics are beneficial. Low snag sights also aid draw from concealment.

Ergonomics. A firm grip with proper texture and contours to fit your hand allows for better control and comfort during shooting.

Reliability. Ensure excellent track record with varying ammunition types. Durable construction and finish are also ideal.

Accuracy. Expect reliable accuracy within typical self-defense distances of 3-10 yards. Match grade barrels provide enhanced precision.
What are the best concealed carry holsters for single-stack 9mms?
If you want a secure and concealed carry of your single-stack, choose the right CCW holster. Here are the top holster options, broken down by carry position:
IWB holsters

AIWB holsters

Pocket holsters

Ankle holsters
IWB holsters
Inside-the-waistband (IWB) styles allow tucking the pistol into the waistband of your pants for easily concealed protection. Quality IWB holsters include:
The Vedder LightTuck is a molded KYDEX holster with an adjustable retention and cant. The slim, streamlined fit hides easily while still enabling a smooth draw.

The Crossbreed MiniTuck has a hybrid leather and KYDEX design with a protective Sight channel. The leather backer and wing provide all-day comfort while the KYDEX shell secures the pistol.

The Black Arch Entrada is designed for micro pistols like the Sig P365. The tuckable KYDEX construction disappears under just an untucked shirt.
AIWB holsters
Appendix carry positions the pistol upfront for a fast draw. Top appendix carry holsters include:
The Tier 1 Concealed Axis Slim hugs the body for comfort yet provides full trigger guard protection. The wedge ramps help push the grip into the body.

The Tulster Profile has adjustable retention and cant perfect for dialing in appendix carry. The sight rail protects optics.

The Blackpoint Tactical MiniWing has a leather wing that keeps the grip tight to the body for a concealed appendix carry draw. The KYDEX shell secures the pistol.
Pocket holsters
Holsters must keep the pocket pistol properly oriented and debris-free. Good choices for pocket carry include:
The Alabama Pocket Holster has a leather construction that wraps the pistol to keep it lined up correctly in the pocket while also protecting the trigger.

The DeSantis Super Fly is a sticky rubber holster that helps the pistol stay put in the pocket. The smooth exterior aids the draw.
Ankle holsters
Ankle carry provides easy access while seated. Options such as ComfortTac Ankle Rig offer an adjustable neoprene panel with a velcro strap to secure the small pistol.
Ammo considerations for single stack 9mms
The current offer of high-quality 9mm defensive ammo is better than at any period in history. Here are our top choices:
Federal Premium HST 9mm Luger 147gr. This proven hollowpoint bullet expands reliably even from short barrels while providing controllable recoil. The low flash propellant aids visibility in low-light shooting.

Speer Gold Dot 9mm +P 124gr. The bonded core and uniform mushrooming make this an excellent option. The +P loading boosts velocity from short barrels for solid expansion.

Hornady Critical Defense Lite 9mm Luger 100gr. This lightweight flex tip bullet reduces recoil for quick follow-up shots. The polymer tip aids expansion and the crimped case prevents setbacks.

Winchester Defend 9mm Luger +P+ 127gr. The nickel-plated case resists corrosion while the silver hollowpoint jumps to about .60 caliber for deep penetration. Higher velocity than standard pressure.

Federal Premium Punch 9mm Luger 124gr. This flavor of Federal HST uses a dual-diameter hollowpoint designed to penetrate tough barriers and then expand for maximum terminal performance.
Single-stack 9mm FAQ
Does Sig make a single stack 9mm?
Sig Sauer makes several popular single-stack 9mm pistol options. 
The P238 is among the smallest 9mm single stacks at just 5.5" overall length and weighing barely over 15 ounces unloaded.

The P938 gains a bit more velocity from its 3" barrel while retaining a super slim profile.

P225 is an older metal-frame Sig 9mm model with an 8+1 round capacity. Originally designed in the 1970s for police and military use.
Does Beretta make a single stack 9mm?
Beretta offers a few single-stack concealed carry 9mm options for shooters wanting that slim Beretta quality.
The Beretta Nano stands out as an ultra-compact 9mm with a low-profile ambidextrous slide release. It carries 6+1 rounds in the flush magazine.

Beretta also makes the slim, lightweight Pico which serves up 6+1 rounds of 9mm in a minuscule package.

For the ultimate in deep concealment, the Beretta Bobcat in 9mm provides 7+1 rounds in an all-metal frame just over 1" wide. 
What 9mm do most police use?
The most commonly used 9mm handgun among police forces in the United States is the Glock 17. Other popular police 9mm models include the Smith & Wesson M&P, Sig Sauer P320, Beretta 92FS, and Glock 19.
Many police forces issue and carry 9mm pistols loaded with Speer Gold Dot or Federal HST ammunition as their standard duty loads. These premium jacketed hollowpoint rounds provide impressive expansion and penetration in FBI protocol testing, meeting the demanding requirements for law enforcement duty use.
Do Navy SEALs use Glock or Sig?
Currently, most Navy SEAL teams have transitioned to using the Glock 19 as their standard sidearm, replacing the venerable Sig P226. The Glock 19 was chosen for its lighter weight, larger standard magazine capacity, reliability in maritime conditions, and high-visibility sights. But Sig still maintains a presence with SEAL teams who use the Sig MK25 variant of the P226 piston which features corrosion-resistant coatings. 
Which is better: Glock 43 or Sig P365?
For concealed carry, the Sig P365 gets the edge for its higher 10+1 round capacity and larger grip compared to the Glock 43's slim 6-round magazine. The P365's longer sight radius also aids accuracy while its XRAY3 sights stand up to abuse.
But the Glock 43 remains one of the thinnest, lightest options which some find ideal for deep concealment. While the P365 has more rounds on tap, the Glock 43 wins on comfort and shootability for those with small hands. 
Which Glocks are single stack 9mm?
The two main single-stack 9mm pistols from Glock are the subcompact Glock 43 and the slightly larger slimline Glock 48.
The Glock 43 remains one of the most popular choices packing 6+1 rounds in a height of just over 4 inches. The Glock 48 is a great balance of capacity and concealability, holding 10 rounds in a flush-fitting, svelte magazine.
Other Glocks like the G42 and G36 are single stacks but chambered in .380 ACP.
Does Taurus make a single stack 9mm?
Taurus offers a few single-stack 9mm pistols focused on the concealed carry market. The Taurus 709 Slim 9mm is an ultra-thin DA/SA pistol carrying 7+1 rounds. The Taurus Spectrum provides color options with its polymer .380 ACP and 9mm models holding 6+1 rounds. 
Which is better: single stack or double stack?
For concealed carry, single stacks often get the nod for their slim dimensions that make daily carry more liveable. But double stacks offer more magazine capacity in a compact package, providing more shots on tap should you need them.
Further reading
What is the best concealed carry holster for a small frame?
What are the best concealed carry guns for seniors?
What are the best summer carry pistols?
What is the best CCW holster for sitting?
How can I make concealed carry more comfortable?
What are the best CCW guns for big guys?
What is the most comfortable IWB holster?
What is the easiest pistol to conceal?
What is the best 9mm subcompact pistol?
What is the best compact pistol for appendix position?