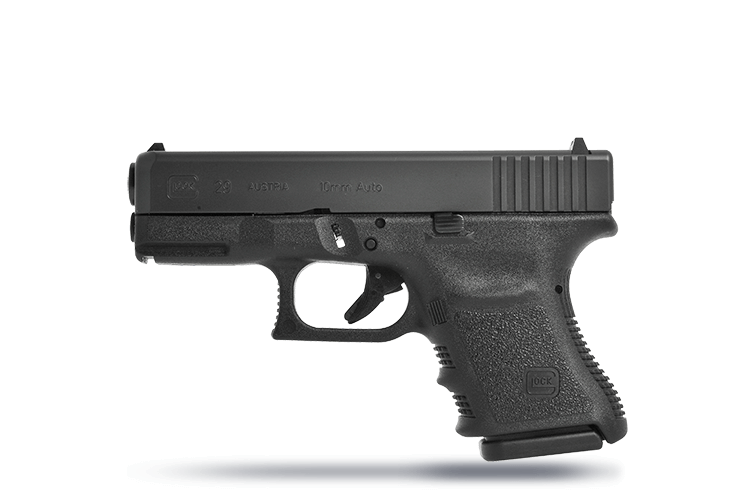 Glock is a top gun brand in the concealed carry community. They perform well, are recognized for their quality, and offer great value-to-price.
Quick links:
How do I choose the right Glock?
Glocks are easily among the most reliable handguns ever manufactured. That's why they're used by law enforcement officers, special operations people, and other demanding roles.
Let's go through the best concealed carry Glocks in different calibers to find the right one for your needs! 
Add a level of comfort to your everyday carry with GunZee foam padding! It is so comfy, you'll forget your Glock is even there.
Best 9mm Glocks for concealed carry
9mm dominates as the most popular pistol caliber, and Glock offers abundant options in this versatile round. Let's take a tour of the top 9mm Glock handguns
Glock 19
Glock 19
Image source: https://us.glock.com/en/pistols/g19
Quick specs:
Caliber: 9x19mm

Capacity: 15+1

Barrel length: 4.02 in

Overall length: 7.36 in

Slide length: 6.85 in

Width: 1.34 in

Height: 5.04 in

Unloaded weight: 23.63 oz
With widespread availability of accessories and holsters, plus adoption by law enforcement, the G19 is a proven performer. It enables fast and intuitive shooting thanks to the lack of external safeties and natural pointability.
The polymer frame minimizes weight for comfortable all-day carry. And the matte finish shrugs off corrosion and glare. It also features a removable slide plate for optical sights, a reversible magazine catch, and an ambidextrous slide release—making it suitable for left and right-handed shooters.
Some downsides include the blocky grip being too large for small hands. Also, despite being a "compact" pistol, its thickness can make IWB carry challenging for slender builds.
"Ladies, you can't go wrong with the G19. Though it suffers some areas of improvement, overwhelmingly the Glock 19 is a solidly built pistol that offers enough modularity to keep things interesting. With the ability to add aftermarket accessories and a bevy of holster options to choose, the G19 earns high marks and proves why it remains one of the most sought after carry guns on the market." —Jacki Billings, Guns
Glock 43X
Glock 43X
Image source: https://us.glock.com/en/pistols/g43
Quick specs:
Caliber: 9x19mm

Capacity: 10+1

Barrel length: 3.41 in

Overall length: 6.5 in

Slide length: 6.06 in

Width: 1.1 in

Height: 5.04 in

Unloaded weight: 18.7 oz
The single-stack Glock 43X provides a 10-round capacity while maintaining a supremely concealable profile.
At just 6.5 inches long and 1.1 inches wide, the 43X vanishes under light clothing. The slimline grip enables comfortable IWB carry for most body types. Yet the full-length grip allows a solid purchase for accurate shooting.
The minimalist 43X shares the renowned Glock reliability and durability. The matte finish and polymer construction hold up to daily carry. Despite the slim frame, recoil remains manageable thanks to the locked-breech system.
The 43X has excellent ergonomics. The natural pointability, light, and consistent trigger pull, and lack of external safeties make it fast and intuitive to operate under pressure.
Downsides include limited capacity compared to double-stack options. Some with larger hands may find the slim grip too cramped. And while compact, it's slightly taller than pocket pistols.
"I love the way it shoots," says this redditor about his G43X.
Glock 48
Glock 48
Image source: https://us.glock.com/en/pistols/g48-us
Quick specs:
Caliber: 9x19mm

Capacity: 10+1

Barrel length: 4.17 in

Overall length: 7.28 in

Slide length: 6.85 in

Width: 1.10 in

Height: 5.04 in

Unloaded weight: 20.74 oz
The 48's slender, single stack build combines with a 10+1 round capacity to give you a "best of both worlds" scenario: discreet carry with decent capacity. It offers the renowned Glock reliability and accuracy in a condensed size. The mild recoil and crisp trigger keep you on target for fast follow-up shots.
The reduced grip width conceals superbly but is a bit puny for shooters with bigger hands. Extensions add capacity but also footprint.
The Glock 48's longer barrel and sight radius promote enhanced accuracy compared to smaller subcompact handguns.
The nearly 7.3-inch overall length may print or poke, especially for smaller-framed shooters. Those prioritizing deepest concealment may prefer a shorter-barreled gun.
Although this redditor thinks finds the G48 to be sufficient for his needs.
Glock 45
Glock 45
Image source: https://us.glock.com/en/pistols/g45
Quick specs:
Caliber: 9x19mm

Capacity: 17+1

Barrel length: 4.02 in

Overall length: 7.44 in

Slide length: 6.85 in

Width: 1.34 in

Height: 5.47 in

Unloaded weight: 24.48 oz
The G45 has an impressive 17-round magazine capacity, more than any other gun model on the list. It combines features from the Glock 19 and Glock 17 to create a handgun well-suited for tactical and home defense uses.
The polymer frame with steel slide and barrel construction stands up to heavy use. The G45 features the Safe Action system with three automatic safeties to prevent accidental discharges if dropped. The trigger pull is smooth.
One downside is that the G45 lacks any accessory rails for mounting lights or lasers. The polymer sights are basic and may need an upgrade for more serious use. The grip texture could be also more aggressive. 
If you wear your G45 in an IWB KYDEX holster, get our holster pad. No more discomfort while sitting or standing.  
"Very accurate, not a single failure in 1,500+ rounds," says this YouTube commenter about his G45.
Glock 26
Glock 26
Image source: https://us.glock.com/en/pistols/g26
Quick specs:
Caliber: 9x19mm

Capacity: 10+1

Barrel length: 3.53 in

Overall length: 6.50 in

Slide length: 6.26 in

Width: 1.26 in

Height: 4.17 in

Unloaded weight: 21.52 oz
The Glock 26 stands out as a highly capable concealed carry pistol due to its portable size and impressive firepower. This subcompact packs a 10+1 capacity in a footprint small enough for daily concealment.
Despite the short 3.53-inch barrel, the G26 maintains sufficient velocity for self-defense needs. The frame withstands heavy use thanks to Glock's polymer construction, while the ergonomic, comfortable grip enables control even for small hands.
Accuracy comes easy with the smooth, light trigger and inherent precision of the fixed barrel design. Perceptive recoil stays manageable courtesy of the dual recoil spring assembly.
The G26 may be not the best CCW gun for those with big hands due to its shorter grip. 
Best Glocks in other calibers
9mm is the most popular concealed carry caliber, but some folks prefer a smaller caliber (for concealability) or a larger caliber (for knockdown power). Even though Glock is most well-known for its 9mm guns, it has some great offerings in other calibers as well. 
Let's see some of the most popular Glocks in alternative calibers.
Glock 29
Glock 29
Image source: https://us.glock.com/en/pistols/g29-sf
Caliber: 10mm Auto

Capacity: 10+1

Barrel length: 3.78 in

Overall length: 6.97 in

Slide length: 6.77 in

Width: 1.38 in

Height: 4.53 in

Unloaded weight: 26.81 oz
The Glock 29 is a favorite big-caliber gun for outdoor enthusiasts. While you can carry it concealed, it's bulkier than most 9mms—many folks like to open carry it where allowed. 
10mm Auto is less common than .45 Auto or 9mm, but its knockdown power is fantastic. 
Despite the short 3.78-inch barrel, the potent 10mm cartridge generates significant muzzle velocity and energy. The 29's polymer frame absorbs recoil well.
Glock reliability carries over to the G29 with fixed sights and a striker-fired trigger system. The grip frame accepts full-sized 10mm magazines for added capacity.
The snappy recoil of full-power 10mm ammo in such a light pistol can pose a challenge for new shooters to control.
This YouTube reviewer loves the G29 for its accuracy and concealability—"It is very easy to conceal and packs a lot of power."
Glock 23
Glock 23
Image source: https://us.glock.com/en/pistols/g23-gen5
Caliber: .40 S&W

Capacity: 13+1

Barrel length: 4.02 in

Overall length: 7.28 in

Slide length: 6.85 in

Width: 1.34 in

Height: 5.08 in

Unloaded weight: 26.67 oz
The Glock 23 is a compact pistol holding 13 rounds in a double-stack magazine. The polymer frame and striker-fired operating system deliver Glock's renowned reliability.
The barrel provides adequate sight radius for accuracy as well as a slide and frame length suited for concealed carry. The grip texturing and ergonomic angle give shooters a secure, controllable hold.
The fixed steel sights support quick target acquisition. The clean, light trigger enhances precision shooting while the short, positive reset improves speed for follow-up shots.
The manageable recoil is snappier compared to 9mm due to the .40 S&W chambering. This harder recoil is the tradeoff for the flatter trajectory and energy of the .40 caliber round.
A downside is that .40 S&W ammo is costlier and has harsher felt recoil compared to 9mm, without much added terminal performance.
The reviewer thinks the G23 "is reliable, easy to use, disassembles easily, and shoots in any condition."
Glock 30S
Glock 30S
Image source: https://us.glock.com/en/pistols/g30s
Caliber: .45 ACP

Capacity: 10+1

Barrel length: 3.78 in

Overall length: 6.97 in

Slide length: 6.77 in

Width: 1.38 in

Height: 4.80 in

Unloaded weight: 22.75 oz
The Glock 30S condenses .45 ACP power into a concealable subcompact pistol. With a magazine size of 10 rounds, it provides substantial firepower for its compact frame.
At just 3.78 inches, the barrel keeps the slide and sight radius short for discreet carry yet maintains enough velocity from the large caliber. The dual recoil spring further tames .45 ACP recoil forces.
However, the wide frame required to fit the double stack .45 magazine inhibits concealability compared to a single stack subcompact. The minimal dimensions also sacrifice some controllability relative to a full-size gun.
"For me, the gun was accurate and fast out of the box. If I were to use the 30S for conceal carry, I would personally opt to change out the sights for night sights… All in all, I really like the Glock 30S and it'll be interesting to see if it's successful." —Chris Cheng, The Firearm blog
Glock 42
Glock 42
Image source: https://us.glock.com/en/pistols/g42
Caliber: .380 Auto

Capacity: 6

Barrel length: 3.25 inch

Overall length: 5.94 inch

Slide length: 5.75 inch

Width: 0.98 inch

Height: 4.13 inch

Unloaded weight: 13.76 oz
The Glock 42 is a good deep concealment pistol chambered in .380 Auto caliber. Its small size and lightweight design make it easy to hide and conceal, even for beginners. It is a great gun for female carriers as they can hide it easily under a dress or in leggings. 
The .380 Auto caliber is smaller than 9mm and doesn't have much stopping power.  When paired with modern personal defense ammunition, with minimal recoil it offers it offers reasonable self-defense capabilities for concealed carry.
The Glock 42's dimensions and weight make it a comfortable firearm to carry for extended periods without causing discomfort or printing issues.
For this YouTube commenter, the G42 is a favorite EDC gun.
Glock 44
Glock 44
Image source: https://us.glock.com/en/pistols/g44
Caliber: .22 LR

Capacity: 10+1

Barrel length: 4.02 in

Overall length: 7.28 in

Slide length: 6.85 in

Width: 1.26 in

Height: 5.04 in

Unloaded weight: 14.64 oz
Although the Glock 44 is not a typical choice for concealed carry, it deserves a spot on our list. This is a compact Glock that is designed for training and practice, offering the familiar Glock platform with the benefit of lower-cost ammunition. 
The G44 has the same feel and control as large Glock handguns, making it ideal for both beginners and experienced shooters. With the different swappable backstraps supplied with the pistol, it can be adapted to nearly every hand size.
The Glock Marksman Barrel (GMB) is standard on the G44 for greater accuracy and precision. It also includes two load-assist magazines, an ambidextrous design, and adjustable rear sights.
How do I choose the right Glock for concealed carry?
With so many great Glocks to choose from, it's tough to narrow down to just one. What's right for the next person may not be best for you. To figure out the best Glock for you, think about the following factors:
Body type. Larger pistols can be harder to conceal on petite or slender frames. Full-size grips may print obviously through clothing. But very small pistols sacrifice controllability and ammo capacity. 

Hand size. A compact pistol grip that fits snugly in a smaller hand may feel cramped and awkward for someone with thicker fingers or larger palms. Conversely, generously sized grips can feel loose and unwieldy in smaller hands. 

Hand strength. Polymer frames help reduce fatigue compared to all-steel builds since they weigh less. This allows you to carry comfortably longer. However, felt recoil may be sharper. Those with weaker hand strength may prefer calibers with softer recoil like 9mm over .40 S&W or .45 ACP.

Clothing choices. If you routinely wear tighter, more form-fitting clothing, a slim, compact pistol is less likely to print or show through your outfit. But with cover garments like jackets or looser shirts, a fuller-sized pistol can disappear more readily. 

Carry position. Guns carried

appendix style

require a shorter barrel and grip to avoid discomfort and printing issues when sitting. But positing a handgun at 4-5 o'clock on the hip can conceal full-size models well, especially for larger people with more back real estate.

Priorities. Added ammunition capacity requires physically larger magazines. So guns with high round counts tend to be less concealable. If power is paramount, larger calibers like .45 ACP offer enhanced stopping capability but come with more punishing recoil compared to smaller rounds.

Accessories. While lights, lasers, and red dot sights can enhance a pistol's capabilities, they also add bulk detrimental to concealed carry. Only add accessories that align with your intended use and balance their utility against concealability needs.

Handedness. Shooters who are left-handed will benefit most from

ambidextrous

magazine and slide releases. Though not absolutely necessary, they do provide more flexibility. 
Glock FAQ
Is the Glock 17 or 19 better for carrying?
The Glock 19 is generally considered better for concealed carrying than the Glock G17 due to its more compact size. Though the Glock G17 offers greater ammunition capacity with its standard 17-round magazine, the Glock 19 is smaller and lighter, making it easier to conceal while still providing respectable capacity with its standard 15-round magazine. 
What Glock is designed for concealed carry?
The Glock 43 and 48 are designed by Glock with concealed carry in mind. They are single-stack 9mm pistols with ultra-slim profiles to enable easy, comfortable carry. Other suitable concealed carry options include subcompact models like the Glock 26 and 42. Glock's slimline models in general are optimized for concealed carry applications.
Which Glock is easiest to conceal?
The Glock 43 is widely regarded as the easiest Glock pistol to conceal. Weighing only 18 oz unloaded, the Glock 43 features a slim, shortened grip and a small 6+1 round capacity. Its lightweight, highly compact frame allows the Glock 43 to virtually disappear under clothing. 
The Glock 42, Glock 48, and Glock 26 subcompact are other top contenders for the easiest Glock to conceal.
Is the Glock 45 better than the Glock 19 for concealed carry?
While the Glock 45 has a slightly larger grip than the Glock 19, it is basically the same width and height. The Glock 45 does allow 2 extra rounds in the magazine compared to the Glock 19's standard 15 rounds. However, the Glock 19 is a bit lighter. 
Overall, the Glock 45 offers no significant concealability advantage over the proven Glock 19 for concealed carry purposes.
Is a Glock 17 too big for concealed carry?
The Glock 17 is quite large for a concealed carry pistol, making it more challenging to conceal effectively compared to more compact firearm models like the Glock 19 and Glock 48. 
With proper CCW holster selection and clothing, it is possible for some shooters to conceal a full-size Glock 17 if they are willing to dress around the gun. But for most people, the Glock 17 is simply too big for comfortable everyday concealed carry.
Why do Navy SEALs use Glock 19 over 17?
Navy SEALs favor the Glock 19 over the larger Glock 17 due to the Glock 19's smaller, lighter profile making it better suited for missions where concealed carry is paramount. Though the Glock 17 offers more ammunition capacity, the SEALs value the superior concealability and handling of the Glock 19 for their unique mission requirements in the field. 
Can you pocket-carry a Glock 19?
While possible in a very large jacket pocket, the Glock 19 is too large for most people to effectively pocket carry. Typical pants pockets cannot accommodate the Glock 19's dimensions comfortably or safely. Models like the Glock 43, 42, and even 26 are much better suited for true pocket carry. 
The Glock 19 is best carried in a high-quality IWB holster for waistband concealment.
Which model of Glock is most accurate?
Glock pistols are known for their reliability over match-grade accuracy. However, the Glock 17 Gen 5 MOS tends to be regarded as the most inherently accurate model currently offered by Glock, owing to its longer sight radius, improved Marksman barrel rifling for improved accuracy, and optics mounting capability.
Is it safe to carry a Glock with a round in the chamber?
It is generally safe to carry a Glock pistol with a round chambered provided proper holstering and basic safety protocols are followed. All Glock pistols have multiple, passive integrated safeties that allow the gun to be carried safely with a round in the chamber. 
Further reading
What are the best concealed carry guns for seniors?
What is the most comfortable CCW holster?
What is the easiest pistol to conceal?
What is the best IWB holster for women?
What is the best compact pistol for appendix carry?