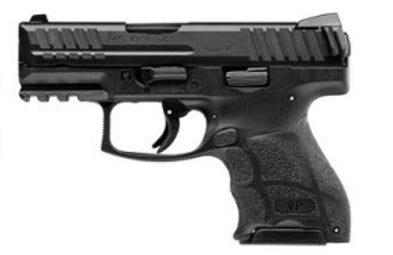 The perfect CCW 9mm balances concealability, capacity, and shootability. You need a petite pistol packing a serious punch. It should disappear under clothing yet still bring enough ammo to get the job done.
Quick links:
We've picked the best compact 9mm options for easy everyday carrying. Read on to discover which concealable powerhouse might be the ideal undercover sidekick to keep you safe.
Interested in firearms beyond 9mm? Our roundup of the best CCW guns should be interesting.
Get the Gunzee holster pad to experience the most comfortable IWB carry ever!
Sig Sauer P365
The Sig Sauer P365 packs an impressive 10+1 rounds of 9mm into a frame measuring just 5.8 inches long and 1.06 inches wide. This microcompact pistol features an extended 10-round magazine that provides double-digit capacity in a petite package that virtually disappears under clothing.
Despite its micro size, the P365 is a shootable gun. The textured polymer grip allows a secure hold, while the X-RAY3 three-dot tritium night sights enable rapid target acquisition in low light. The nitron stainless-steel slide and carbon steel barrel deliver durability and corrosion resistance.
Weighing just 22 ounces unloaded, the single-stack P365 is easy to carry daily. Its slim profile facilitates concealed inside-the-waistband or ankle carry.
User Reviews
On the Tactical Hyve, Travis Pike reviews the P365.
I've had a P365 for over a year now and have fired over 1650 rounds through it, so I feel I'm capable of addressing this little guy. There are newer models like the Sig P365 XL and the Sig P365 X Macro, but the original is still a popular, capable gun.
The small nature of the gun makes it very easy to conceal without printing. It takes zero effort in OWB or IWB carry configurations. It disappears under a shirt and in the pocket very easily. The gun is well suited for most people; even the most petite can easily conceal this little guy.
As Travis mentions, the P365 is great for IWB carry. A lot of shooters love to appendix carry this one.
Heckler & Koch VP9SK
The subcompact Heckler & Koch VP9SK packs the HK VP precision strike trigger system into a concealable 3.39-inch barreled frame. This striker-fired 9mm pistol's trigger delivers a light take-up, crisp break, and tactile reset ideal for accurate rapid fire.
To promote shootability, HK engineered the VP9SK grip with customizable interchangeable backstraps and grip panels. This ambidextrous pistol features bilateral slide releases and paddle-style magazine releases equally accessible for left or right-handed shooters.
For smooth manipulation, the VP9SK incorporates HK's patented charging supports to aid slide cycling and reloading. A Picatinny accessory rail enables adding a light or laser. The corrosion-resistant carbon steel barrel provides precision rifling, while superior metallurgy and finishes ensure durability.
User Reviews
Tiberious Gib reviews the VP9SK on his YouTube channel. "It's still the best shooting sub-compact pistol that I've shot so far," he says.
One commenter (on the same video) loves the VP9SK and sticks with the standard magazine because the extended mag tends to print.
Glock 43X
The Glock 43X packs 10+1 rounds of 9mm into a concealable slimline frame. This compact striker-fired pistol combines a short Gen5 trigger and grip with a slim subcompact slide.
The frame incorporates a built-in beavertail, reversible magazine release, and front slide serrations. The 3.39-inch barrel length suits close-range defensive use. The 43X retains fixed steel sights for durable and accurate aiming.
Weighing 19.2 ounces unloaded, the polymer-framed 43X suits all-day carry. Its ambidextrous design features bilateral slide releases and magazine buttons accessible by left or right-handed shooters. The matte surface finish resists corrosion and glare.
User Reviews
On the Firearms of America YouTube channel, a review proclaims the G43X a "perfect CCW gun because it is slim, light, and compact."
The 43X is a popular choice for IWB carry and can easily be worn in a variety of other configurations as well.
Springfield Armory Hellcat
The Springfield Armory Hellcat 9mm packs an impressive 11+1 rounds (or 13+1 with the extended magazine) into a concealable micro-compact frame. This pistol's patented magazine design provides double-digit capacity in a petite package.
The Gen 2 trigger enhances ergonomics. Ambidextrous controls like the reversible magazine release accommodate left or right-handed shooters. The loaded chamber indicator offers clear visual and tactile status indication.
The Hellcat ships with an 11-round magazine with pinky extension and 13-round extended magazine for substantial firepower. The bright Tritium U-Dot sights enable rapid target acquisition in any lighting. The textured grip delivers a secure purchase with comfort for prolonged carrying.
User Reviews
This redditor has had his Hellcat for a year and hasn't had "any problems with it."
If you're carrying your Hellcat in a KYDEX holster, apply our holster pad for the most comfortable CCW experience of your life.
Walther PPS M2
The Walther PPS M2 9mm packs 6+1 or 7+1 rounds into a super slim 1-inch thick frame perfect for concealed carry. This single stack concealed carry handgun features ergonomic enhancements for shooter control. The grip boasts generous texture and an undercut trigger guard enabling a firm grasp and precise aim.
The internal steel chassis provides rigidity for the slide-to-frame fit to maximize shooting accuracy. The cold hammer forged Walther barrel ensures precision rifling for exceptional accuracy from the PPS M2.
User Reviews
For this redditor, the PPS M2 is "one of the best carry guns out there."
Ruger LCR
The Ruger LCR (Lightweight Compact Revolver) utilizes an aerospace-grade aluminum or stainless steel monolithic frame for strength and reduced weight. This double-action 9mm revolver packs 5 shots into a compact 1.87-inch barreled frame ideal for concealed carry.
The LCR trigger features Ruger's patented cam design to promote a smooth, non-stacking pull for improved shooting control. Internal fire control components nest in a polymer housing to further trim weight. The fluted stainless steel cylinder cuts weight while retaining durability.
The customizable Hogue Tamer Monogrip minimizes perceived recoil for shooting comfort.
The replaceable ramp front sight enables rapid targeting, while the grip peg accommodates preferred grips. By combining advanced materials and design, the LCR makes a lightweight, accurate 9mm personal defense revolver.
User Reviews
This redditor thinks that the LCR is an "awesome pocket carry revolver."
What is the Smallest 9 mm?
The concealed carry pistol market has exploded with ultra-compact 9mm options. Nearly every major manufacturer now offers micro-compact 9mm handguns packing impressive firepower into tiny, easily concealable frames.
Here are some of the most popular and smallest 9mm CCW handguns:
Sig Sauer P365 features a 10+1 capacity in a micro-compact frame with excellent ergonomics for concealed carry.

Smith & Wesson M&P Shield EZ has adjustable magazine capacities and easy operation suitable for daily carry needs.

Ruger LC9s sub compact 9mm boasts a lightweight frame, smooth trigger, and effortless concealment for self-defense.

Kimber Micro 9 aluminum-framed pistol provides single-action operation and reliable performance for personal protection.

Walther PPS M2 has an ergonomic grip, crisp trigger, and trusted reliability for everyday concealed carry.
Make your IWB concealed carry holster comfortable with our magical holster pad!
What are the 6 Best Micro Nines on the Market Today?
The best microcompact 9mm pistols offer a winning balance of power, performance, and packability. Today's mini 9mm handguns fit 10+ rounds or more into remarkably compact frames built for concealed carry.
Here are 6 of the best micro 9 options hitting the sweet spot between size and shooting ability.
Smith and Wesson M&P 9 Shield packs impressive 10+1 or 13+1 round capacities into a concealed carry optimized slimline frame. The M&P's take-down lever and sear deactivation allow safe disassembly and cleaning. An extended flat face trigger enables precise fingertip placement while the audible reset facilitates rapid follow-up shots. Textured grip surfaces provide a secure hold and optimal 18-degree natural point of aim. The durable Armornite finish resists corrosion and wear from daily carry.

Ruger Max-9 balances a 10-round capacity with a 3.2-inch barrel in a compact and ergonomic polymer frame ideal for concealed carry. The textured grip promotes weapon control and recoil management while the smooth and consistent trigger break with tactile reset allows for quick shooting. Ruger built this 9mm pistol with a durable black oxide finish on the slide and barrel and included a visual inspection port to safely check chamber status.

Walther PDP packs an impressive 15+1 rounds into a full-size frame optimized for performance. The excellent 5-pound Performance Duty Trigger provides exceptional accuracy shot after shot while the serrated slide and grip texturing enable positive weapon manipulation. The PDP comes optics ready for adding a red dot sight, with adapters for many popular reflex optic mounting patterns. Ambidextrous controls make this pistol suitable for both left and right-handed shooters.

Glock 26 perfectly blends concealability and 10-round firepower thanks to a double stack magazine in a subcompact package. Glock's Safe Action System ensures consistent and safe trigger pull shot to shot. The G26 handles smoothly and brings full-size shootability to a micro-compact 9mm ideal for discreet everyday carry.

Sig Sauer P365 XL packs 12+1 rounds into a micro-compact frame with a 3.7-inch barrel. An extended grip allows full three-finger hold while the straight trigger design enables fast, accurate shots. The P365 XL comes optics ready and accepts Sig's micro red dots for enhanced precision. This 9mm includes low-profile sights and an ergonomic grip with stippling for positive control. The nitron coated stainless steel slide resists corrosion.

Springfield Hellcat OSP pairs 11+1 capacity with a 3-inch barrel and Optical Sight Mount for adding a micro red dot sight. Adaptive Grip Texture molds to the shooter's hand for a custom fit. The Hellcat's flat trigger enhances accuracy while the Melonite-finished slide stands up to daily carry. Front and rear sights co-witness with a mounted optic. A loaded chamber indicator provides tactile and visual confirmation of a round in the chamber.
The YouTube commenter thinks MP9 Shield is a "great value."
This YouTube commenter loves his Ruger Max 9. He wasn't a fan of the stock trigger, so he installed the new one.
"I'm very happy with my PDP," says this redditor about his gun.
This redditor carries the G26 and "couldn't be happier with it."
If you carry your gun inside the waistband, apply our memory foam pad and enjoy CCW nirvana!
What is the Best Micro 9mm with Red Dot?
Micro 9mm pistols benefit greatly from optic sights enhancing target acquisition with their short barrels and small frames. Miniature red dot sights seamlessly integrate with concealed carry.
Here are three top micro 9mm pistol options equipped with factory red dot sights:
The Springfield Hellcat OSP comes optics-ready with adaptable mounting for adding micro reflex sights. This diminutive 9mm packs up to 13 rounds into an adaptive grip frame. The milled slide accepts red dots like the Hex Dragonfly providing fast sighting on a micro-compact defensive pistol.

The Sig Sauer P365 XL RX comes with an integrated ROMEOZero reflex sight mounted to its slide. This 9mm striker-fired pistol conceals easily with a compact slide and extended grip holding 12 rounds. The seamless optic integration optimizes this micro-compact quick aiming capabilities.

The SW MP Shield Plus Performance Center 9mm pairs a crisp, light trigger with a 4-inch barrel and integrated Shield SMSc red dot sight. Performance Center tuning and included fiber optic sights maximize this optic-equipped micro 9mm's precision shooting potential for concealed carry.
On Firearm News, Patrick Sweeney gave a long review of the Hellcat OSP.
The standard Hellcat models are built with regular sight systems. They also have the rear slide serrations machined to run up and over the top of the slide. You can score a Hellcat with a fiber optic front blade, if that's what you want. On the OSP, the rear serrations are subdued where they run over the optics plate. There are two torx-head screws that hold the plate in place. Remove those, and you can then install a red-dot optic.
One detail that I like is that the optics plate does not include the rear sight, that stays on the slide. So, swapping the plate for an optic doesn't change the rear sight, and the optics bed is machined low enough that you can still see the iron sights through the optics window.
The end result is an every-day carry pistol in 9mm that holds twelve or fourteen rounds, with a red dot. A pistol so compact you can easily carry it in comfort.
The Best 9mm FAQ
What are the best 9mm CCW guns?
Some of the best 9mm concealed carry handguns are:
Sig Sauer P365

H&K VP9SK

Glock 43X

Springfield Hellcat

Walther PPS M2

Walther CCP

Ruger LCR

Sig Sauer P320

Canik TP9 Elite SC

Sig P226

CZ P-10C

Taurus G3C

Ruger LCP

Beretta APX

Sig P938
Is 9mm good for CCW?
Yes, 9mm is widely considered a suitable caliber for concealed carry. It offers a good balance of manageable recoil, effective terminal performance, and a wide range of ammunition options. Its compact size and high-capacity magazine options make it a popular choice among concealed carry practitioners for self-defense purposes.
Why does the FBI carry 9mm?
The Federal Bureau of Investigation (FBI) issues 9mm handguns as the standard sidearm for its agents. There are several key reasons why the FBI chose the 9mm cartridge:
The 9mm offers a good combination of stopping power, accuracy, magazine capacity, manageable recoil, and lighter weight compared to larger pistol calibers. More specifically:
Stopping Power. 9mm has been shown to have sufficient stopping power in most situations. The FBI concluded that more powerful rounds like .45 ACP did not have significantly better stopping power compared to modern 9mm loads.

Capacity. 9mm handguns can hold more rounds (typically 15+ rounds) than larger calibers like .45 ACP. More rounds means agents have to reload less often.

Accuracy. The 9mm cartridge is generally more accurate than larger pistol rounds. This allows for more accurate shooting in high-stress situations.

Recoil. 9mm has relatively manageable recoil, making it easier to fire multiple accurate shots quickly. Less recoil helps agents maintain accuracy.

Weight. 9mm handguns weigh less than those chambered in .40 S&W and .45 ACP. Less weight makes the guns easier to carry all day.

Transition. Many agents have used 9mm handguns in the military and in previous law enforcement jobs. Maintaining one caliber helps simplify training and logistics.
The 9mm strikes a good balance of stopping power, capacity, accuracy, recoil control, and weight, making it a logical choice for the FBI's standard sidearm.
Is 9mm OK for self-defense?
The 9mm cartridge is a very popular choice for self-defense handguns. No single caliber is perfect. There are always tradeoffs. The 9mm offers a good combination of stopping power, accuracy, magazine capacity, and manageable recoil.
While larger calibers like .40 S&W and .45 ACP offer better stopping power, the 9mm has narrowed this gap with modern ammunition designs. The 9mm is generally more accurate and controllable than larger calibers, allowing for faster follow up shots. The 9mm also allows for higher magazine capacities in a given handgun size. More rounds available means less frequent reloading needed in a defensive situation.
9mm handguns also tend to be smaller and lighter weight than those chambered in larger calibers. This makes them easier to conceal carry for self defense use. The 9mm has relatively mild recoil which helps smaller-framed shooters manage it better for accurate shooting. The lighter recoil also makes rapid shooting easier with better control.
While no round is perfect, the 9mm hits a sweet spot of being effective at stopping threats, accurate, and controllable. The combination of these traits along with the high capacity and smaller and lighter guns makes the 9mm a very appealing choice for many people looking for a self-defense handgun. For these reasons, the 9mm has become the most commonly carried self-defense caliber.
Is 9mm OK for home defense?
Yes, 9mm is considered a good caliber for home defense. It offers a good balance of stopping power and controllability, making it effective for self-defense situations.
9mm ammunition is widely available and offers a variety of options, including hollow point rounds designed for self-defense, which can effectively stop an intruder while minimizing the risk of over-penetration. 9mm handguns are often compact and easy to handle, making them suitable for home defense scenarios.
Is 9mm enough to stop an attacker?
A 9mm handgun can absolutely stop an attacker when used properly. Here are some key points on the effectiveness of 9mm for self-defense:
With modern ammunition, the 9mm has excellent stopping power that is capable of incapacitating an attacker. Advancements in bullet design have significantly improved the 9mm's ability to penetrate and expand compared to earlier ammunition.

Shot placement is the most critical factor in stopping an attacker, more so than caliber. Well placed shots from a 9mm to vital areas will be effective at ending the threat. Proper defensive shooting technique is essential.

The FBI and many law enforcement agencies have concluded the 9mm has sufficient stopping power after extensive testing. Many agencies have shifted away from larger calibers like .40 S&W back to 9mm.

The 9mm is generally more controllable and easier to make fast follow up shots compared to larger/more powerful rounds. This allows accurate shot placement under stress.

Higher magazine capacities (typically 15+ rounds) mean more shots available to stop the threat and less frequent reloading.
While no handgun caliber comes with a guarantee of instantly stopping an attacker, the 9mm is highly effective when used properly by a trained shooter. The combination of modern bullet technology, shot placement skill, and controllability makes the 9mm a wise choice for defensive situations.
How far will a 9mm carry?
A 9mm bullet can potentially travel up to three miles. At that range, the bullet will not retain enough kinetic energy to reliably incapacitate a human-sized threat. And, while a 9mm bullet can travel three miles in ideal conditions, what it hits at that distance is entirely up to chance.
Are 9mm guns strong?
9mm guns are generally considered to be strong and reliable firearms. The 9mm cartridge is a popular choice for both civilian and military use due to its proven performance and effectiveness. Modern 9mm handguns are designed and manufactured to withstand the pressure generated by the cartridge, ensuring their durability and reliability.
How big is a sub-compact 9mm?
Sub-compact barrels are typically around 3.25 inches, though some are a little longer, some shorter. The overall length hovers around 6.25 inches, but some with stubby barrels come in at less.
Is it better to have a thumb safety or not?
Many experienced concealed carriers prefer to carry with a manual thumb safety because it gives them more confidence. Carrying with a manual safety engaged adds another layer of defense against the gun being accidentally discharged.
What guns can you put a Crimson Trace on?
Here are some popular firearm brands and models that are typically compatible with Crimson Trace laser sights:
Glock (e.g., Glock 17, Glock 19, Glock 26)

Smith & Wesson M&P Series (e.g., MP-9 Shield EZ, MP Compact)

Sig Sauer P320, P226, P229

Ruger LCP, LC9, SR9

Springfield XD, XD-S, XD-M

Beretta 92, PX4

Kimber 1911

Walther PPQ, PPS

CZ P-01, P-07, P-09

Canik TP9SF

Palmetto State Armory
Further Reading
What are the best CCW guns for new shooters?
What are the best appendix holsters for females?
What is concealed carry reciprocity?
What is the best Taurus G3C holster?
What is the best Taurus G2C holster?