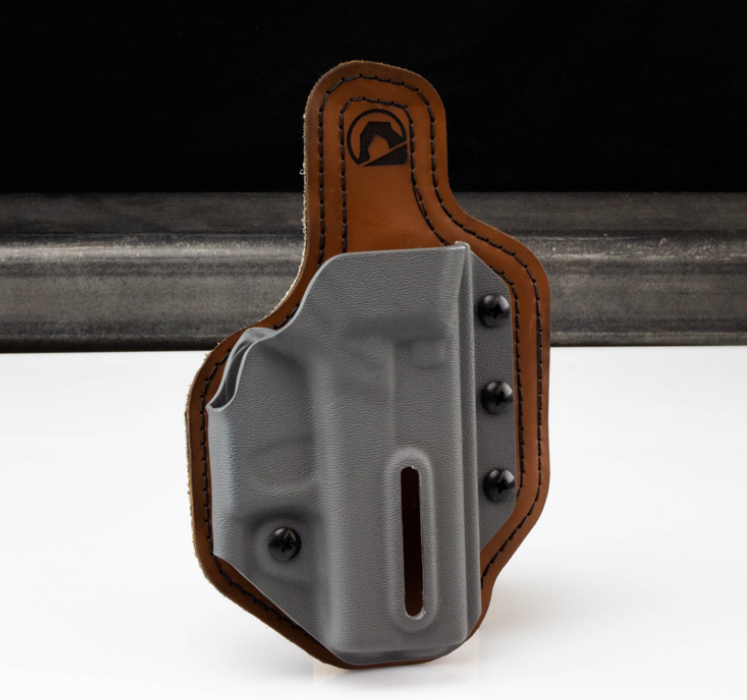 An IWB holster that jabs your side will drive you nuts. You need a holster that feels natural, like a seamless part of your body.
Remember, concealed carry is all about being prepared, not being in pain.
Quick links:
What holster is best for fat guys?
What is the best IWB position?
Whether you carry appendix or behind the hip, we've got supremely comfortable IWB holster picks for you.
Don't settle for discomfort; buy a GunZee holster pad and enhance your IWB holster!
Factors to consider in an IWB holster
Optimize these key factors to find your most comfortable IWB holster. As you shop, be sure to evaluate:
Material and construction. Leather molds to your body over time but requires a break-in period. 

KYDEX holsters

 

are durable and have great retention, but their rigidity can make them uncomfortable—unless you slap a 

GunZee memory foam pad

 

on them. Hybrids blend a KYDEX shell with a leather or fabric backing for rigidity and comfort.

Adjustability. Look for holsters with adjustable ride height, cant, and retention. This allows you to customize the angle and fit as needed. Greater adjustability means you can fine-tune the holster to your preferences.

Shape and contours. Seek a holster shaped to fit your specific body type. An IWB 

CCW holster

 

should contour your natural shape rather than digging into sides or stomach.

Padding and sweat guards. 

Our holster padding

 

makes IWB comfortable, especially during long periods of wear. 

Retention. Proper adjustable retention allows a smooth draw while keeping your firearm secure. The tension should be enough to hold the gun in place but not so much that drawing is difficult.

Positioning and ride height. Depending on whether you wear your holster at your appendix, hip, or small of back, adjust your ride height to match your typical carry position.

Weight when loaded. A lightweight holster avoids excessive sagging, slipping, or the "loaded diaper" effect. Excess weight drags the holster down.
Now that you know what to look for, let's dive into the five most comfortable IWB holsters today.
Black Arch Protos-M
Blackarch SINGLE CLIP IWB PROTOS-M holster
Image source: https://www.blackarchholsters.com/products/iwb-single-clip-protos-m/
This hybrid holster combines a leather backing with a KYDEX shell for the best of both worlds.
Metal clip design distributes weight evenly

Adjustable retention, cant, and ride height allow custom fitting

Full-length sweat guard protects firearm and body

Leather backing molds to the body, KYDEX shell allows reholstering

Minimizes printing through innovative shape
| | |
| --- | --- |
| Pros | Cons |
| All-day comfort from perfect weight distribution | Long break-in period for leather backing |
| Customizable to tweak angle, ride height, and retention | Lacks thumb release for grip without unholstering |
| Sweat guard and leather enhance comfort | |
| Easy on-off without removing holster | |
| Fully covered trigger guard | |
This redditor highly recommends the Black Arch Protos.
Alien Gear Cloak Tuck 
Alien Gear Cloak Tuck 3.5 IWB Holster
Image source: https://aliengearholsters.com/alien-gear-cloak-tuck-3-0-iwb-holster-inside-the-waistband.html
The Cloak Tuck combines flexibility with firmness for secure carry. Its KYDEX shell is molded specifically for each handgun model. KYDEX won't mar or scratch the firearm's finish as some materials can.
This gun holster offers adjustable retention so you can customize the precise amount of tension needed to hold your handgun securely in place. This adjustability ensures a perfect personalized fit.
Neoprene backer molds to the body for comfort

KYDEX shell allows reholstering and stability

Adjustable ride height, cant, and retention

Full sweat guard protects firearm and body

A tuckable C-clip allows a shirt to be tucked over a holster
| | |
| --- | --- |
| Pros | Cons |
| Customizable fit and carry angle | Bulky on smaller frames |
| Smooth draw and reholstering | |
| Conceals well | |
| Adjustable retention | |
| Ambidextrous options | |
Everyday Holsters Hybrid IWB Holster
This hybrid holster combines a KYDEX shell with a premium leather backer that conforms to your body over time.
Hand-molded KYDEX shell for rigidity

Premium leather molds to the body

Adjustable retention, ride height, and cant

Reduces printing through precise molding
| | |
| --- | --- |
| Pros | Cons |
| Comfortable hybrid design | Lacks full trigger guard |
| Smooth and easy draw | |
| Customizable  | |
| Fully adjustable | |
Foxx IWB Hybrid Holster
The Foxx IWB holster has adjustable cant and ride height and is made from super soft leather and durable KYDEX.
Hand-molded KYDEX shell for each firearm

Premium steer hide leather backing

Oval single clip for stability and excellent concealment

Adjustable retention, cant, and ride height

Minimal material between clips reduces the bulk
| | |
| --- | --- |
| Pros | Cons |
| Steel clips | Break-in time needed |
| Right and left-hand options | Sharp edges may need some filing |
| Easy to conceal | |
| Thinner holster profile than many hybrids | |
| Precise molding allows a smooth draw | |
Tulster OATH IWB Holster
The Tulster OATH is an all-KYDEX appendix carry holster with an innovative wedge design.
The wedge shape helps push the grip into the body

Adjustable retention, cant, and ride height

Minimal material between clips for comfort

Full sweat guard protects firearm and skin
| | |
| --- | --- |
| Pros | Cons |
| Sweat guard increases comfort | Aggressive retention can hinder reholstering |
| Thinner than hybrids with same stability | |
| Allows mounting at various heights and angles | |
| Wedge design enhances concealment | |
How to choose the right IWB holster
Keep the following factors in mind to find the right IWB holster, carrying position, and all-around setup.
Consider your body type and anatomy. Those with a longer torso do better with appendix carry, while a shorter torso favors behind-hip positions. Hip structure and gut size influence comfort as well.

Your ideal 

IWB position

 

depends on factors like comfort, accessibility, and clothing choices. Appendix, behind-hip, small-of-back, and cross-draw positions each have pros and cons to weigh.

Bulkier clothing like jackets and sweaters can conceal larger holsters. Minimize printing with streamlined holsters under lighter clothing.

Test different holsters for comfort and ease of draw. An ideal holster should keep the grip tight to the body without excess movement or twisting during the draw.

Join forums and groups to get feedback from experienced concealed carriers. They can provide recommendations based on your carry style, body type, and typical dress.

If you have a friend with the holster you're considering, ask to borrow it for a day or two. Wear it all day and see how it feels.

Consider getting professional training with your holster to practice safe drawing, reholstering, threat assessment, and more. A good instructor can help optimize your setup.
How to maximize the comfort of your IWB holster?
Maximize your concealed carry comfort with these simple tricks:
Break in leather holsters by wearing them around the house to mold the material to your body. Drawing and reholstering speed up the process.

Adjust ride height and cant to find your optimal positioning. Raise or lower ride height and experiment with forward and backward canting.

Try different carry positions like appendix, behind the hip, cross-draw, etc. to see what's most comfortable for your body type.

Add extra cushion with accessories like the 

Gunzee holster pad

. This is one of the best ways to dramatically boost comfort.

A quality gun belt evenly distributes weight without bending or sagging. This prevents the "loaded diaper" effect.

Maintain the holster by cleaning dirt and debris. Don't use oils or treatments that could loosen retention.

For hybrid holsters, replace worn leather backers when needed. The KYDEX shell should last almost indefinitely.
Optimal carry position and accessories like the Gunzee holster pad can make a dramatic difference in IWB comfort. Proper maintenance and small adjustments also combine to maximize everyday comfort.
What is the most comfortable IWB holster for fat guys?
Big-bodied guys (and gals) are just built different. What works for regular skinny folks may not work for us. Here are some IWB holsters that many larger folks have had success with:
Comp-Tac Infidel Ultra Max

Pegasus Slim Tuk

StealthGearUSA Ventcore 

CrossBreed Supertuck IWB
Comp-Tac Infidel Ultra Max
The Infidel Ultra Max uses two layers of premium suede leather for maximum comfort on larger frames. It distributes weight across a large surface area to avoid pressure points. The leather also molds to the body over time for a custom fit.
Pegasus Slim Tuk
This hybrid holster uses a Ventcore backer to promote airflow and keep skin dry. The core design creates space between the body and the KYDEX shell for cushioning. Reduced hotspots and moisture buildup prevent chafing.
StealthGearUSA Ventcore
The Ventcore's backing has perforated neoprene layers with a polymer core allowing air circulation. This adaptive fit and breathability reduce sweat buildup during long wear times. The distributed weight minimizes poke and pinch points.
CrossBreed SuperTuck
A premium leather backer combined with a W-shape clip design contours this holster to the body for distributed pressure. The cushy leather molds comfortably while still supporting the weight of a firearm.
This user loves the Pegasus for its comfort.
What is the most comfortable concealed carry position?
A lot of people claim that appendix carry is the most comfortable concealed carry position. Appendix carry positions the holster at the front of the body, around the 1-2 o'clock area.
Here's why folks like appendix carry:
Keeps the grip tight to the body, minimizing protrusions or twisting during movement.

Allows a more natural draw stroke coming up from the holster.

Spreads the weight of the loaded holster across the flat front of the body.

Makes sitting, driving, and other daily activities comfortable and accessible.

Keeps the firearm protected by the arm instead of exposed behind the hip.
Of course, body type, clothing choices, and other factors mean appendix carry won't be ideal for everyone.
If you choose to carry appendix, get the right AIWB holster and boost its comfort with our awesome padding. You will experience pure CCW nirvana!
IWB holsters FAQ
Who makes the most comfortable IWB holster for appendix carry?
There are several top brands that make really comfortable concealed carry holsters for appendix carry. 
Tier 1's Axis Slim is known for its slim, minimalist profile and adjustable retention while still being very comfortable.

Vedder's LightTuck has a smooth suede lining and a sweat guard for comfort.

Black Arch's Protos-M dual clip hybrid holster molds to your body over time.

Dark Star Gear's koala holster has a unique leather pad that prevents rubbing or pinching. 
What is the most comfortable material for holsters?
The most comfortable holster materials are suede, leather, and neoprene.
Suede lining creates a smooth, comfortable surface against your body.

Top-grain leather forms and molds to your shape over time for a custom fit.

Neoprene is a soft, flexible material that cushions and prevents abrasion.
KYDEX and other plastics can be smoothed and rounded at the edges, but leather and suede give the best soft, breathable comfort. 
Luckily, we have a solution for that uncomfortable KYDEX holster—our memory foam holster padding. Grab it, apply it, and forget that you wear it. That's how comfortable it is!
What holster do Navy Seals use?
Navy Seals most often use thigh holsters or drop-leg platform holsters to carry their sidearm. This allows them to access their pistol easily while wearing tactical vests, plate carriers, backpacks, or other bulky gear.
Popular thigh holster models include the Tactical Tailor Fight Light Thigh Rig, the Diamond D Leather thigh holster, and the G-Code thigh holster. 
For obvious reasons, Navy Seals are not concerned with concealment, so they prioritize accessibility and comfort.
What is the most comfortable IWB carry position?
Appendix carry is widely considered the best IWB position. It allows a more natural arm swing without the grip sticking out behind your hip.
Many people find appendix carry more comfortable when sitting as well. The gun is right in front rather than digging into your side or back. Just behind the hip at about 1-2 o'clock is another popular comfort spot.
But comfort depends on your body shape, so you may need to experiment with different carry angles.
Is KYDEX or leather more comfortable?
Leather is generally more comfortable than KYDEX for concealed carry holsters. Leather forms to your body over time and creates a custom fit. It's softer and more flexible. The material breathes better and resists moisture. Suede lining or backings add more comfort. KYDEX is very durable but the hard plastic can press uncomfortably if worn all day. GunZee padding makes KYDEX holsters comfortable.
What is the safest type of holster?
The safest holster types are level 3 retention holsters which provide active retention that must be released before drawing the firearm. This prevents attackers from grabbing the gun and provides more safety features. 
Common features include an SLS (Self Locking System) hood that must be moved or pressed to draw, a strap over the back of the slide, an internal locking mechanism, or thumb release buttons.
What kind of holster does the military use?
The US military uses several types of holsters depending on the specific branch, unit, and mission:
Thigh holsters with thigh straps or drop legs are common for holding a sidearm while wearing tactical gear.

Paddle holsters attach to belt or gear for flexibility. These are often used by vehicle crews for comfort while seated.

Shoulder holsters may be used by pilots or aircrews to keep a pistol accessible while strapped into a cockpit.

Ankle holsters provide a discreet backup gun option below pants legs.

Belt slide holsters attached to web gear are used by some troops to carry sidearms hands-free.
What is the most comfortable appendix holster?
Some of the most comfortable appendix carry holsters are:
Tier 1 Concealed Axis Slim

Vedder LightTuck

Black Arch Entrada

Dark Star Gear Koala

Tulster OATH

Bravo Concealment Torsion
Further reading
What is the best IWB position for fat guys?
Tips for CCW carry for small frame
What is the best concealed carry caliber?
What are the best CCW guns for big guys?
How do I wear an inside-the-waistband holster?
What is the best IWB KYDEX holster?
What is the best compact pistol for IWB carry?