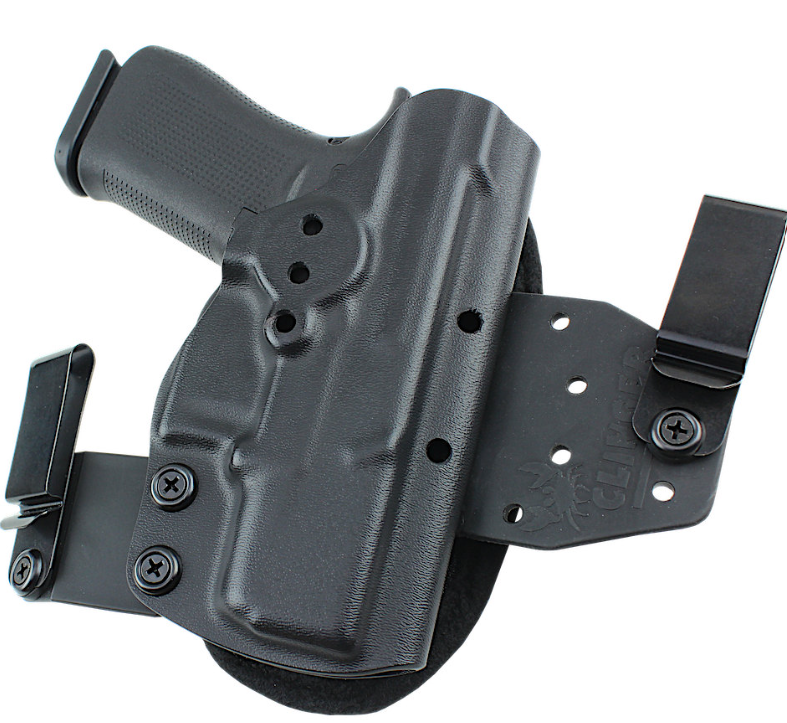 Inside the waistband (IWB) holsters allow women to discreetly carry without compromise. It's all about finding the perfect IWB holster for your body type, personal style, and preference.
Quick links:
Concealment Express IWB KYDEX holster
CanCan Concealment Micro Hip Hugger
What are the best holsters for leggings?
What are the best holsters for running?
What are the best holsters for dresses?
We'll get into some top picks for ladies looking to hide their CCW weapons.
For the most comfortable concealed carry ever, we've developed an amazing IWB holster pad. It will make you forget yoru gun is there. 
Alien Gear ShapeShift
Alien Gear ShapeShift Appendix Carry Holster.
Image source: https://aliengearholsters.com/alien-gear-shapeshift-appendix-carry-holster.html.html
The Alien Gear ShapeShift IWB holster is constructed with a soft, breathable neoprene backer that molds to the natural curves of a woman's body, preventing pinching or rubbing. The precise molding of the KYDEX shell to each firearm model ensures a custom, secure fit.
The adjustable cant settings (from 0-20 degrees) allow women to fine-tune the draw angle and grip ergonomics by adjusting the forward or rearward tilt. The ride height is also adjustable to optimize concealment and accessibility.
The slim, contoured shape of the ShapeShift IWB holster is designed for concealed carry, with a smooth finish that prevents snagging on clothing. Reviewers praise the durability of the materials and the quality of construction.
Pros
Fully adjustable cant and ride height

Soft neoprene backer molds to body contours

Lightweight at 5oz for comfortable all-day wear

Designed to conform to the female physique

Custom-molded shells for secure firearm fit

Durable materials and quality construction
Cons
May be bulkier compared to single-material holsters
YouTuber Kim appreciates the ShapeShift for its adaptability and concealment.
Concealment Express IWB KYDEX Holster
The Concealment Express (Rounded Gear) IWB KYDEX Holster is a minimalist inside-the-waistband holster made completely of 0.08-inch KYDEX. This makes it a durable yet lightweight EDC holster.
An adjustable screw allows tuning of the retention pressure, though adjustments are coarse rather than fine-tuned. There is an audible "click" when holstering to confirm the gun is fully seated, but retention is friction-based only.
Cant angles range from 0-15 degrees by loosening two Phillips head screws. However, adjusting can also impact ride height. The clips accommodate belts up to 1.75 inches wide and support appendix, hip, small-of-back, and other carry IWB positions suitable for women.
The sweat guard protects both the gun and clothing from wear and moisture. The minimalist design means the holstered gun profile is very thin, maximizing concealment.
For a basic KYDEX IWB holster with customization options, the Concealment Express is a quality choice. This is a perfect holster for many female shooters, and for beginners as well.
Pros
Lightweight and thin profile maximizes comfort

Adjustable cant supports configuring optimal draw angle and visibility for women's body types.

Sweat guard protects clothing from wear and skin from moisture.

Audible click provides reassurance gun is holstered properly.

Durable KYDEX construction stands up to daily use.
Cons
This Amazon user loves the Concealment Express holster—"No snap, no velcro, quiet."
CanCan Concealment Micro Hip Holster
The Can-Can Concealment Micro Hip Hugger is a women's compression holster made of 4-inch military-grade elastic with a velcro closure. It accommodates sub-compact semi-automatics under 4.5 inches and includes dedicated storage for up to 3 spare magazines. 
This holster can be worn IWB or OWB.
The non-slip lining keeps the holster firmly in position during wear. Rare earth magnets and an enclosed trigger guard allow smooth drawing while securely holding the weapon.
This gun holster supports right appendix carry or left/right kidney positions. The velcro closure enables fit adjustments as needed.
By using elastic material and multiple carry options, the Micro Hip Hugger maximizes comfort for extended wear. The spare magazine storage provides rapid access to extra ammo as required.
Pros
Strong rare earth magnets hold the weapon firmly in place

Accommodates up to three small semi-automatics, derringers, and three magazines.

Lined magazine pocket with decorative paracord.

Perfect for weapons under 4.5" in total length.

Elastic material and velcro closure provide a comfortable fit
Cons
Size limits larger compact and full-size firearms
This Amazon reviewer appreciates the Hip Hugger for its flexibility and comfort.
Clinge Hinge Holster
Clinge Hinge Holster. Image source: https://clingerholsters.com/product/iwb-hinge-holster/
The Clinge Hinge holster uses a leather hinge tab to pull the pistol grip tight to the body, optimizing concealment. This allows the KYDEX holster to collapse when not in use, minimizing printing.
It has adjustable retention to customize the tension securing the firearm. The overall footprint is more compact than typical IWB holsters for added discretion.
The dual belt clips distribute weight and support stability. An optional neoprene cushion can be added for comfort against the skin.
By pulling the pistol grip close to the body, this holster provides excellent concealment without sacrificing access or comfort. The hinge tab design makes it a great option for women seeking a very discreet IWB carry holster.
Pros
Hinge tab design pulls the pistol grip close to the body

Allows holster to collapse when not in use to minimize printing

Adjustable retention lets women customize tension as needed

Compact footprint aids discreet carrying

Dual belt clips provide stability and distribute weight

Optional cushion adds comfort against bare skin
Cons
The belt attachment system is less secure or less comfortable compared to other attachment methods, such as clips or loops. 
If your KYDEX holster is uncomfortable, our holster pad is the perfect solution! 
Tactical IWB Holster
The Tactica IWB holster is designed specifically for women's concealed carry needs. It uses a hybrid construction, pairing a custom-molded KYDEX shell with a slim neoprene backing. The neoprene contours to the body while allowing the skin to breathe.
The custom shell precisely fits the firearm make and model for a secure fit with no extra bulk. This protects the trigger guard while enabling a smooth, fast draw.
Adjustable retention and cant angle allow customizing the exact draw and angle for your preferences. The two-clip design provides additional stability on the belt or waistband.
At under 1 inch wide, this is one of the slimmest two-clip IWB holsters available. The narrow footprint combined with the customized molding enables exceptional concealability for women's wardrobes.
The Tactica IWB can accommodate right or left-handed draw. It uses high-quality materials and components made in the USA.
Pros
Slim neoprene backing contours to the body for comfort

Custom-molded KYDEX shell precisely fits firearm model

Adjustable retention and cant angle for customization

Two-clip design provides stability on the belt and waistband

Exceptionally concealable slim footprint design

Can accommodate right or left-handed draw
Cons
Not compatible with all belt widths
"Tactica IWB holster made concealing a lot easier than I thought it would. Earlier, I mentioned how well this holster molded to my body. This feature is what makes it effective for concealing. The smaller footprint and more refined clips also help this holster to conceal well. I wore this holster with a couple of different outfits and had no issues with printing." —The UsaCarry review
Pink Eco Leather Houston IWB Holster
ECO- LEATHER Pink Holster IWB With Metal Clip.
Image source: https://houstongunholsters.com/products/pink-eco-leather-holster-iwb-with-metal-clip
The ECO-LEATHER Pink Holster uses leather reinforced with nylon borders for durability. The inside is lined with soft suede to protect the firearm's finish.
It incorporates a metal clip designed for strong retention and hold during daily wear. At 5.47" x 3" x 1.6", this is a compact IWB holster focused on minimalist concealment.
The leather is sweat and water-resistant to guard against moisture. It fits subcompact .380 pistols under 6" in length, including models like the KelTec P-3AT and Ruger LCP.
The suede lining and reinforced construction protect the gun even during extended carry. The slim profile and durable metal clip provide discreet carry without unnecessary bulk.
Pros 
Eco-friendly material

Reinforced nylon borders for durability

Lined with soft suede to protect firearm finish

Sweat and water-resistant leather

Slim minimalist profile for discreet carry

Durable metal clip provides solid retention
Cons
This Amazon purchaser loves the Pink.
How do I choose the right IWB holster?
The right gun holster should provide both security and quick access to your firearm while maximizing comfort and concealability. Here are some things you should think about when choosing the right IWB holster:
Comfort and concealability
Look at where on your waist you intend to carry and your usual wardrobe. Avoid printing under your clothing by selecting a holster with a minimalist profile contoured to your body. Comfort features like a sweat guard can also prevent skin irritation when worn for prolonged periods.
Retention and security
The holster must adequately secure your firearm while also allowing a smooth draw when needed. The level of retention can be passive friction or active locking. 
Passive retention uses friction to hold your gun in place, while active retention utilizes an actual physical barrier, such as a retention strap, to keep your gun in the holster.
Material
Leather, injection-molded KYDEX, and hybrid designs each offer pros and cons. Leather molds to your body but requires a break-in period. KYDEX provides rigidity but can be less comfortable. Hybrid options blend materials for rigidity, comfort, and customization.
Fit
A holster precisely fitted to your specific firearm model ensures proper coverage of the trigger guard and secure carry. Adjustable features like retention, cant, and ride height allow tailoring the holster to your carry preferences.
What is the best women's IWB holster for leggings?
It can be difficult for women to find a comfortable and concealable holster to wear with leggings. Leggings tend to fit tightly and expose printing easily. Some popular holster options include:
The SmartCarry Concealed Carry Pouch fits in underwear to hold a subcompact pistol or backup firearm. It keeps the gun secure while wearing tight leggings. Zero printing.

The CrossBreed Appendix Carry Holster is an

AIWB holster

that has a small footprint and soft backing to contour the body. It sits in the appendix position to avoid printing at the hips.

The DeSantis Slim-Tuk IWB Holster has an ultra slim KYDEX construction that hugs the waistline tightly. Minimizes bulge compared to other IWB options.
What is the best women's IWB holster for running?
Running with a pistol in a CCW holster can be downright painful as the movement causes rubbing, chafing, and instability. But several smart designs address the challenges:
The Flashbang Betty is crafted for the female form with a breathable material that flexes naturally with the body's strides and absorbs impact. The lightweight, streamlined shape prevents printing under workout gear.

The Bravo Torsion is a hybrid holster with a built-in wedge on the side that pushes outward, leveraging pressure against the body to increase stability. Reduces sliding from sweat and bouncing.
What are the best IWB holsters for dresses?
A bulky holster under a dress can be easily seen. You don't want that. Here are some great options to choose to wear with your dress and not worry about printing or shifting:
The Undertech Undercover is an ultra-minimalist IWB holster that adheres tightly to the waistline. The slim shape avoids imprinting under light fabrics.

The Can Can Hip Hugger surrounds the hips for a secure hold and uses a thigh garter for stabilization. The snug, customizable fit prevents sliding.

The Lingerie Holster Bra Hook anchors directly onto the bra band for a fixed mount underneath clothing.
Useful tips for women who carry IWB holsters
You want an IWB holster that remains discreet under clothing yet allows a fast draw. Here's some useful tips to follow:
Choose clothing that does not hug or contour the body tightly. Flowy shirts and elastic waists help conceal the holster outline.

Experiment with

carry positions

like appendix, side hip, or back hip to find the most comfortable with easy access.

Practice drawing the firearm smoothly from the holster while concealed under clothes. Repetition builds confidence.

Choose a holster that protects your weapon against bumps, scuffs, drops, and theft, and also protects you and any bystanders from accidental discharge.

Clean debris from the holster regularly and check screws for tightness to maintain functionality and safety.
Buy a GunZee foam pad to enhance the comfort of your IWB holster. 
IWB holsters FAQ
What is the best holster type for a woman?
Many women find a hybrid holster offers a nice blend of materials for comfort while still allowing great retention and easy on/off. An IWB style also aids concealment under clothing. The ideal holster enables a woman to carry securely and comfortably during daily activities.
What type of IWB holster is most comfortable?
For maximum comfort in an IWB holster, a hybrid design pairing a rigid KYDEX shell with a soft leather or neoprene backer can mold to the body while protecting the firearm. This cushions and avoids abrasion. Retention and cant adjustments are also key for individualizing the fit and draw angle. 
Where is the best place to conceal carry for a woman?
The best place for a woman to conceal carry depends on factors like body type, usual clothing style, and personal preference. Common positions like the hip, appendix, back of waist, and even thigh hosters can work well. Try different locations with an unloaded firearm to find the most comfortable carry position that remains discreet while providing easy access.
What are the options for a female holster?
Women have many quality holster options from brands designed specifically for the female form. Bra holsters, IWB and outside-the-waistband (OWB) holsters, shoulder bags, corset and garter holsters, and thigh rigs all enable effective concealed carry. 
Is off-body carry a good option for women?
Off-body carry can be a good option for women who really don't like packing heat on their person. Carry bags offer women a discreet and stylish option for concealed carry—but they are riskier. 
If you are going to carry off-body, make sure that you invest in a quality concealed carry purse or bag that has a built-in holster and a dedicated compartment. Then, make absolutely sure you keep it out of the reach of children and strangers.
What is the safest type of holster?
A holster that fully encloses the trigger guard and keeps the gun securely attached to your body is the safest design. KYDEX and rigid polymer holsters offer protection and retention while preventing external items from entering the trigger guard. But hybrid holsters can also be highly safe by combining a rigid shell with comfortable backing material.
What is the best position to wear a holster while sitting?
An AIWB holster while sitting often rides most comfortably. A rear hip or back of waistband position can also work well. The key is ensuring the holster and grip don't dig into your side or spine when seated. Cant and ride height adjustments on an IWB holster can optimize the angle and holster position.
Is shoulder carry better than IWB?
Shoulder holsters can provide additional stability and easier access than an IWB when properly fitted. However, finding a comfortable shoulder holster that doesn't rub or shift can be difficult, and drawing from a waist holster may feel more intuitive for some people.
Is a plastic or leather holster better?
Both plastic and leather holsters have pros and cons. Leather molds to your body over time but requires more maintenance. Plastic KYDEX is lower maintenance but can be less comfortable. Many popular options use a hybrid design pairing materials to get rigidity, comfort, and ease on and off in one holster.
Should the holster be on the hip or thigh?
For female concealed carry, hip positioning often allows better comfort and accessibility than a thigh holster. But garter-style thigh holsters can also work very well, especially with snug-fitting clothing. 
What is a Type 2 holster?
A Type 2 holster has a hood fully surrounding the slide and prevents access to the trigger guard unless properly drawn. This "level 2" of retention makes a Type 2 concealed carry holster more secure than a basic exposed muzzle design while still allowing smooth access when intended. They are common for military and police use.
Is a belly holster comfortable?
Belly band style holsters wrap around the abdominal area to secure a firearm. Some find these comfortable for extended wear. Look for a belly holster with a rigid trigger guard enclosure and strong velcro or clips to keep the firearm firmly in place on your body when moving around or sitting.
What are the best types of holsters for women?
The best types of holsters for female concealed carry are:
IWB holsters

Ankle holsters

Thigh holsters

Bra holsters

Pocket holsters

Belly band holsters

Corset holsters
Another excellent choice for carrying a CCW  holster as a woman is concealment clothing. 
Further reading
What is the easiest pistol to conceal?
What is the best 9mm subcompact pistol?
Tips for successful concealed carry for a small body size 
What is the best compact pistol for the appendix position?
What is the best CCW gun for larger hands?
How to make seated appendix carry more comfortable?
What are the best concealed firearms for seniors?
What is the best concealed holster for IT specialists?
What is the best CCW gun for deep concealment?
Which guns are the best for summer?