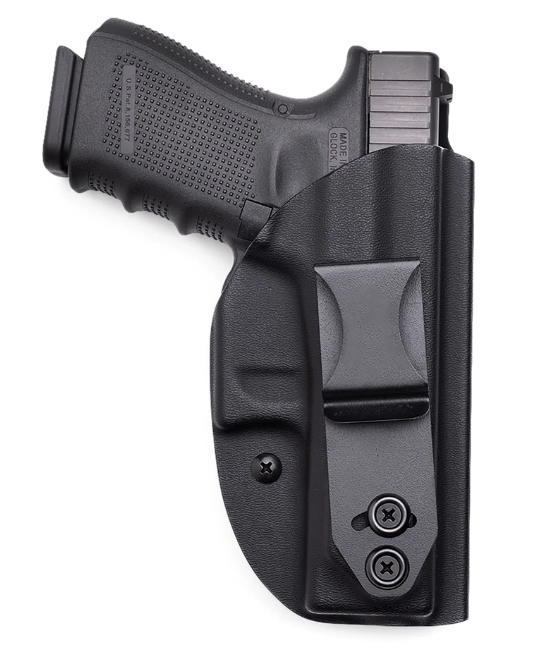 An uncomfortable concealed carry experience is the worst. A good holster can make all the difference. 
Quick links:
Comfort of different holster types
Comfort of different materials
Let's see some of the best holsters on the market to help you choose an option that feels right on your body.
How to Choose a Comfortable Holster
When it comes to concealed carry, comfort is key. Let's take a look at key factors in choosing the most comfortable gun holster ever. From materials to designs, we'll help you find the perfect holster that prioritizes comfort without compromising functionality.
And guess what? The GunZee holster pad will make any KYDEX holster more comfortable for waistband carry.
What Makes a Holster Comfortable?
The following factors contribute to making a holster comfortable:
Choose a carrying position that suits your body type and style. Some like 

IWB holsters

, while others prefer OWB. Appendix carry works for many, but not for everyone. Still others swear by chest, belly band, or even bra holsters.

Material and construction can make all the difference. Leather holsters are softer than rigid KYDEX, even though KYDEX has better safety and retention. Hybrid holsters offer the best of both worlds for many shooters.

Concealability: select a holster that minimizes printing, ensuring it remains concealed. 

Appendix carry

 

can help eliminate printing issues. Depending on your clothing and carry style, different holsters may work better for concealment.

Ability to quickly draw: choose holsters like IWB and OWB options that allow for quick and easy access to your firearm. Holsters that are covered by clothing or located in less accessible positions may compromise drawing speed.

Comfort while sitting: concealed carry IWB 

holsters should be comfortable while sitting

, but you may need to experiment with different positions to find what works best for you. We wrote an 

article on seated appendix carry

 

that covers some good options. 

Pad any KYDEX holster with a 

GunZee memory foam pad

. It makes 

inside the waistband carry

 

a whole lot more comfortable.
As one redditor points out, "comfortable is subjective." What annoys one person is no big deal to another.
Comfort of Different Holster Types
Different holster types each have their pros and cons in the comfort department.
IWB and AIWB Holsters
Alien Gear Cloak Tuck 3.0 IWB Holster.
Image source:https://aliengearholsters.com/alien-gear-cloak-tuck-3-0-iwb-holster-inside-the-waistband.html
IWB holsters can be worn in different positions (side carry, appendix, 5 o'clock, etc.). Appendix holsters are a popular choice among IWB enthusiasts, as they minimize printing for many body types.
Pros:
Safety

Good retention

Stiff material, trigger guard protected

Easy to conceal carry

Fast draw speed

Good adjustability—height, cant, angle, position, retention
Cons:
Can be less comfortable when sitting, depending on body type and holster

Printing with tight clothing or for some body types
OWB Holsters
OWB (outside the waistband) holsters come in a variety of styles (thigh, drop-leg, belt, etc.) and are not typically intended for concealed carry. If you do not need to conceal your holster, OWB holsters are a comfortable option. 
Pros:
Safety 

Good retention

Stiff material, trigger guard protected

Fast draw speed

Good adjustability – height, cant, angle, position, retention

Multiple configurations available – thigh/belt, drop leg, etc. 

More comfortable than IWB
Cons: concealed carry options limited; deep concealment difficult. 
Shoulder and Chest Holsters
Springfield Hellcat Shoulder Holster.
Image source: https://aliengearholsters.com/springfield-hellcat-shapeshift-shoulder-holster.html
While shoulder and chest holsters are not recommended for beginners, they are excellent for heavier handguns. 
Pros:
Fastest draw speed

Active or passive retention, depending on model

Either leather or KYDEX, molded to firearm shape

Good adjustability

No problems when sitting with proper clothing
Cons:
Concealed carry needs very specific clothing, not universal

Bulkier, takes more time putting on & taking off
Ankle Holsters
Springfield Hellcat Ankle Holster.
Image source: https://aliengearholsters.com/springfield-hellcat-ankle-holster.html
Ankle holsters are not suitable for all situations and are best for a really small (backup) gun. 
Pros:
If KYDEX integrated, good safety

Good for sitting for prolonged periods

Decent adjustability
Cons:
Slowest draw speed

Need to wear loose pants to avoid printing

Weight interferes with gait
Belly Band Holsters
Avoid belly band holsters without KYDEX reinforcement because your trigger will be less protected, increasing the risk of accidental discharge. 
Pros:
Fits all body types and positions

Good for sitting for prolonged periods

Decent adjustability

Good draw speed

Easy to conceal with looser clothing
Cons:
Can't wear tight clothing

Sweating from having it against the skin
Pocket Holsters
A pocket carry holster is an IWB holster that you carry in your pocket. These work for very small guns; anything bigger than a microcompact will be bulky for pocket carry. 
Pros:
Safety

Good active retention

Stiff material, trigger guard protected

Easy to concealed carry with bigger clothes
Cons:
Only for small firearms

Poor accessibility

Holster and guy might fall out of pocket
Comfort of Different Holster Materials
Your choice of holster materials will definitely influence how comfortable the holster is, especially if it's an IWB or AIWB holster. Unfortunately, some of the most comfortable options are the least safe and secure.
KYDEX, Boltaron, and polymer holsters are rigid and custom-molded to provide a secure fit and good retention for your firearm. Their rigidity can be uncomfortable, digging into your body. 

Our awesome holster padding

 

fixes this issue.

Hybrid holsters combine different materials, usually fabric or leather with KYDEX, to offer a balance between comfort and retention. The soft material against the body can provide a more comfortable feel compared to full KYDEX holsters. However, hybrid holsters tend to be bulkier, which is a drawback.

Leather holsters are softer and more flexible, which makes them more comfortable. They are also more expensive and have less secure retention than their KYDEX counterparts.

Nylon, Cordura, and fabric holsters are more comfortable than KYDEX and cheaper than leather. Like leather, they have poor retention, making them more hazardous.
Tips for Comfortable CCW Carry
Here are some useful tips to make your CCW carry comfortable. 
Choose the right holster: selecting a holster that suits your body type, preferred carry position, and 

concealed carry gun

 

model is crucial for comfortable concealed carry. Consider factors such as material (e.g., KYDEX, leather), carry position (IWB, OWB), and retention method (passive or active) to find the optimal balance of comfort and security.

Proper gun belt selection: a sturdy CCW gun belt designed specifically for concealed carry helps distribute the weight of the firearm evenly, reducing discomfort and preventing the holster from shifting. Look for belts with reinforced cores and adjustable buckles to achieve a secure and comfortable fit.

Dress appropriately: your choice of clothing can greatly affect comfort while carrying. Opt for loose-fitting garments, such as untucked shirts, jackets, or blouses, to prevent printing and allow for easier access to your firearm. Consider lightweight and breathable fabrics in warmer climates to minimize sweat and discomfort.

Experiment with carry positions: finding the right carry position for your body type and daily activities is essential. Common options include appendix carry, strong-side hip carry, or small of the back carry. Experiment with different positions to determine what works best for you in terms of comfort and accessibility.

Invest in quality holster accessories: enhance comfort by utilizing holster accessories such as padding, sweat guards, or holster pads. These additions can help reduce friction, protect your skin, and improve overall comfort during extended periods of wear.

Listen to your body: pay attention to any signs of discomfort or pain during carrying. Adjustments may be needed, such as altering your holster position, adjusting ride height, or exploring different holster options. Or getting 

our holster pad

.
Best IWB/AIWB Holster
The Tier 1 Axis Elite is an appendix carry holster that has a range of impressive features. It's easily one of the best AIWB holsters on the market, in our opinion (and also in the opinions of many other AIWB enthusiasts).
Boasts an even slimmer design for comfortable and discreet concealed carry.

Features a concealment ridge on the magazine for added discretion.

Magazine retention has been moved inside the holster, reducing its overall size.

Designed to accommodate optics and suppressor height sights for enhanced versatility.

Offers more ergonomic access to the magazine.

Strategically placed gusseting enhances strength in critical areas.

Non-light bearing holsters feature a concealment wing, while light bearing holsters come with a concealment claw.

Utilizes military-grade shock cord that allows the firearm to flex closer to the body for improved concealment and comfortable movement.

The shock cord can be easily replaced if needed and is available in different colors.
This redditor recommends the Axis. "Tier 1 has been the best holster and most comfortable."
Best OWB Holster
The 1791 GunLeather OWB holster is arguably the best OWB holster on the market. It is handcrafted using premium, full-grain leather that looks good, is durable, and feels great.
The holster is custom molded to provide a perfect fit for specific firearm models, ensuring a secure and snug hold.

The open-top design allows for a smooth and quick draw, enabling fast and efficient access to your firearm when needed.

The thumb break strap is strategically placed to provide an additional layer of retention, keeping your firearm securely in place.

With an adjustable cant angle, you can personalize the holster's positioning to achieve the most comfortable and natural draw angle for your body type and carry preference.

The holster is crafted with reinforced stitching to enhance its overall durability, ensuring that it can withstand the rigors of everyday use.

It features sturdy belt loops that securely attach the holster to your belt, providing stability and minimizing shifting or discomfort during movement.

The premium leather construction, combined with meticulous attention to detail, ensures a comfortable fit against your body throughout the day, reducing hot spots and discomfort associated with prolonged carry.
"I don't even notice it's there," says this redditor about carrying his Glock 43 in the 1791 holster.
Best Belly Band Holster
The Alien Gear Low-Pro belly band holster is one of the top belly band offerings out there. It offers adjustable retention, versatile carry positions, and an ambidextrous design. It works for a wide range of body types and personal preferences.
It's made from a soft and breathable neoprene material that ensures all-day comfort. It is adjustable to fit various waist sizes and can be worn discreetly under clothing.

The holster pocket features Alien Gear's adjustable retention system, allowing you to customize the level of retention to securely hold your firearm in place.

It offers multiple carry positions, including appendix, hip, cross draw, and small of the back. This versatility allows you to find the most comfortable and accessible position for your preferred draw style.

The belly band includes additional magazine pouches that allow you to carry spare magazines or other small essentials alongside your firearm.

The holster is designed to accommodate both right-handed and left-handed shooters, providing flexibility and convenience for a wider range of users.

The slim and low-profile construction of the belly band helps to minimize printing and ensure a discreet carry, allowing you to maintain a low profile while still having quick access to your firearm.
This user thinks it's pretty great.
Best Ankle Holster
The combination of neoprene construction, adjustable design, padding, and reinforced support make the CrossBreed Ankle Holster a top choice for comfortable ankle carry.
It is constructed with high-quality neoprene material. 

The holster features an adjustable ankle strap that allows you to customize the fit according to your leg size and comfort preferences.

The ankle holster is equipped with padding and reinforcement in key areas to provide additional comfort and support..

To accommodate different leg sizes and prevent the holster from slipping or moving during activity, the holster includes a wide calf strap. 

The holster itself is made from molded KYDEX, which offers excellent retention and protection for your firearm. 

It has an adjustable carry angle.
At NRA Shooting Illustrated, Jay Grazio talks about the CrossBreed ankle holster.
"An entire day with a 15 ounce revolver was entirely comfortable, with a mixture of driving, walking, sitting and even a short power walk at lunch time. It's a great way to hide a secondary pistol, and CrossBreed's Ankle holster lends comfort to the equation."
Best Leather Holster
The Relentless Tactical Defender Leather IWB Holster is one of our favorites. It's made from genuine bullhide leather. 
The holster is handcrafted using premium bullhide leather. 

It's custom molded to fit specific gun models. 

The holster offers adjustable cant and ride height, allowing you to find the most comfortable and convenient position for your carry preference.

The holster features a sweat guard that acts as a barrier between the firearm and your body.

The opening of the holster is reinforced to maintain its shape and provide easy one-handed reholstering. 

It's designed for inside the waistband carry, which offers excellent concealment. 
This Amazon purchaser was initially skeptical about the Defender, but now he loves it. 
If you wear your gun in a KYDEX holster, apply our holster pad and thank us later!
Comfortable Holsters FAQ
What is the most comfortable concealed carry holster position?
The most comfortable concealed carry holster position varies from person to person, but appendix carry (AIWB) is often considered one of the most comfortable positions by many gun enthusiasts.
Are concealed carry holsters comfortable?
Holsters for concealed carry can be comfortable when properly chosen and fitted. Factors such as holster material, design, body type, clothing, and carrying position play a role in determining comfort. 
Should you keep your gun loaded in a holster?
Most concealed carriers keep their guns loaded. If you're going to keep a round chambered, practice extreme caution, undergo extensive safety training, and use a holster with a trigger guard.
Otherwise, don't have a round chambered while carrying.
Can you sit down while concealed carrying?
You can sit down while concealed carrying, but it's usually more uncomfortable, especially if you're carrying IWB or appendix carry. The bending of your body tends to put more pressure against a holster, pushing the gun into your body more. Our holster pad can fix this issue by placing a nice layer of memory foam between the holster and your body.
What is the easiest position to conceal carry?
The easiest position to concealed carry for one person may be extremely difficult for another. Factors like body size, body shape, body composition, lifestyle, and fashion all affect how easy or difficult a position is. 
Appendix carry is easy for some and difficult for others. Ditto for other IWB positions. Or for belly band carry, bra holsters, and other carry options. The most important thing is to find what is easiest for you and go with that.
What is the best CCW carry position for fat guys?
Appendix carry or cross draw positions usually work best for fat guys. Finding the right CCW holster for bigger guys is also essential when they want to have good concealment and ease of draw, while distributing the weight of the firearm in a way that works with their body shape. 
What are the most comfortable IWB holsters for fat guys?
Here are some of the most comfortable holsters that fat guys can carry IWB:
Alien Gear Cloak Tuck 3.0 holster

Rounded Gear KYDEX IWB holster

StealthGearUSA Ventcore IWB holster

CrossBreed Supertuck IWB holster

Alien Gear Cloak Tuck 3.0 IWB holster

Galco KingTuk IWB holster

Bravo Concealment Torsion 3.0 IWB holster

Vedder Holsters ComfortTuck IWB holster
What position of the holster is best for quick draws?
The position of the holster that is generally considered best for a quick draw is the strong-side hip or the appendix carry. These positions allow for a natural and efficient drawing motion, minimizing the time it takes to access the firearm.
However, the ideal position for a quick draw may vary depending on factors such as body type, clothing, and personal preference.
What angle is best for a shoulder holster?
The best angle for a shoulder holster is typically a horizontal or slightly forward cant. This allows for a natural and ergonomic draw motion. The horizontal angle ensures that the firearm is easily accessible and allows for a smooth and quick draw from the shoulder holster. 
What are the most comfortable gun holsters?
Some of the most comfortable holsters are:
Relentless Tactical Defender

We The People Holster

CrossBreed Ankle holster

CrossBreed Belly band holster

Alien Gear Low-Pro holster

Alien Gear Cloak Tuck holster

Alien Gear Shapeshift shoulder holster

Tier 1 Axis Elite holster

1791 GunLeather OWB holster

Concealment Express IWB holster
What are the different types of holsters?
Here are the main types of concealed carry holsters:
Inside the waistband holsters

Outside the waistband holsters

Bra holsters

Belly band holsters

Thigh holsters

Chest holsters

Shoulder holsters

Ankle holsters

Cross draw holsters

Belt holsters

Paddle holsters
What are the best 9mm pistols for concealed carry?
The following guns tend to be universally included in lists of best 9mm concealed carry guns:
Glock 19

Smith & Wesson M&P Shield

Sig Sauer P365

Springfield XD-S

Walther PPS M2
What are the best gun accessories?
The best gun accessories enhance your shooting experience and improve your performance. Here are some top choices:
Red dot sights

Magazine carriers

Weapon lights

Holsters (IWB, OWB, appendix carry)

Extended magazine baseplates

Recoil management systems 

Upgraded triggers

Rail attachments (laser, flashlight)

Sling attachments

Grip enhancements 
What are useful holster accessories?
Here are some of the most useful holster accessories:
Belt clips and loops

Mounting hardware

Straps and retention devices

Wedges and pads, like 

our GunZee holster pad

Extensions)

Covers and protectors

Attachments for additional magazine carry

Mounting platforms

Belt adapters

Cleaning kits
Further Reading
What are the best CCW guns for new shooters?
What are the best appendix carry holsters for females?
Are Eclipse holsters any good?
Are Tenicor holsters any good?
The best Kimber Micro 9 holster
The best Springfield Hellcat holster
What is concealed carry reciprocity?
What is the best Taurus G3C holster?