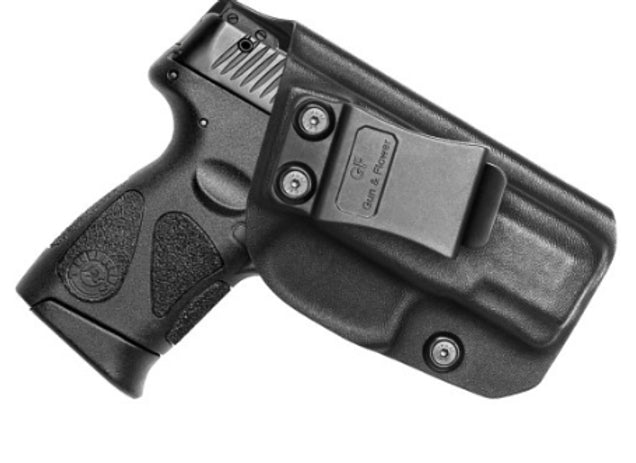 The Taurus G2C packs a potent punch for a wonderfully wallet-friendly price. This compact 9mm has won a loyal following as a concealed carry staple. But a top-notch CCW handgun deserves an equally outstanding holster.
Quick links:
Best G2C holster with a mag pouch?
Let's take a look at some of the best holster brands, positions, and carrying methods for effective Taurus concealed carry.
For the most comfortable CCW experience of your life, apply our holster pad.
How to Choose the Best Holster for the Taurus G2C?
When picking the perfect holster for your G2C, pay attention to concealability, comfort, retention, and convenience. 
A holster that disappears under clothing keeps your carry concealed. All-day comfort ensures you actually wear the thing. Secure retention keeps your gun safely holstered until needed. And a holster design that makes drawing smooth and snag-free could save your skin.
Let's get into a bit more detail:
Comfort. The gun holster should feel natural during prolonged wear. Look for breathable materials and contours that fit your body.

Our holster pad

provides unbeatable comfort and stability.

Retention. It must securely hold the G2C to prevent accidental drops, while still allowing a smooth draw. Level 2 or 3 retention is ideal.

Accessibility. You need to be able to quickly and easily draw the G2C when needed. The holster should facilitate a proper firing grip.

Concealment. An inside-the-waistband (IWB) holster will hide the G2C most effectively under clothing.

Adjustability. The holster should accommodate different carry positions and body types. An adjustable cant is ideal.

Material. Look for abrasion-resistant materials like KYDEX or leather that will hold up to daily carry.

Value. Finding the optimal balance of performance and price for your budget and needs.
What is the Best IWB Holster for Taurus G2C?
Taurus G2c holster. Image source: https://harrysholsters.com/taurus-g2c-holster/
Keep your G2C concealed and close at hand with a high-quality inside-the-waistband (IWB) holster. An IWB holster tucks securely inside your waistband, keeping your pistol out of sight while allowing quick access when needed.
Here are our top IWB holster recommendations for safe, comfortable everyday carry of the popular Taurus G2C:
The Alien Gear Shapeshift 4.0 holster uses an innovative ShapeShift system with interchangeable components to enable seamless switching between carry positions. Its steel-reinforced base and breathable neoprene provide all-day comfort. It offers complete trigger guard coverage for safety, adjustable cant, and toolless riding height customization for the perfect fit. Handmade in the USA and backed by Alien Gear's Forever Warranty.

The Gun & Flower holster is purpose-built for the Taurus G2C/G3C, PT111 Millennium, and PT140 pistols. Its precision aluminum molding hugs the trigger guard for safety while allowing a secure, audible click retention. Tension screws and adjustable cant from -5 to 20 degrees adapt to positions like appendix, strong side, cross draw. 1.5'' belt clips add stability. Lifetime warranty.

The Relentless Tactical Defender Leather Holster is handcrafted in the USA from durable bullhide leather. It fits the G2C and other compact Taurus pistols for timeless quality with a lifetime warranty.
These redditors are fans of the Shapeshift. 
User Reviews
This Amazon purchaser recommends the G&F holster. He is considering buying the same one for his Sig Sauer P320 but is worried about KYDEX and "the wear on the finish of a more expensive gun."
"I'm giving the holster five stars because of the quality versus the price," says this Amazon purchaser about the Relentless Tactical holster. The only issue he has with the holster is the reinforcement at the top. 
Forget about uncomfortable IWB carry with our memory foam holster pads. Apply them to your IWB holster, and enjoy!
What is the Best OWB Holster for Taurus G2C?
Cytac Taurus G2c holster. Image source: https://www.cytac.com/product-category/by-gun-manufacturer/taurus/
Opt for an outside-the-waistband (OWB) holster to carry your Taurus G2C openly and access it rapidly. OWB holsters secure the pistol along your hip or behind your back while keeping it visible and highly accessible.
Here are our top OWB holster picks for the G2C:
The Alien Gear Cloak Mod holster has a spring steel core and thermal elastomer to grip your pistol tightly. Its open mouth design allows smooth holstering, while the retention lip and paddle keep your G2C secure. Fully adjustable cant and retention levels enable a customized fit.

The CYTAC Tactical OWB Holster is constructed from military-grade polymer for extreme durability. Its Level II retention system produces an audible click upon holstering, while the release button enables lightning-fast drawing. The adjustable 360° paddle provides excellent flexibility.
User Reviews
This reviewer thinks the Cloak Mod is "comfortable, secure, and quick to take on/off."
This Amazon purchaser recommends the CYTAC Tactical holster.
Best Leather Holster for Taurus G2C
A good leather holster can make your CCW carry more comfortable than KYDEX, even if it doesn't retain the pistol quite as well. Here are two of the top leather holsters on the market that fit the Taurus G2C.
The Falco Cross Draw Holster is handcrafted from premium cowhide leather, specifically molded for the Taurus G2C. Dual wide belt slots provide stability in motion. The steel-reinforced thumb break improves security while protecting the barrel with an open muzzle design. This right-hand OWB cross draw holster enables comfortable all-day carry.

The Foxx Hybrid Holster combines 9oz leather with a .060 KYDEX shell for durability and precise fit. It can be worn from 3 to 5 o'clock with adjustable black spring steel clips to customize ride height and cant. The KYDEX shell hugs the G2C securely, while the enclosed muzzle offers full barrel protection. This tuckable holster blends comfort with functionality. 
User Reviews
This Amazon purchaser enjoys his Foxx holster.
Best Taurus G2C Holster with Lights
Not every Taurus G2C holster can accommodate a mounted light. Here are two that can. 
The Yankai KYDEX IWB holster has exclusive molding on both sides of the weapon, ensuring a perfect fit and ensuring the product's stability and functionality. The holster features an adjustable click-in retention system and a metal clip with cant adjustment for personalized comfort. It is compatible with guns equipped with mounted lights. Designed to be worn inside the waistband, this holster offers comfortable positioning in any carry position. Its sweat-proof and waterproof properties, along with extreme toughness, impact resistance, and abrasion resistance, provide protection for your CCW gun.

The Depring Tactical Belt Holster is designed for use with most medium and full-sized pistols that have an under-barrel laser or light attachment. For a secure and versatile handgun fit, this OWB, right-hand holster has a quick-release clasp, snap-on button, and adjustable retention strap. It includes an adjustable hook and loop belt loop and keeper that fits a 2" duty belt. The integrated magazine bag has a hook and loop strap for an additional clip. It is made of robust nylon material with strong stitching and provides durability for various pistol models. 
User Reviews
This Amazon purchaser says, "It's not the best one in my opinion but for the price it does the job" about the Depring Tactical holster.
Experience CCW nirvana with our holster pads!
Taurus G2C Holster with Mag Pouch
You'll have simple access to extra ammunition with an integrated mag pouch, eliminating the need for separate carriers. Here are some of the best Taurus G2C holsters with mag pouches.
The Dual Carry II Holster by DeSantis is an IWB/OWB hybrid holster made of excellent saddle leather and has an adjustable tension device, thumb break retention strap, and a built-in mag pouch for convenient access to an extra magazine. The Dual Carry II conceals well and may be worn comfortably in various positions.

The AlphaHolster Belly Band Holster, made of breathable elastic material, may be worn beneath your clothing and provides a snug fit. You can keep an additional magazine close at hand for rapid reloads thanks to the inbuilt magazine pouch. This holster's adjustable and elastic construction enables a tailored fit and accommodates a variety of body types.

The Pro-Tech Outdoors Holster is made of high-quality Cordura ballistic nylon and has a robust metal clip for secure attachment as well as a built-in mag pouch for easy access to an extra magazine. It offers great concealment while being small, making it a good alternative for individuals looking for a dependable Taurus G2C holster with a mag pouch.
User Reviews
The Amazon purchaser thinks the Pro-Tech holster represents good value for money.
Taurus G2C Holster FAQ
Is a Taurus G2C good for concealed carry?
Yes, the G2C is a good choice for concealed carry for those on a budget. Its slim design, lightweight frame, and 12-round capacity make it a reliable personal protection alternative. 
What is good to know about Taurus G2C concealed carry?
When considering the Taurus G2C for concealed carry, keep the following points in mind:
Compact size. The G2C is a small, lightweight pistol that is easy to conceal, making it a popular choice for concealed carry.

Reliability. The G2C is known for its dependability, ensuring that it will work properly in a self-defense situation.

Affordable. The G2C is budget-friendly.

9mm or .40 S&W. The G2C is available in both 9mm and .40 S&W calibers.

Capacity. The G2C has a 12-round magazine capacity (9mm) or 10-round capacity (.40 S&W).

Holster options. There are various holster options available for the G2C, including IWB, OWB, and pocket holsters, to suit various concealed carry styles.

Accessories. The G2C has an accessory rail for mounting lights or lasers.

Safety features. The G2C features manual thumb safety and trigger safety.
Can you pocket carry a Taurus G2C?
Most users will find the G2C to be too large for a pocket gun. It weighs about 27 ounces. That said, if you really want to pocket carry the G2C, you can.
What is the best Taurus G2C pocket holster?
The DeSantis Nemesis Pocket Holster is considered one of the best Taurus G2C pocket holsters. This holster is specifically designed for pocket carry, with a non-slip outside to keep it in place and a low-friction inner to assure a smooth, rapid draw. 
Is a Taurus G2C a good duty gun?
While the G2C can serve as a backup weapon for law enforcement officers or security personnel, it may not be the best choice as a primary duty gun. Its compact size, which is an advantage for concealed carry, could be a limitation in a duty scenario where a larger, full-sized firearm with greater capacity and a longer sight radius might be preferred. 
Can you put attachments on a Taurus G2C?
Yes, you can put attachments on a G2C. The G2C has an accessory rail on the frame's underside, just forward of the trigger guard. This rail allows you to attach various attachments, such as tactical lights, lasers, or a combination of the two.  
Is a Taurus G2C able to dry fire?
Yes, the Taurus G2C can be dry-fired without harming the handgun. Dry fire is the practice of firing a gun without any ammunition to improve trigger control, grip, and general shooting skill. Some shooters prefer to use snap caps (dummy rounds) to protect the firing pin and improve dry-fire practice, but this is not technically necessary for the G2C.
What does the G stand for in Taurus G2C?
The "G" in Taurus G2C stands for "Generation." The G2C is an upgraded version of the Taurus PT111 G2, featuring various improvements over the previous model. The "C" in G2C stands for "Compact," indicating that this pistol is designed for concealed carry and personal defense with its compact size and enhanced ergonomics.
Which is better, Taurus G2C or G3C?
Both G2C and G3C are reliable, compact, and economical concealed carry choices. The G3C is an improved version of the G2C that includes the following improvements:
Improved trigger with a smoother pull and quick reset time.

Grip texture has been enhanced for improved handling and control.

For faster target acquisition, upgraded sights with a steel front sight and serrated rear sight.

Serrations on the front and back of the slide allow for easy operation.

Compatibility with Glock sights for more customization.
Is the Taurus G2C a full-size pistol?
The G2C is not a full-size pistol. It is a compact semi-automatic pistol designed for concealed carry and personal defense. The Taurus G2C is smaller and lighter than a full-size pistol due to its shorter barrel and grip. 
Does the Taurus G2C have a thumb safety?
Yes, the G2C features thumb safety. On the left side of the handgun, there is a manual, frame-mounted thumb safety that allows the shooter to activate or disengage the safety using their thumb. 
When engaged, the safety prevents the handgun from firing, adding an extra layer of security for the user. The G2C also has a trigger safety and a loaded chamber indicator for enhanced security.
Can a Taurus G2C take a red dot?
Yes, a Taurus G2C can be modified to accept a red dot sight, but it requires milling the slide or using a specialized mounting adapter.
Is a Taurus G2C a compact or subcompact?
The G2C is a compact handgun.
What type of bullets does a Taurus G2C take?
The Taurus G2C is chambered in 9mm Luger (also known as 9x19mm or 9mm Parabellum) and .40 S&W. 
Are OWB KYDEX holsters popular among concealed carry enthusiasts?
Although OWB KYDEX holsters are popular, they do not provide good concealment. CCW enthusiasts prefer the IWB carry method because the concealment is much better.
What are the different types of concealed carry holsters?
Here are the main types of concealed carry holsters:
IWB holsters

OWB holsters

Bra holsters

Belly band holsters

Thigh holsters

Shoulder holsters

Ankle holsters
What are some popular holster options for the Taurus G3?
Paddle holsters for OWB carry, IWB concealment holsters for appendix carry or other positions, and belly band holsters for versatile and comfortable carry are some popular Taurus G3 holster alternatives. Additional features such as sweat guards, mag pouches, and polymer construction for durability can be added to these holsters.
Do the G3C holsters fit Taurus G2C?
Most of the G3C holsters will fit the G2C, as these guns are identical in size and weight.
Which holsters have mag carriers?
Here are some top holster options for the Taurus G2C that include spare magazine carriers:
Alien Gear Shapeshift 4.0 IWB Holster: this versatile holster allows you to swap out shells for different carry positions. The kit includes both IWB and OWB setups, with a mag carrier for the OWB configuration.

Tulster OATH IWB Holster: Tulster offers the OATH with an optional extra mag pouch that attaches seamlessly. The minimalist design keeps the profile slim.

Concealment Express IWB Holster: this value-packed holster has an integrated mag pouch to keep that extra ammo handy. The kydex shell cradles the G2C securely.

Black Rhino TCSL IWB Holster: the TCSL bundles a spare mag carrier with a stylish leather backing for all-day comfort. The molded clip provides sturdy retention.

Barsony New Gen 2 Holster: Barsony's optic-ready holster includes a removable mag pouch for versatile carry options. Quality leather and precision molding highlight this pick.
How do the Smith & Wesson MP and Smith & Wesson Shield compare for concealed carry?
The Smith & Wesson MP is a compact, striker-fired pistol that strikes a good balance of size, capacity, and concealability. The Smith & Wesson Shield is a slimmer, single-stack subcompact pistol with less capacity for easier concealment. Both firearms are popular choices for concealed carry, but those who prefer a slimmer profile may prefer the Shield.
Can the CZ P10C be worn in an OWB holster?
Yes, the CZ P10C can be worn in an OWB holster. To ensure a comfortable and inconspicuous carry experience, consider aspects such as the holster's polymer or leather material, retention features, and ability to conceal under your clothing when selecting an OWB concealed holster for the CZ P10C.
What should I consider when selecting a carry holster for the Smith & Wesson Shield M2.0?
Consider the type of holster (OWB, IWB, or pocket), the material (polymer, leather, or hybrid), the level of retention and security, and the comfort and concealability given by the holster when choosing a carry holster for your Taurus G2C or Smith & Wesson Shield M2.0. 
Further Reading
What are the best AIWB holsters for women?
How to make appendix carry sitting down more comfortable?
What are the best CCW guns for new shooters?
The best CCW holsters for fat guys
What is the best holster for sitting?
Are Eclipse holsters any good?
Are Tenicor holsters any good?
The best Kimber Micro 9 holster