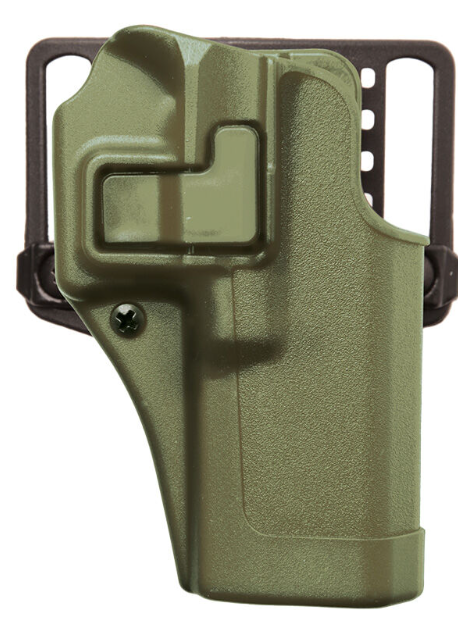 The Glock 17 is a great full-size gun. But it needs a great holster—one that's durable, comfortable, and provides good retention.
Find the proper holster for your Glock 17 with our handy guide. 
Quick links:
By looking at retention, concealability, comfort, and other key features, you'll learn how to pick the perfect holster to carry your Glock 17 with confidence. Let's dive in!
Carry your G17 in comfort when you apply one of our holster pads to your IWB holster.
How to choose the best holster for the Glock 17?
Decide whether you're going to carry concealed or open carry. If you're planning to carry concealed, you'll be looking at an IWB or shoulder holster. If you're going to open carry, a good OWB holster will do the trick.
What is the best Glock 17 IWB holster?
Concealment Express IWB Holster.
Image source: https://shop.roundedgear.com/collections/classic-iwb-kydex-holsters
The Glock 17 is a big boy, but that doesn't mean it can't be carried concealed. If you're going to conceal it, IWB is a good way to go. When packing this fella in your waistband, make sure you have a top-notch holster with a sturdy gun belt. 
Here are five of the most popular IWB holsters for the G17:
The Concealment Express IWB Holster is made of 0.08-inch KYDEX and provides a personalized fit for your G17 while protecting it from moisture. Key features: lightweight at 2.5 oz, adjustable retention and cant, audible retention lock, full sweat guard.

The Tier 1 Agis Holster has a removable magazine carrier for optional extra magazine carry. Its concealing claw improves concealment while the retention is fully adjustable. Easily transitions from strong side to 

appendix carry

.

The Relentless Tactical Ultimate Suede is made from real USA suede leather with a handcrafted design for a comfortable and secure fit. Allows easy concealment and fast draw of the G17. Fits most Glock and XD-style handguns. Lifetime warranty.

The Alien Gear Cloak Tuck 3.5 Holster has a custom-molded Boltaron retention shell. Neoprene backing for comfort. Adjustable cant, height, and retention for custom fit.

The CrossBreed Supertuck IWB Holster features premium leather and a mounted KYDEX pocket. Can be worn tucked or untucked. Adjustable clip height and cant. Customizable with options.
User Reviews
The redditor recommends Tier 1 for its customizability. 
This Supertuck purchaser is a fan because it "is concealed well, but comfortable to wear."
This reviewer has no complaints about his Concealment Express IWB Holster for G17.
If you want to experience IWB comfort, buy our holster pad, slap it on, and breathe a sigh of relief. 
What is the best Glock 17 OWB holster?
BlackHawk Serpa gun holster.
Image source: https://www.blackhawk.com/holsters/serpa-1/serpa-close-quarters-concealment-holster/1580.html
Outside the waistband holsters are more comfortable, provide a quicker draw, and are all-around more convenient than IWB. 
Their only drawback: they're not exactly concealed. If you don't care about that—for example, if you're planning to open carry—then OWB is the way to go.
Here are some top OWB gun holsters:
The Orpaz Glock Holster's sight channel protects your gun's sights. The thumb break retention clip keeps the handgun securely in place, and the curved paddle fits different body shapes. An adjustable retention screw enables cross-draw, small-of-back, and strong-side draw. Fits right- and left-hand draw.

The X-Concealment Belt Holster, in right- or left-hand variants, is designed to minimize printing. Adjustable retention delivers an audible click when the gun locks. Sculpted sight channel preserves G17 sights. Allows fast draw times.

The BlackHawk Serpa gun holster is made of a sturdy polymer, caliber-specific for Glock. Its horseshoe shape slides below the belt. A release button allows effortless release and audible click. Adjustable cant and height fits left- and right-handed shooters.

The 1791 Gunleather 4-Way Multi-Fit OWB holster offers versatility with 4 CCW positions for the G17, thanks to sturdy steel clip and hole design. Made from 100% American steerhide leather, this reinforced and double-stitched gun belt holster is comfortable, durable, and lightweight.
This Amazon purchaser recommends the Blackhawk holster for its durability and secure fit. 
This Amazon user loves the Orpaz holster for its thumb release feature.
What is the best leather holster for Glock 17?
Leather holsters are super comfortable, but don't have the same retention as KYDEX. Here are some good leather holsters for G17 concealed carry:
The CrossBreed Supertuck IWB Holster combines premium leather backing with a mounted KYDEX pocket for a secure fit.

The Relentless Tactical Defender Leather Holster is an IWB concealed carry holster made of genuine USA bullhide leather. Form-fitted for easy concealment and quick draw of the G17. Fits Glock, Sig Sauer, and other popular models. Comes with a lifetime warranty.

The Galco Classic Lite Shoulder Holster fits Glock 17, 22, and 31 models comfortably. Quality steerhide leather provides a stable, secure fit. The fully modular system includes harness, mag pouches, and harness fasteners.
User Reviews
This Amazon purchaser thinks the Galco Classic Lite is "well made." He noted that the holster is "adjustable for different positions and has a nice screw kit to lock everything into place."
What is the best Glock 17 KYDEX holster?
KYDEX is a thermoformable polymer that offers great retention but sacrifices some comfort. Don't worry; our memory foam holster padding will have your KYDEX holster feeling like a dream.
Here are some top KYDEX holsters:
The Gun Gear Depot IWB KYDEX Holster is crafted from durable 0.08" black KYDEX. Key features: Waterproof and washable, smooth edges, adjustable carry angle, 1.75" belt clip for versatile carry.

The Concealment Express IWB Holster is made from 0.08" KYDEX with an audible retention lock system for a secure fit. Lightweight at 2.5 oz with adjustable retention and cant.

The Warriorland Base IWB KYDEX Holster has a Posi-Click audible lock and a smooth interior to protect the G17. Polished edges and minimal retention are designed for quick, precise draw.
What is the best Glock 17 holster with light?
It's fun to add a light to your concealed carry gun—until it doesn't fit into its holster anymore. Lucky for you, there are some great CCW holsters that accommodate lights.
The Alien Gear Cloak Tuck 3.5 has a precision-molded shell for a secure, snug fit of the G17 with light. Customizable cant and height adjustments provide an ideal draw angle.

The IMI Light Tactical Glock Holster is a durable polymer with a contoured fit for the G17. Features adjustable cant, dual-safety retention, and 360-degree rotation to position the light-mounted G17.

The Fobus Tactical RBT17 is a lightweight polymer paddle holster. Accommodates lights/lasers mounted on frame rails or trigger guards of the G17. The hinged trigger guard allows straight-up draw.

The Safariland 6280 STX has a Self-Locking System (SLS) with a rotating hood for security. Level II retention can be activated by the hood. Accommodates lights and offers adjustable tension.

The Blackhawk Serpa CQC Carbon Fiber holster has Level I and Level II retention. Patented auto-lock for security. Designed for use with Xiphos light on the G17. Comes with paddle/loop attachments.
User Reviews
This Amazon purchaser likes Safariland, even if it does need an adjustment.
This user recommends Cloak Tuck 3.5 for its comfortability and security. 
The Amazon purchaser uses the CQC holster for competitions. "When putting the pistol back in the holster, it slides in very easily and clicks, securing the pistol in it."
What are the different Glock generations?
The Glock pistol line has gone through five major generational updates since the first Glock 17 was introduced in 1982. Each new generation featured changes and improvements to the original polymer-framed, striker-fired design.
Gen 1 (1982-1988). The original Glock 17 featured a smooth grip texture and circular pin holes. The barrel, slide stop lever, and locking block were not yet reinforced.

Gen 2 (1988-1998). Grip checkering was added for better grip, and finger grooves were incorporated starting in the Gen 2 Glock 19. Pin holes became oval-shaped. Other internal parts like the extractor were strengthened.

Gen 3 (1998-2012). The grip surface and finger grooves were further refined. An integrated rail for accessories was added, along with a modified trigger mechanism and a new extractor shape.

Gen 4 (2010-2016). The rough "fish gill" grip texture was introduced along with larger magazine releases, reversible mag buttons, and a modified recoil spring assembly. A dual recoil spring system was also added to Gen 4 models.

Gen 5 (2017-present). Ambidextrous slide stop levers, a flared magazine well, and a barrel featuring no rifling on its feed ramp highlight the Gen 5 updates. The finger grooves were also removed for a sleeker grip profile.
Glock 17 holster FAQ
Is a Glock 17 too big to conceal?
While the Glock 17 is larger than some compact options, it can still be effectively concealed with the correct pistol holster and clothing. Y
Will a Glock 17 fit in a Glock 21 holster?
No, a Glock 17 will not fit in a Glock 21 holster. While both of these are Glock handguns, they have different frame sizes. The G17 has a standard-size frame, while the G21 has a larger frame to accommodate the .45 ACP caliber. 
What is the best carry position for a Glock 17?
There are a few common carry positions that many Glock 17 owners find effective:
Appendix carry

Hip carry (3 o'clock or 4 o'clock position)

Inside the waistband (IWB)

Outside the waistband (OWB)
Can a Glock 17 hold 30 rounds?
The Glock 17 usually comes with a magazine that holds 17 bullets.  
Why do police use a Glock 17?
Police departments frequently use the G17 for several reasons:
Reliability. The G17 is noted for its outstanding dependability. It has a reputation for operating consistently even in severe settings and high-stress scenarios, which is critical for law enforcement officials who rely on their rifles to function well.

Durability. Glock pistols, including the G17, are made of strong materials and have a straightforward design, making them extremely durable and resistant to wear and tear. The firearm's endurance ensures that it can survive the rigors of daily police use.

Magazine capacity. The Glock 17 features a normal magazine capacity of 17 rounds, which provides police with plenty of ammunition without the need for frequent reloading. This enormous capacity can be useful in scenarios requiring continuous fire or clashes with several enemies.

Easy of use. Glocks are noted for their user-friendly design, which includes a steady trigger pull and intuitive controls. Officers may become skilled with the G17 and wield it successfully under stress because of its simplicity.

Safety features. Glock pistols include various safety features, such as trigger safeties and drop safeties, to help prevent accidental discharges and improve overall firearm safety.

Popularity and support. The G17 has been widely accepted and used by law enforcement departments all over the world. Because of its popularity, officers have access to a large support network, which includes training resources, accessories, and maintenance services.
Can a Glock 17 fire if dropped?
It's highly unlikely that a G17 will fire if dropped. It's designed with multiple safety mechanisms, including trigger safety and drop safety, which prevent the firearm from firing if dropped or mishandled.
Do all Glock magazines fit all Glocks?
No, not all Glock magazines fit all Glocks. While some magazines may be compatible across different Glock models within the same caliber, there are variations in magazine size, shape, and capacity that can affect compatibility.
Can you turn a Glock 17 into an 18?
It is not possible to convert a G17 into a G18. The G18 is a select-fire machine pistol with a fully automatic firing capability, while the G17 is a semi-automatic handgun. The internal components and mechanisms of the G18 are specifically designed to accommodate full-auto fire, and attempting to modify a G17 to replicate those features would be illegal and unsafe.
What are the benefits of using a KYDEX gun holster?
KYDEX gun holsters offer excellent retention, durability, and lightweight design. They provide a secure fit for your firearm, protecting it from moisture and ensuring quick and reliable draw times.
What is an optic cut on a holster?
An optic cut on a holster accommodates handguns equipped with red dot optics. This modification ensures that the holster properly accommodates the added height and width of the red dot sight, allowing for a secure fit and quick presentation of the firearm.
Can I use a holster with red dot optics on my duty belt?
There are duty holsters available that are compatible with handguns equipped with red dot optics. These holsters are designed to accommodate the additional height and width of the red dot sight while providing secure retention and easy drawing for law enforcement officers and other professionals.
What are the different types of holsters?
Here are some of the most popular types of carry holsters:
IWB holsters

OWB holsters

Ankle holsters

Pocket holsters

Belly band holsters

Chest holsters

Bra holsters
What are some useful holster accessories?
Gun belts, holster claws, magazine carriers, flashlights, and knives are some of the most useful holster accessories.
What is the best way to keep your holster concealed while sitting?
To keep your holster concealed while sitting, adjust the position for comfort and concealment, and consider wearing looser clothing to prevent printing or exposing the firearm.
Can a double mag pouch be used with other equipment or gear?
Many double magazine pouches feature attachment options such as belt loops or MOLLE compatibility, allowing them to be securely attached to belts, vests, plate carriers, or other gear setups, offering versatility in how they can be incorporated into your overall equipment setup.
How do carry belts enhance the functionality of holsters?
Carry belts provide sturdy support and distribute the weight of your firearm and accessories evenly. They offer a secure platform for attaching holsters, mag carriers, and other gear, ensuring comfortable and reliable carry.
What makes a tactical belt different from a regular belt?
Tactical belts are purpose-built for carrying firearms and tactical gear. They often feature reinforced construction, adjustable sizing, and additional attachment points for accessories such as holsters, magazine pouches, and utility pouches. They offer enhanced durability and functionality compared to regular belts.
Are OWB Kydex holsters designed to fit specific gun models?
Yes, OWB Kydex holsters are typically molded to fit specific gun models, such as Glocks and Smith & Wesson firearms, providing a secure and accessible carry method for each particular firearm.
Further reading
What are the best AIWB holsters for women?
How to make appendix carry sitting down more comfortable?
What are the best CCW guns for new shooters?
The best CCW holsters for fat guys
Are Eclipse holsters any good?
Are Tenicor holsters any good?
The best Kimber Micro 9 holster