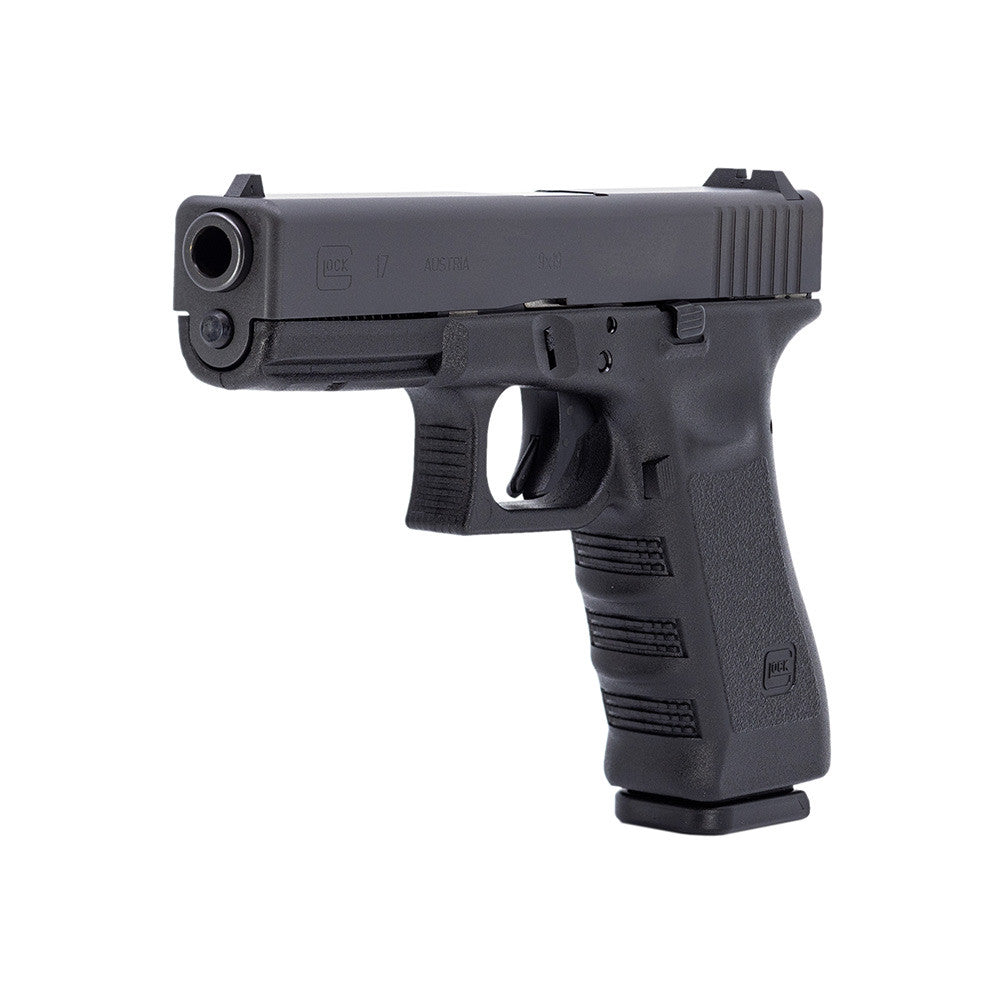 Big guys need a concealed carry gun substantial enough to fit their maws, yet discreet enough to conceal. 
Quick links:
What factors should I consider?
What are the best full-size guns?
What are the best compact handguns?
What are the best subcompact guns?
Big guys, let's explore the best options for you.
Also, if you're wearing your piece in a KYDEX IWB holster, apply one of our holster pads to the body side of your holster for maximum comfort.
How to choose the right gun as a big guy?
When you have big mitts and a sturdy build, you need a handgun that is not only comfortable to shoot and carry but also provides adequate power and capacity.
Here are some key considerations when choosing a concealed carry pistol as a larger man.
Hand size and grip. A thicker, more substantial grip frame is a must for proper fit and control. Look for larger grips with adjustable backstraps or replaceable inserts to optimize hand fit.

Weight and comfort. Heavier steel-framed pistols can help tame recoil, while lighter polymer options won't weigh you down as much for carry. A quality 

CCW holster

 

aids comfort.

Caliber. More powerful rounds offer solid stopping power for personal defense, but mean bulkier guns and lower capacity.

Capacity. A higher round count means less frequent reloading at the expense of weight and small size.

Size. Balance concealability with shootability and grip length. Compact sizes around 7" and 4" barrel length offer a good middle ground.

Action type. Striker-fired actions are ideal for consistently lighter trigger pulls. Avoid tiny, heavy, double action-only triggers.
What are the best full-size concealed carry handguns?
When it comes to concealed carry for big guys, full-size handguns have some distinct advantages but also pose some challenges.
On the plus side, a full-size handgun offers better accuracy and stopping power thanks to a longer barrel. The larger grip fits big hands well and allows for easier slide racking. There's also greater ammo capacity for fewer reloads.
On the downside, full-size handguns can be harder to conceal without printing against clothing for a big body. The heavier all-day carry weight may also be less comfortable compared to smaller guns. Drawing from concealment is often slower with more handgun to clear the holster.
While they can work with the right holster and cover garment, full-size handguns are generally more challenging to conceal—for big guys or anyone.
If you're interested in packing a fullsize, here are some of the best for you to try.
Glock 17

Sig Sauer P320

Heckler & Koch VP9
Glock 17
Glock 17
Image source: https://www.glockstore.com/Glock-17-9mm
The Glock 17 offers a beefy grip that fits even the biggest hands. With a magazine capacity of 17+1 rounds of 9mm, it provides substantial firepower without frequent reloading. The extended slide release and magazine catch levers accommodate larger fingers. This full-size pistol has three internal safeties to prevent accidental discharge or drop fires.
Sig Sauer P320
The modular P320 Carry and Compact models feature swappable polymer grip modules to customize the fit. Their medium or large extended grips suit giant paws with adjustable backstraps.
A crisp 5.5-pound striker-fired trigger pull enables accurate follow-up shots. With 10-15+1 capacity in 9mm, .40 S&W, and .357 SIG, the P320 packs a punch while taming recoil for shooters of all sizes. It also offers an optimal ambidextrous manual safety. 
Heckler & Koch VP9
The Heckler & Koch VP9 brings configurable ergonomics to full-size 9mm handguns. Its replaceable backstraps and grip panels create a tailored fit for big hands.
This striker-fired pistol delivers a light 5.4-pound trigger pull for precision shooting while packing 17+1 rounds of 9mm in the magazine. Charging supports installed on both sides enable easy racking. Ambidextrous controls provide access for all hand sizes.
Bright luminescent sights, Picatinny rail, and available manual safety round out the VP9's features. Its customizable grip and controls combined with premium German engineering make this an excellent full-size choice.
What are the best compact concealed carry firearms?
Compacts are easier to conceal, thanks to their shorter barrels and grips. Their lighter weight also makes for a more comfortable carry compared to larger pistols. Quicker draw strokes are possible with less material to clear the holster.
However, compact guns mean reduced accuracy and controllability with shorter sight radius and small grips. Compacts also have lower capacity in general.
Here are some popular compacts:
Glock 19

Smith & Wesson M&P9

Springfield XD Mod 2

CZ P-10C

Ruger 
Glock 19
Glock 19
Image source: https://www.glockstore.com/Glock-19-9mm
The Glock 19 has a compact 15+1 9mm frame. Interchangeable backstraps allow custom fitting for optimal grip ergonomics to accommodate big hands.
The G19's durable polymer construction soaks up recoil for smooth shooting. Its striker-fired trigger with a consistent 5.5-pound pull enables precise repeat shots on target. A matte finish and minimal exterior controls streamline the profile for concealed carry.
Smith & Wesson M&P9
With its 18+1 capacity in a medium-size grip, the striker-fired M&P9 offers an ideal fit for big hands. Aggressive stippling across the polymer frame provides a secure grip even with sweaty palms. Interchangeable palm swells allow further customization of grip size and angle.
The M&P9's short, crisp trigger promotes accuracy with its audible and tactile 6-6.5 pound rolling break. A reversible magazine release accommodates left or right-handed shooters.
Springfield XD Mod 2
Springfield designed the Mod 2 polymer-framed 9mm specifically for comfortable shootability. Its full-size grip with a 6-inch circumference securely engulfs even the biggest hands. Dual recoil springs tame muzzle rise for excellent control during rapid fire.
The pre-cocked hammer system provides a buttery smooth 5-5.5 pound trigger pull for precision shot placement. With its 16+1 capacity, grip safety, and loaded chamber indicator, the XD Mod 2 is a formidable concealed carry option.
CZ P-10C
The P-10C is a 9mm striker-fired pistol with a 15+1 capacity out of the box. Extended baseplates expand magazine capacity to 17 or more rounds for high-volume shooting. An ergonomic grip melts into big hands.
The P-10C's excellent double-action/single-action (DA/SA) trigger smoothes out each shot for optimal accuracy.
Ruger Security 9
The mid-size Ruger Security 9 offers a very manageable 10+1 capacity of 9mm ammunition. Its durable polymer frame comes with interchangeable grip inserts to customize the size and angle for big hands.
The American-style grip angle points naturally for enhanced instinctive control. Aggressive texturing across the grip ensures a secure hold even with sweaty hands.
The Security 9's short, crisp 4.5-pound trigger pull results in accurate shot placement thanks to a clean break. Low-profile sights and streamlined controls aid snag-free draw from concealment.
This redditor carries his Mod2 at 4.30 or appendix and loves how easy to conceal it is.
What are the best subcompact guns for deep concealment?
When concealed carrying as a big dude, the tiny size of subcompact pistols makes them tempting for deep cover. But that petite size compromises shootability.
While their slim profiles slide smoothly under clothing, subcompact grips are often too small for big hands. Achieving a solid grasp for recoil control takes work. Short-sight radii hamper accuracy at longer distances too.
Low ammo capacities around 6-8 rounds necessitate frequent reloads as well. Rapid fire control suffers due to stubby barrels amplifying felt recoil. Limited velocities affect terminal ballistics.
For deep concealment in hot weather, subcompacts remain viable options. Just be mindful of the tradeoffs. As a backup or special scenarios gun, they can still serve big guys well when chosen carefully.
Here are some good options for you to try:
Sig Sauer P365XL

Glock 26

Springfield Armory Hellcat
Sig Sauer P365XL
Sig Sauer P365XL
Image source: https://www.sigsauer.com/p365-xl.html
The Sig P365XL is 6.6 inches long, 1 inch wide, and 4.8 inches tall. It has a capacity of 12+1 rounds of 9mm Luger ammunition, which you can expand to 15 rounds with extended magazines. The P365XL has an extended pistol grip for improved control and a smooth, consistent trigger pull for accurate shot placement.
The P365XL is made with a lightweight polymer frame and stainless steel slide. It has a textured grip for a secure hold and a low bore axis to reduce recoil. The P365XL also has a number of safety features, including a striker, firing pin, and drop safety.
This redditor thinks P365XL is great for CCW carry. 
Glock 26
Glock's venerable subcompact 26 manages to balance a 10+1 9mm capacity with a short grip frame optimized for a full three-finger hold, even for most big hands. The ample slide and frame surface area help mitigate felt recoil for controllable, rapid shooting from such a small package. 
Large controls like the slide release and reversible magazine catch remain easily accessible for big fingers. 
Springfield Armory Hellcat
The Springfield Hellcat measures 6 inches long, 1 inch wide, and 4 inches tall. This micro-compact pistol provides 11+1 rounds of 9mm for concealed carry with the included extended magazine.
The 18.3-ounce Hellcat utilizes a durable polymer frame with aggressive stippling that enables excellent grip control and recoil management. The optimized grip angle helps tame recoil for fast follow-up shots.
A striker-fired trigger with a clean 6-pound break promotes shooting accuracy. Tritium night sights and 11+1 round capacity offer an edge in low-light defense.
What is the best micro-compact gun?
When shopping for a microcompact concealed carry pistol as a big guy, you'll notice that most micros disappear into your giant hands. Many have abbreviated grips less than 2 inches wide and are limited to only a 2-finger hold. This makes establishing a proper and secure grip difficult for big hands that need room for 3 or 4 fingers.
Smaller single-stack magazines in micro guns, often 6-8 rounds, require frequent reloads as well. Short barrels below 3 inches reduce muzzle velocity, hampering terminal ballistics, and increase felt recoil which degrades rapid fire control.
While they have serious tradeoffs, you might be able to make the following microcompacts work for you. 
Ruger LCP

Kimber Micro 9

Smith & Wesson Shield
Ruger LCP
Ruger LCP
Image source: https://ruger.com/products/lcp/models.html
The Ruger LCP is 5.16 inches long, 0.82 inches inches wide, and 3.60 inches inches tall. This ultra-lightweight polymer-framed .380 ACP pistol prioritizes compact size and deep concealment above all else. Weighing just 6.8 ounces unloaded, the LCP can slip into a pocket or holster and practically disappear.
The 2.75" barrel enhances concealment while providing adequate .380 ACP ballistics for short ranges. Fixed sights and a long, double-action-only trigger enable simple operation when needed. Standard 6+1 capacity suits most civilian needs, but extended magazines are available. Textured grip panels provide a secure hold on the tiny frame.
Kimber Micro 9
Kimber Micro 9 is 6.1 inches long, 1.18 inches wide, and 4.17 inches tall. Kimber's single-stack Micro 9mm pistol provides 8+1 rounds standard. Unlike most micro pistols, the Micro utilizes an alloy frame which noticeably tames felt recoil for improved control compared to lighter polymer guns. 
Thin rosewood grips enable positive traction and allow even large hands to grip properly in single-action mode. An excellent single action trigger with a short, crisp 2.5-4 pound break promotes shooting accuracy and fast follow-up shots.
Smith & Wesson Shield
The Smith & Wesson M&P Shield measures 6.1 inches long, 1.0 inch wide, and 4.6 inches tall. This slim, single-stack pistol provides 7+1 or 8+1 rounds of 9mm or .40 S&W for concealed carry.
Unlike tiny pocket pistols, the 17.9-ounce Shield utilizes a durable polymer frame with an aggressive texture that enables excellent grip control and recoil management. The optimized 18-degree grip angle helps absorb recoil for fast follow-up shots.
An external safety, Picatinny rail, and crisp 5.5-7 pound trigger promote safe handling, accessories, and shooting accuracy. Night sights and 7 or 8-round capacity offer an edge in low-light self-defense.
What are the best concealed carry positions for big guys?
Where you carry can make or break your experience when it comes to comfort, accessibility, and concealment. Find what fits your body and how you live. Don't copy what works for other guys. 
Test different spots yourself until you find your ideal setup. It should conceal effortlessly, let you draw smoothly, and never feel annoying. Get that formula right, and you'll carry confidently and comfortably every single day.
Here are some of the most popular concealed carry positions for big fellows:
Appendix carry

. Appendix position an extremely popular 

IWB position

 

and it allows bigger guys to take advantage of their frame to obscure the weapon. An 

AIWB holster

 

with a wedge can push the grip tightly to the body. Just be sure to wear pants a size up and use a good gun belt. 

4-5 o'clock carry. The holster toward the back of the waistband around the 4-5 o'clock position utilizes the size of the buttocks and love handles to conceal. Angle the holster and wear an overshirt or jacket to keep the grip tucked in.

Shoulder holster. A horizontally oriented shoulder holster inside a jacket keeps the firearm hidden while allowing access from a seated position. Look for a shoulder rig with multiple adjustment points for the right fit. Obviously, this isn't the best option for 

summer carry

 

when you're not wearing an overshirt or jacket.

Ankle holster. Ankle carry isn't our favorite, as it messes with your gait and only works for super light, small guns. Also, for obvious reasons, this position doesn't work with shorts. Pick a small, lightweight design for ankle carry. Wider legs provide more area to attach the ankle holster.

Pocket carry. Pack a microcompact pocket pistol in a jacket, seek out pockets with reinforced openings, and use a pocket holster to break up the outline of the gun.
No matter your size, you deserve comfort when carrying in any IWB position. We've developed a memory foam pad to make the most rigid KYDEX holster wear like a dream. Buy our holster pad to make your concealed carry comfortable!
What are the best calibers?
There's a lot of debate about which caliber is best to carry concealed, and it all comes down to tradeoffs between stopping power, capacity, recoil, and other factors. Here are some calibers to consider.
10mm provides major power thanks to its large diameter and high velocity. Manages recoil well, but results in a bulkier gun and lower capacity than a smaller caliber. While awesome, 10mm is not a typical first choice for concealed carry because of its size.

.45 ACP provides major stopping power from its heavy 230-grain bullets. Manages recoil decently but needs larger frame guns that are more difficult to conceal. Typical 8-10 round magazine capacity. Great power but bulkier guns make .45 ACP less than ideal for concealed carry.

.40 S&W offers a compromise between 9mm and .45 ACP. Provides greater velocity and energy than 9mm for enhanced terminal ballistics. But, more muzzle flip makes rapid-fire harder. Reduced capacity of about 10-13 rounds in compact guns. 

.357 magnum revolvers have impressive power from fast-moving 125-158 grain slugs. Handles recoil fairly well in all-steel revolvers but quite snappy in lighter polymer guns. Only 5-6 round cylinder capacity. Strong performers but bulkier guns pose concealment challenges.

9mm is the all-around favorite for concealed carry. Allows high capacity in small packages. Modest recoil facilitates faster follow-up shots. Standard magazine capacities of 13-17 rounds in compact models. Great balance of portability, capacity, and concealability.

.380 suits tiny pocket pistols. Limited effectiveness beyond short ranges and slower to incapacitate. But, low recoil builds confidence and allows fast operation in small packages. Typical 6-8 round capacity. Concealability advantage but the least potent option.
The best holsters for big guys
Holster selection is deeply personal for us husky guys. The wrong holster can jab you all day or collapse when you draw. An ill-fitting one prints badly. With so many styles and brands out there, try before you buy.
Here are some factors to consider:
Adjustability. Holsters with adjustable ride height, cant, and retention allow you to customize the fit. Being able to tweak the position ensures the grip remains tight to the body when carrying appendix.

Comfort. Prioritize comfort with a holster design that distributes weight and prevents pressure points. Lucky for you, 

our memory foam holster pad

 

makes even the most uncomfortable KYDEX holster wear like a dream.

Stability. Stable holsters stay put during wear without shifting or riding up. This prevents printing under clothing.

Accessibility. Pick a holster that allows smooth, easy access to draw while keeping the firearm secure.

Concealment. Look for holsters made to keep the profile slim and tuck in tightly to the body.
Here are some top picks from the concealed carry community:
Galco Triton KYDEX Holster. Fully adjustable for ride height, cant, and retention, this lightweight KYDEX holster molds to the body for a custom fit. The adaptability helps big guys dial in comfort and concealment.

Alien Gear Shapeshift Holster. The Shapeshift's innovative modular design enables big guys to adapt the holster for an ideal personalized fit. Adjust the shell, base, and mounting points until it's just right.

Crossbreed SuperTuck Holster. The SuperTuck's leather backing contours to the body, while the KYDEX shell provides a smooth, fast draw. The combination offers both comfort and accessibility.

Relentless Tactical Leather Holster. Made of premium leather, this holster fits snugly against big guys' frames. It stays put without shifting or slipping throughout daily wear.

Bravo Concealment BCA Gun Holster. With adjustable cant and ride height, this durable holster maintains weapon security. The low-profile design prevents printing under clothing.
With the right holster, big guys can carry discreetly and access their boomsticks fast and smoothly.
CCW guns FAQ
What's the best concealed carry holster for a fat guy?
The best concealed carry holster for fat guys is an adjustable KYDEX or hybrid appendix carry holster. This type of holster allows customizing the ride height, cant, and retention for optimal concealment and comfort on a larger frame. Quality holsters with sturdy clips or belt loops will remain stable without shifting as the wearer moves. 
What is the best concealable handgun for big hands?
For those with big hands, a full-size or compact pistol with a double-stack magazine offers a solid, comfortable grip. Here are some good choices:
The Glock 19 is an excellent choice, with its mid-size frame and 15+1 capacity.

The Springfield XD MOD.2 fits larger hands well.

The Smith & Wesson M&P Series pistols have replaceable palm swells for grip customization. 

The SIG Sauer P320 and Walther PPQ M2 have excellent ergonomics. 
What is the most comfortable concealed carry holster?
The most comfortable concealed carry holster is the one that conforms to your body without digging into you or gouging you. This is usually:
a hybrid design with a molded KYDEX shell backed by a pliable leather or suede material. 

your KYDEX holster with a 

GunZee holster pad

 

against your body.
Can you conceal a full-size gun?
With the proper holster and positioning, full-size pistols can be concealed on certain body types. Appendix carry or 4-5 o'clock work best. Choose a slim, contour-hugging holster and fine-tune the adjustments. Cover garments help concealment too. It just takes experimentation to find the right setup.
Do belly band holsters work for fat guys?
Belly band holsters are an effective concealed carry option for larger individuals if sized properly and worn snugly low across the stomach or diagonally across the hip area.
Can you sit with a concealed carry holster?
You can sit with a concealed carry gun as long as you have a concealed carry holster that is good for sitting and you wear it properly.
Is an inside or outside holster better for concealed carry?
For pure concealment, an inside the waistband holster is best, tucked against the body. OWB holsters aren't generally used for concealment, unless it's winter, or you happen to have a long, baggy shirt or jacket to hide it. IWB offers more comfort, and OWB allows faster access.
What is the best size caliber for concealed carry?
Smaller calibers like 9mm and .380 ACP provide power plus compact size. Single-stack 9mm pistols allow impressive capacity in slim packages. Tiny .380s supply lightweight emergency power. But with the right setup, .40 S&W and .45 ACP can also conceal effectively.
Will the Glock 19 fit large hands?
Yes, the Glock 19 is an excellent concealed carry option for those with big hands. Despite the compact overall size, the G19 grip is long enough to fit large hands well. And with the double-stack magazine, the capacity is an ample 15+1 rounds of 9mm. 
What clothing choices help bigger guys conceal carry effectively?
Larger men should choose clothing that breaks up the outline of the firearm and prevents printing. Options include jackets, vests, flannels, and untucked button-down shirts. 
Further reading
What are the best AIWB holsters for women?
How to make seated appendix carry more comfortable?
What are the best CCW handguns for new shooters?
What are the best concealed handguns for seniors?
What is concealed carry reciprocity?
How to choose the best CCW pistol?