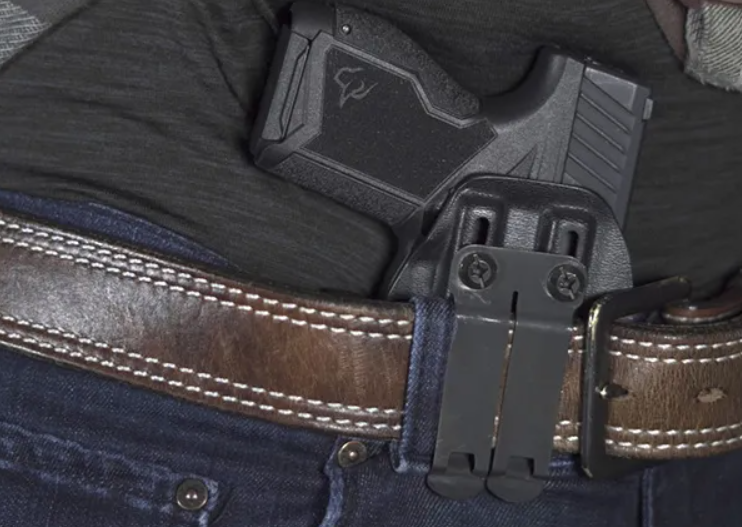 Explore our top picks for the best Taurus GX4 holsters that guarantee a secure and convenient carry every time.
Quick links:
Our top Taurus GX4 holsters include durable KYDEX, leather, and hybrid options ideal for AIWB, 4 o'clock, or other carry positions.
If you wear your GX4 in a KYDEX holster, get our holster pad and experience comfortable carry!
How to Choose the Best Taurus GX4 Holster?
With its lightweight, slimline design, the Taurus GX4 has become a popular concealed carry pistol. Maximizing the benefits of the GX4 requires selecting a CCW holster optimized for comfort, concealability, and accessibility during daily wear.
Holster type. Determine whether you prefer an inside the waistband (IWB), outside-the-waistband (OWB), or 

appendix carry holster

.

Retention. Look for adjustable retention to keep the GX4 securely holstered while allowing a smooth, quick draw.

Comfort. Prioritize padding, moisture-wicking materials, and ergonomic design for all-day carry comfort. 

Our memory foam holster pads

 

create a comfortable cushion to prevent hard holsters from digging into your body.

Accessibility. Opt for a holster with adjustable cant and smooth draw stroke for fast, easy access to your GX4.

Concealment. Minimize printing through features like tuckable design and concealed carry clips.

Material quality. Choose durable, high-performing materials like KYDEX or leather to properly protect your firearm.

Versatility. If you have multiple carry positions, select an adjustable holster that can adapt as needed.
What is the Best Taurus GX4 IWB Holster?
Taurus GX4 IWB holster. Image source: https://harrysholsters.com/taurus-gx4-holster/
Finding a comfortable, secure IWB holster is key for effective concealed carry of the Taurus GX4 subcompact pistol. Here are our top picks:
The Warriorland IWB KYDEX Holster features an adjustable cant, retention, and "Claw" design to customize fit and concealment. The audible lock provides security while the 1.5" gun belt clip enables a smooth, quick draw. Lifetime warranty.

The Concealment Express IWB holster has adjustable cant, "Posi-Click" retention, and Claw compatibility to reduce printing. Undercut trigger guard enables fast access. Sweat guard and hardware provide comfort and durability.

The CYA Supply IWB holster offers audible retention clicks for security along with adjustable cant and retention for customization. Sweat guard, smooth edges, and minimalist design optimize comfort. Durable 0.08" Boltaron construction built to last. 
User Reviews
"Very satisfied with the quality and finish on the holster," says this Amazon purchaser about his Warriorland IWB holster. His only concern is about the magazine release button, because "the holster only covers about ⅓ to ½ of the mag release."
This user praises his Concealment Express holster for the appendix and 4 o'clock positions.
This redditor loves the CYA Supply holster "because you can adjust the cant of the clip up to 20 degrees."
If you're carrying your GX4 IWB, get our holster pad and thank us later!
What is the Best Taurus GX4 OWB Holster?
Taurus GX4 OWB Holster. Image source: https://aliengearholsters.com/taurus-gx4-alien-gear-cloak-slide-owb-holster-outside-the-waistband.html
OWB holsters allow comfortable, accessible carry of the Taurus GX4. Here are top picks:
The CYTAC OWB holster secures the GX4 confidently thanks to adjustable tension and Level II retention preventing shaking or accidental release. Upgraded military polymer creates a durable yet aesthetically pleasing build. Convenient functionality from hidden release buttons and non-slip paddle attachment.

The Vedder ProDraw OWB holster allows smooth, stable holstering and re-holstering of the GX4 courtesy of its reinforced shell and adjustable retention. The lightweight paddle design offers easy on/off without weighing you down. Customizable features and full sight channels make it a versatile choice.

The Urban Carry LockLeather OWB holster prioritizes comfort in its design featuring an extended sweat guard, trigger coverage, and cushioned backing. The integrated clip provides a click-secured draw and re-holster without any cumbersome buttons. Quality materials and construction backed by a 10-year warranty.
User Reviews
This Amazon purchaser thinks the Cytac OWB holster is nice. His only complaint is "that the paddle once slid down is a beast to take out."
This reviewer thinks that "the clip is too large" and "a metal clip may work better." Apart from it he thinks the Vedder OWB holster gives the best fit and retention "anyone could ask for."
"After some working and softening of the leather, this holster performs great," says this reviewer about his Urban Carry holster.
What is the Best Taurus GX4 Pocket Holster?
Taurus GX4 pocket holster. Image source: https://www.vedderholsters.com/taurus-gx4-pocket-locker-holster/
The Taurus GX4 is a tad bigger than most pocket guns, but you can still carry it in a pocket. If you do, you're better off with a good pocket holster. Here are some top choices:
Crafted from durable KYDEX, the Vedder Pocket Locker Holster provides a customized fit to suit the GX4 while options like the smooth thumb tab allow quick, easy draw from a pocket or bag. Full sweat guard and extended slide guard keep the firearm protected from moisture and wear.

With its ambidextrous design and tacky, no-slip exterior, the Sticky Holsters MD-2 adheres securely inside any pocket to fit left and right-handed shooters without the need for clips that could impede the draw. The smooth material allows for a quick, seamless draw when carrying concealed in various outfits.

The lightweight DeSantis Nemesis has a slick pack cloth interior that enables a smooth, fast draw of the GX4 while the foam core conceals the outline of the firearm to prevent printing. The holster provides a snug, tailored fit for consistent drawing and re-holstering performance suited for both men and women.
User Reviews
This reviewer loves his Vedder pocket holster. 
What is the Best Leather Holster for Taurus GX4?
Leather gun holsters provide a classic, quality fit for carrying the Taurus GX4 while prioritizing comfort and retention. Here are top leather holster options:
The Urban Carry LockLeather OWB holster balances quality leather construction with integrated retention for security. Its cushioned back panel and extended sweat shield maximize comfort.

Crafted from premium cowhide, the CrossBreed Supertuck offers reinforced topside retention and a wide backing for a stable, secure fit. The breathable leather molds comfortably to the body.

The StealthGearUSA Ventcore combines durable leather exteriors with a breathable Ventcore backing. This hybrid design adapts to your body while the molded leather shell retains its shape. Fully adjustable for ride height and retention customization.
No more uncomfortable CCW carry! Our holster pad will save the day!
What is the Best Taurus GX4 Holster For Guns With a Light?
Finding a holster for a Taurus GX4 outfitted with a light can feel overwhelming given the specific fit required. We cut through the noise to recommend two holsters purpose-built for secure, comfortable carry of a light-bearing GX4
The Blackpoint Tactical Leather Wing Light Mounted Holster is specifically designed for carrying a Taurus GX4 with a Streamlight TLR-6 69288 light mounted accessory. It offers a unique design that eliminates "hot spots" on the hip, providing comfort during extended periods of wear. The holster features leather "wings" that naturally curve with the body, resulting in a slimmer and more comfortable fit. The side-mounted belt attachment points reduce the overall thickness of the platform, allowing the gun to ride as close to the body as possible for optimal concealment.

The Comp-Tac DCH Taurus Branded Holster GX4/GX4XL + TLR-6 Light Bearing RH is a versatile holster offering both inside-the-waistband (IWB) and outside-the-waistband (OWB) options. It comes with an easy-on, easy-off Infidel Clip for IWB wear and a paddle attachment for OWB wear. The paddle is adjustable for straight/speed cant or 15 FBI cant, providing easy concealment and a comfortable draw. The KYDEX body is custom-molded for a precise fit, while the high-quality KYDEX material ensures a smooth and fast draw. The holster is compatible with red-dot optics and co-witnessing sights, and it features two retention adjustment screws for customizable firearm retention. 
What are the Best Taurus GX4 Accessories?
The Taurus GX4 has many accessory options to enhance the functionality of this popular concealed carry pistol. Here are some top accessories to consider:
Magazine carriers (also called mag carriers) are essential for securely carrying extra magazines on your belt. They provide easy access to spare mags for fast reloads while shooting or training.

Extended magazines provide higher ammo capacity without increasing the pistol's compact size—great for more trigger time at the range or increased readiness for self-defense.

Night sights improve aim in low-light settings. Tritium night sights make the sights visible even in dark conditions.

Lasers like the Crimson Trace LG-422 attach to the trigger guard and project a dot on your target, improving shooting accuracy.

Reliable KYDEX or leather holsters provide secure concealed carry and quick draw access.
Taurus GX4 FAQ
What holsters does the Taurus GX4 fit?
Some of the most popular CCW holsters for the GX4 are:
Warriorland holsters

CYA Supply holsters

Concealment Express holsters

CYTAC OWB holsters

Alien Gear holsters

Vedder ProDraw holsters

G-Code Tactical holsters
What red dot fits the Taurus GX4 Toro?
The Taurus GX4 Toro is compatible with a variety of red dot sights that are designed to fit micro-sized pistols. Here are a few popular options:
Shield RMSc

Trijicon RMRcc

SIG Sauer ROMEOZero

Holosun HS407K-X2
What is the best grain for the Taurus GX4?
Although it depends on the ammunition manufacturer's specifications and the intended use of the firearm, it is generally recommended to use standard 9mm ammunition with bullet weights ranging from 115 grains to 147 grains for optimal performance and reliability. 
Is Taurus GX4 drop safe?
The Taurus GX4 is designed to be drop safe. It incorporates various safety features, including a striker block and trigger safety, to prevent accidental discharges in the event of a drop or impact.
Can a Taurus GX4 shoot +P ammo?
The Taurus GX4 is capable of firing +P ammunition. This CCW gun is designed to handle the increased pressure of +P rounds, which typically offer higher velocities and increased stopping power compared to standard ammunition. 
Is the Taurus GX4 snappy?
The Taurus GX4 is not too snappy. Thanks to the low bore axis, this gun is very shootable. it's easy to get back on target. The undercut trigger guard allows a high grip too. 
Is the Taurus GX4 easy to rack?
The GX4's compact size and lightweight design allow for slightly easier slide manipulation than larger and heavier firearms.
Does the Taurus GX4 have double strike capability?
No, the Taurus GX4 does not have double-strike capability. The GX4 is a striker-fired pistol that utilizes a single-action operation, meaning the trigger must be fully reset before another round can be fired. If a round fails to ignite upon the initial trigger pull, the slide must be manually cycled to eject the faulty round and chamber a new one.
What is the best Taurus GX4 KYDEX holster?
Some of the best Taurus GX4 KYDEX holsters are:
Vedder LightTuck holster

CYA Supply Co. holster

Blackhawk SERPA CQC Concealment Holster
What are the different types of holsters?
Here are the main types of concealed carry holsters:
Inside the waistband holsters

Outside the waistband holsters

Bra holsters

Belly band holsters

Thigh holsters

Chest holsters

Shoulder holsters

Ankle holsters

Paddle holsters
What are some of the most popular handguns for CCW carry?
Here is the list of popular concealed carry gun models:
Ruger LCP Max

Smith & Wesson MP Shield

Beretta GX4 Storm

Sig Sauer P365

Sig Sauer P320

CZ Shadow 2

CZ P10C

HK VP9

Ruger LCR

Springfield Armory Hellcat Pro

Glock 43X

Walther PDP

Taurus G3 C

Shadow Systems MR920
What does the "Thin Blue Line" represent in relation to holsters?
The "Thin Blue Line" refers to the symbol representing law enforcement officers and their role in maintaining peace and order. Some holster manufacturers offer holsters with Thin Blue Line designs or patterns as a tribute to law enforcement professionals.
Further Reading
What are the best AIWB holsters for women?
How to make appendix carry sitting down more comfortable?
What are the best CCW guns for new shooters?
The best CCW holsters for fat guys
Are Eclipse holsters any good?
Are Tenicor holsters any good?
The best Kimber Micro 9 holster
The best Springfield Hellcat holster