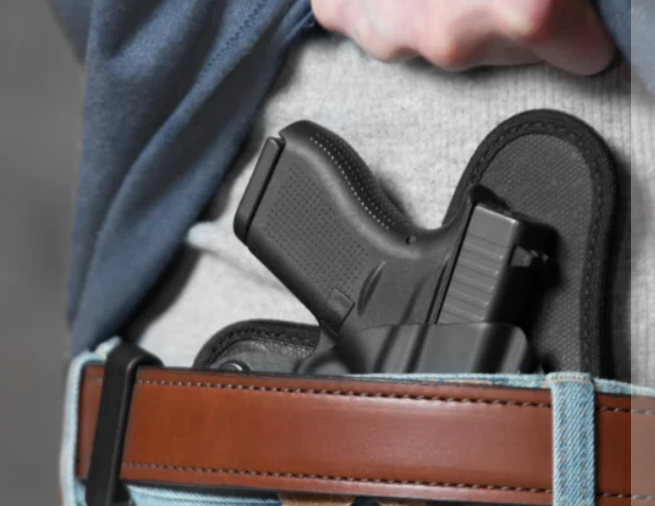 The Taurus G3C packs a punch in a petite package. This subcompact 9mm conceals with ease. But you need a proper holster to get the most from your G3C concealed carry.
Quick links:
We found the best Taurus G3C holsters for every carry style. Durable materials, customizable fit, and quickdraw access unite these top picks.
Whether you prefer appendix, IWB, shoulder, or ankle carry, we have a holster lined up for your G3C. Let's explore the top options for safe, effective concealed carry.
If you're carrying your G3C in a KYDEX holster, get our memory foam pad for the most comfortable CCW experience!
How to Choose the Best Holster for Taurus G3C?
Alien Gear Cloak Tuck 3.5 IWB Holster for Taurus G3C.
Image source: https://aliengearholsters.com/taurus-g3c-iwb-holster.html
The right CCW holster makes all the difference in your G3C experience. With so many holster options on the market, it can be tricky to determine which one truly rises above the rest.
Keep these key factors in mind when selecting a holster for your G3C:
Comfort. Your holster should allow for comfortable all-day carry. Look for ones with padding or contours to avoid irritating pressure points. 

Our holster pad

 

will do the job.

Retention. Proper retention keeps your G3C secure yet accessible. Seek holsters with adjustable tension or retention locks.

Accessibility. Quick, smooth access to your G3C can be crucial. Prioritize holsters with quality construction that won't collapse when drawn.

Concealability. Minimizing printing helps keep your G3C discreet. Look for holsters that hug your body tightly.

Durability. Quality materials and sturdy construction ensure longevity. Opt for holsters from reputable makers that back their products.

Carry style. Choose a holster suited for your preferred carry position, whether appendix, hip, shoulder, or elsewhere.

Design. Consider factors like material, open/closed muzzle, and accommodations for sights or accessories. Evaluate your priorities.
What are the Best Taurus G3C Accessories?
The Taurus G3C is an excellent concealed carry pistol right out of the box. But the addition of a few choice accessories can enhance its capabilities for self-defense. We'll explore some of the most popular and tactical upgrades for the G3C.
Optics. Consider adding a red dot sight or a reflex sight to your Taurus G3C. These optical enhancements can improve your accuracy and target acquisition, especially in fast-paced or low-light scenarios.

Extended magazine. Increase your Taurus G3C's capacity with an extended magazine.

Magazine extensions. You can opt for magazine extensions that provide added grip length to enhance your control and comfort while shooting.

Night sights. If you find yourself shooting in dimly lit environments, night sights can be a game-changer. These glowing sights help you aim accurately, even in low-light conditions.

Upgraded trigger. Upgrading your G3C's trigger can enhance its feel and responsiveness. A smoother and lighter trigger pull can contribute to better accuracy and shooting performance.

Holster accessories. Explore accessories that complement your holster, such as belt clips, magazine pouches, or spare parts specific to your chosen holster model.

Grip enhancements. Fine-tune the grip of your G3C with aftermarket grip panels or sleeves.

Recoil management. Consider muzzle devices or recoil springs designed to reduce muzzle rise and felt recoil. These additions can aid in faster follow-up shots and improved shooting control.

Weapon lights. Equip your G3C with a weapon-mounted light for enhanced target identification and shooting capabilities in low-light environments.
What is the Best IWB Holster for Taurus G3C?
When discreet carry is a priority, an inside-the-waistband (IWB) holster keeps your Taurus G3C close at hand without attracting attention.
Here are some excellent IWB holster options for the G3C:
The Tru-Fit Tactical IWB KYDEX holster is precision-molded from durable 0.08-inch KYDEX material to securely fit the G3C. It offers exceptional retention while allowing smooth, reliable access when drawn. Fully adjustable retention and cant let you customize the holster to your preferred carry position.

The HawkTac IWB Holster is crafted from moisture-wicking materials to remain comfortable during extended wear. Its lightweight, flexible design conforms to the contours of the G3C. Adjustable cant pressure allows you to tailor the precise angle for optimal concealment and accessibility.

The StealthGearUSA Ventcore IWB Mini holster uses breathable Ventcore technology and precision molding to keep the G3C close yet comfortable even in hot weather. Customization options include adjustable cant, rust-resistant hardware, and rail attachments.

The CrossBreed Supertuck holster combines premium leather backing with a molded KYDEX pocket for a secure dual-layer fit. The modular design enables extensive customization for ride height, retention, cant, and shirt tuck options.
User Reviews
This Amazon purchaser recommends the Tru-Fit for its comfortability and adjustability. 
Another Amazon reviewer recommends the HawkTac. "It fits snug and secure and even has a sweat guard," he added.
This user loves the Supertuck for his G3C. He was concerned because the holster didn't have inside padding, but after wearing it for a while, he discovered it to be extremely comfortable. 
Forget about uncomfortable IWB carry. Grab our holster pad and enjoy your CCW experience.
What is the Best OWB Holster for Taurus G3C?
While not as concealable as IWB holsters, OWB holsters provide a secure and comfortable carry experience for G3C owners.
If you want to carry your holster outside the waistband, here are some top options:
The Tru-Fit Tactical OWB holster. Crafted from smooth KYDEX contoured specifically for the Taurus G3C, this OWB holster prevents abrasion and marking of the firearm. Its 1.5" belt mounts keep the holster stable for smooth, repeatable draws. With a one-year warranty, Tru-Fit guarantees reliability. Adjustable retention and design optimized for all-day comfort.

The Blade-Tech OWB Eclipse Holster. Ambidextrous design with adjustable retention enables customized carry position and tension. Low-profile belt clips maximize comfort and concealment while conforming to a natural waistline. Can accommodate right or left-handed carry. Close-to-body design keeps the G3C tight to the waistband.

The Bravo Concealment BCA OWB Holster. Precision-molded using CAD technology for an exact fit with the G3C. Lightweight KYDEX construction and curved shape improve comfort during prolonged wear. High-riding position and close body contact optimize concealment. Positive retention system securely holds G3C while allowing fast draw.
User Reviews
"Easy to draw, but doesn't come out when held upside down," says this Amazon purchaser about his Tru-Fit OWB holster.
What are the Best Taurus G3C Shoulder Holsters?
ShapeShift Shoulder Carry Expansion Pack.
Image source: https://aliengearholsters.com/shapeshift-shoulder-carry-expansion-pack.html.html
Shoulder holsters allow comfortable concealed carry of the G3C when covered by a jacket or coat. Some top options include:
The Galco Classic Lite Shoulder Holster features a ventilated shoulder harness with thumb break retention for a secure yet accessible draw. The adjustable straps ensure a custom fit.

The Gould & Goodrich Gold Line Shoulder Holster has a precision-molded leather construction with reinforced stitching that provides durability. Padded harness distributes weight evenly with adjustable straps.

The VISM Shoulder Holster accommodates left or right-hand draw with an ambidextrous design. The padded mesh shoulder harness promotes airflow to reduce sweat buildup during wear.
Quality shoulder holsters balance security and access while distributing the G3C's weight for comfortable carry. Adjustable straps enable a tailored fit. With proper coverage, shoulder carry keeps the G3C accessible yet concealed and comfortable during cold weather.
What is the Best Leather Holster for Taurus G3C?
Leather gun holsters offer a classic, attractive look for carrying the G3C while providing a comfortable fit. Some high quality leather options include:
Gun & Flower IWB Holster. Precisely molded for the G3C with full trigger coverage for safety. Handmade from smooth full-grain leather with impeccable stitching and polished edges. 

Relentless Tactical Defender Leather Holster. Constructed from durable bullhide leather with reinforced stitching. Features adjustable retention and a full trigger guard. Lifetime warranty backs its reliable performance.

Outlaw Holsters IWB Leather Holster. Hand-crafted from premium cowhide leather for a contoured, customized fit. Meticulous stitching and workmanship for security and discretion. Compatible with 1.5" belts.
User Reviews
The Amazon purchaser recommends the Gun & Flower holster because of its comfortability. "Comfort level is surprisingly good since it's an IWB holster."
The Amazon purchaser got the Relentless Tactical holster for the second time, and he loves it. "The belt clips are rock solid and the workmanship on the leather is really nice," he added.
What is the Best Holster for a Taurus G3C with Light?
Adding a light to your Taurus G3C opens up low-light carrying capabilities. But you need a holster designed to fit the G3C with a mounted light. Here are two great options:
Skydas Gear Light Bearing Holster. Specifically designed for a G2C/G3C with a light attachment. Features adjustable ride height and various clip options to customize carry position. Accommodates different light models.

Werkz M6 IWB/AIWB Holster. Offers adjustable click retention tuned for your exact G3C and light combo. Can be worn in multiple positions. Compatible with additional accessories like magazine pouches for a customized setup.
The right holster secures the G3C tightly while leaving clearance for the weapon light. Look for holsters with adjustable features to tailor retention and carry position for the added size and weight of the light. Quality materials and precise molding ensure a snug, rattle-free fit.
User Reviews
This reviewer is very satisfied with the Skydas Gear holster for his G3C.
This user recommends the Werkz M6 for being comfortable, lightweight, and having good retention. 
Taurus G3C Holster FAQ
What holster will fit Taurus G3C?
There are several holster brands that have holsters to fit the G3C:
Bravo Concealment

Gun & Flower

Blade-Tech

Tru-fit

StealthGear
Is the Taurus G3C good for concealed carry?
The G3C is a great choice if you're looking for a lower-budget concealed carry pistol. It balances power, capacity, and shootability in a discreet package. Many concealed carriers appreciate the G3C for comfortable all-day carry along with peace of mind from having readily accessible protection.
Will a Taurus G3C fit a G3 holster?
Yes, the Taurus G3C will fit holsters made for the Taurus G3. The G3C and G3 share nearly identical dimensions, so holsters made to fit the G3 will also accommodate the G3C. You can safely use G3 holsters for carrying and securing your G3C.
Are Taurus G2C and G3C holsters compatible?
Yes, the Taurus G2C and G3C are compatible with the same holsters. Since these two pistol models have identical sizes and frame designs, a holster made to fit either one will work for the other. A G2C holster will fit a G3C, and vice versa. This cross-compatibility provides more holster options for owners of these popular Taurus models.
Is Taurus G3C good for self-defense?
The Taurus G3C is an excellent choice for a self-defense pistol. Its 10+1 capacity in a very compact and lightweight polymer frame makes it ideal for concealed carry. It chambers 9mm cartridges that provide sufficient stopping power.
The G3C is also very reliable and durable. Its ergonomic grip makes it easy to handle and shoot accurately in high-stress situations. The G3C provides substantial firepower in a package designed for discreet everyday carry for self-defense.
Is the Taurus G3C a full-size gun?
The Taurus G3C is a subcompact pistol, not full-size. It is designed specifically for concealed carry use with its short barrel, small frame, and light weight.
The G3C sacrifices some ammo capacity for compactness, with 10+1 rounds in the magazine. The G3 is the full-size variant in the Taurus G-series polymer pistol line. So the G3C is better classified as a subcompact, not a full-size, handgun.
Is it OK to dry fire Taurus G3C?
It is generally safe to dry fire a Taurus G3C as long as some precautions are taken. Always double check that the chamber is completely empty before dry firing. It is also advisable to use snap caps or empty chamber indicators during dry fire practice.
Dry firing can hone skills like trigger control without consuming ammunition. Just be very diligent to ensure there is never a live round in the chamber during dry fire sessions. Done safely, dry fire is an affordable training option for G3C owners.
How many rounds will a Taurus G3C last?
The Taurus G3C has a standard magazine capacity of 10 or 12 rounds, depending on the variant. Additionally, it can accept extended magazines with higher round counts. The lifespan of the firearm itself will depend on factors such as maintenance, usage, and ammunition quality.
What Glock is a Taurus G3 similar to?
The Taurus G3 is often compared to the Glock 19 due to their similar size, capacity, and intended use as compact handguns suitable for both concealed carry and general shooting purposes.
What are the different types of gun holsters?
There are various types of holsters available to accommodate different carrying preferences and firearm types. Here is a list of common holster types:
Inside the waistband holster

Outside the waistband holster

Shoulder holster

Ankle holster

Pocket holster

Belly band holster

Drop leg holster

Cross draw holster

Pancake holster

Chest holster

Shoulder rig holster

Thigh holster

Small back holster

Shoulder harness holster
How can I carry spare magazines for my Taurus GX4?
Consider using a magazine holster specifically designed for the Taurus GX4. These holsters securely hold your spare magazines, ensuring quick and convenient access to additional ammunition.
Are there leather IWB holsters available for my Taurus G2C 9mm?
Yes, there are leather IWB holsters designed specifically for the Taurus G2C 9mm. These holsters combine the comfort of leather with the convenience and concealment of inside-the-waistband carry.
What are some essential firearm accessories that every gun owner should consider?
Every gun owner should consider investing in a quality holster, magazine carriers for spare ammunition, a reliable gun belt for secure carrying, and accessories specific to their firearm model for customization and enhanced performance.
What makes the Smith & Wesson MP Shield a popular choice among concealed carry enthusiasts?
The Smith & Wesson MP Shield is popular among concealed carry enthusiasts due to its compact size, lightweight design, reliable performance, and availability in various calibers. It offers a balance of concealability, accuracy, and capacity, making it a trusted choice for personal defense.
How does a belly band holster provide comfort for carrying a firearm?
A belly band holster provides comfort by securely wrapping around the waist and allowing for adjustable positioning. It accommodates various firearm sizes and can be worn discreetly under clothing, offering a comfortable carry option for individuals with different body types and clothing choices.
What are the benefits of using magazine carriers?
Mag carriers provide quick access and secure storage for spare ammunition. They help ensure a reload is readily available during critical moments, enhance reloading speed, and keep spare magazines organized and easily accessible. Magazine carriers are crucial for maintaining ammo readiness and minimizing reload times.
How do gun belts
differ from regular belts?
Gun belts are specifically designed to support the weight of a firearm and provide a stable platform for carrying holsters and other accessories. They are typically wider, thicker, and made from durable materials. Gun belts prevent sagging, maintain proper firearm positioning, and ensure a secure and comfortable carry, making them essential for safe and effective firearm handling.
What are the advantages of using a KYDEX holster for the Taurus G3C?
A Taurus G3C KYDEX holster offers excellent retention, durability, and a custom fit. It provides a secure and snug hold on the firearm, ensuring it stays in place during daily carry. KYDEX holsters are also resistant to moisture and can withstand rugged use.
What is the
Thin Blue Line?
The Thin Blue Line represents support for law enforcement. Some holsters feature a Thin Blue Line design as a way to show respect and appreciation for police officers. These holsters often incorporate the Thin Blue Line flag or color scheme, allowing individuals to display their support while carrying their firearms.
Can I use a Sig Sauer holster for the Taurus G3C?
Sig Sauer holsters are designed specifically for Sig Sauer firearms and may not be compatible with the Taurus G3C. It's better to use a holster specifically designed and molded for the Taurus G3C to ensure a proper fit, retention, and access to controls.
What are the advantages of using a leather OWB holster for the Taurus G3C?
A leather OWB holster for the Taurus G3C offers a classic and stylish appearance while providing a comfortable and secure carry option. Leather holsters are known for their durability, flexibility, and ability to conform to the body over time. They also offer a smooth and silent draw, making them popular among concealed carry enthusiasts.
Further Reading
What are the best CCW guns for new shooters?
What are the best holsters for fat guys?
What are the best holsters for women?
What are the most popular CCW guns for women?
The best appendix carry tips for sitting
Are Eclipse holsters any good?
The best Springfield Hellcat holster