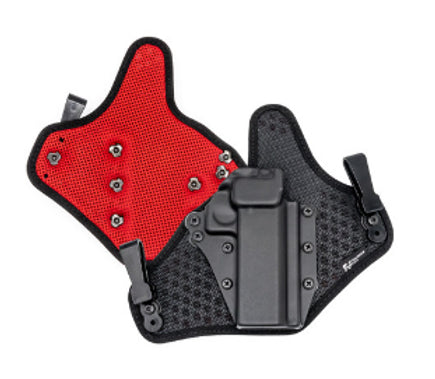 The G43 is one of the most popular concealed carry guns for a reason. It's reliable, slim, and light. 
There are some terrific concealed carry holsters on the market for the 43; let's look at the best of the best.
Quick links:
StealthGearUSA SG-Ventcore AIWB
Safariland 7378 7TS ALS Concealment
The optimal G43 holster will provide a secure fit and consistent retention, ensuring that the pistol is ready for any situation that may arise throughout the day.
Carry your Glock 43 with comfort. Get our holster pad, apply it, and enjoy CCW nirvana!
How To Choose A Good Glock 43 Holster
Choosing the right Glock 43 holster is crucial for comfort and security. Consider the following factors to narrow down the right holster for you and your Glock 43.
Material. Holsters are typically made from leather, KYDEX, or nylon. Leather holsters offer a classic appearance and can conform to your body over time. KYDEX holsters provide excellent retention, are resistant to moisture and temperature changes, and offer a sleek and modern design. Nylon holsters are lightweight, affordable, and often feature adjustable straps for versatility.

Retention. A good holster should securely retain the pistol in place, preventing it from being accidentally dislodged. Adjustable retention systems allow you to adjust the fit of your Glock 43.

Comfort. The holster should be comfortable to use for an extended period. When evaluating the comfort of a holster, consider the design, cushioning, and weight distribution.

Concealability. An important feature of concealed carry, the holster should properly conceal the form of the pistol and allow for unobtrusive carrying in a variety of clothing styles.

Accessibility. A decent holster will allow for a smooth and quick draw, allowing you to quickly access your Glock 43 in an emergency.

Attachment method. Holsters are available with different attachment methods, such as belt loops, clips, or paddle systems. Choose the one that best suits your chosen carrying position and outfit.
Concealment Express IWB KYDEX Holster
Concealment Express IWB Holster.
Image source: https://shop.roundedgear.com/collections/classic-iwb-kydex-holsters
Made from high-quality KYDEX material, the Concealment Express (Rounded Gear) IWB holster offers durability, a slim profile, and excellent retention for the Glock 43.
Pros
Slim design. The slim profile ensures minimal bulk, making your Glock 43 easier to conceal.

Adjustable retention. Users can adjust the retention of the holster to their preference, assuring a secure fit and an easy draw.

Cant and ride height adjustments. The holster enables for cant angle and ride height changes, providing a tailored and comfortable carry experience.

Durable KYDEX material. The KYDEX structure protects the pistol and keeps its shape even when subjected to rigorous use.

Affordability. This CCW holster offers a good mix between quality and pricing.
Cons
Limited padding. While KYDEX is a sturdy material, it may not provide the same amount of comfort as a padded or softer holster. We have a solution for uncomfortable KYDEX. Buy

our memory foam holster pad

to enjoy CCW comfort.

Potential for finish wear. KYDEX material may wear on the gun's finish over time, especially with frequent holstering and drawing.

Clip attachment. A holster with a single clip attachment may not be as stable as one with many connection points or wider clips.
For this user, the Concealment Express is a "sturdy but sleek IWB holster."
This reviewer loves his Concealment Express IWB holster for its comfortability and simplicity.
CrossBreed Supertuck IWB Holster
CrossBreed super tuck.
Image source: https://www.crossbreedholsters.com/supertuck-iwb-holster.html
The CrossBreed Supertuck IWB Holster is a popular hybrid holster that blends the toughness of KYDEX with the comfort of fine leather.
Pros
Hybrid design. The use of KYDEX and leather materials results in a holster that is both sturdy and comfortable.

Comfortable for extended wear. The Supertuck's fine leather backing ensures a pleasant fit against the body, making it suited for all-day use.

Adjustable ride height and cant. The holster allows users to customize the ride height and cant angle to achieve the best fit for their carry preferences.

Wide, sturdy clips. The Supertuck has large clips that securely adhere to the belt, providing stability and minimizing unwanted shifting during regular activities.

Concealability. The thin shape and wide leather backing of the Glock 43 assist to successfully disguise the form of the gun, giving a discrete carry experience.
Cons
Break-in period. To achieve ideal comfort and fit, the leather section of the Supertuck may require a break-in period.

Maintenance. Because of the mix of materials, the holster requires more care and maintenance than a complete KYDEX.

Price. The Supertuck is more expensive than some other holsters on the market, but the high quality materials and design make it worthwhile for many users.
"My experience is that everyone who tries one, buys one," says this reviewer of the SuperTuck holster. 
Wear your SuperTuck with comfort with our holster pads. Apply it and forget about uncomfortable holsters!
StealthGearUSA SG-Ventcore AIWB Holster
The SG-Ventcore holster features a unique ventilated backing material that allows for air circulation, reduces sweat buildup, and enhances comfort during long periods of use.
Pros
Breathable design. The SG-Ventcore's ventilated backing keeps the user cool and comfortable, making it perfect for longer usage, especially in hotter temperatures.

Adjustable retention. The holster allows users to fine-tune the fit and draw of their Glock 43 for a secure and accessible carry.

Durable construction. The combination of a tough KYDEX shell with a moisture-wicking, soft Ventcore cloth ensures the holster's durability and comfort for the duration of its life.

Low-profile design. The SG-Ventcore's small and tiny form makes it highly concealable, allowing for covert appendix carry.

Tuckable clip. It has a tuckable clip that allows users to tuck the holster into their shirt for a more inconspicuous carry option.
Cons
Price. The SG-Ventcore holster is on the higher end of the price scale, which may be an issue for those on a tight budget.

Potential comfort issues. While the ventilated backing is designed for comfort, based on body form and personal taste, some users may find appendix carry less pleasant than other carry positions.
Fobus Glock 43 Paddle Holster
The Fobus Glock 43 Paddle Holster is a lightweight and durable outside-the-waistband (OWB) holster that offers Glock 43 owners a secure and accessible carry option.
Pros
Durable material. The high-density polymer design provides a strong and long-lasting holster that can withstand heavy use and a variety of weather situations.

Paddle attachment. The paddle design allows for easy connection and removal from the belt, providing the user with ease and versatility.

Passive retention system. It has a passive retention system that securely secures the pistol while allowing for a smooth and quick draw.

Low-profile design. The Fobus holster's basic design provides a thin and unobtrusive carry alternative, making it easier to hide your CCW.

Affordability. This holster is reasonably priced, providing a cost-effective choice for individuals looking for a reliable OWB carry option.
Cons
Polymer material. While robust, high-density polymer holsters may not be as comfortable as softer materials like leather or cushioned nylon.

Poor concealability. OWB holsters are generally harder to conceal than IWB holsters, especially when wearing tighter or lighter clothing.
"The gun is securely held in place," says this Amazon customer about the Fobus paddle holster.
Another Amazon purchaser loves the holster because it is compact and easy to conceal. 
Vedder Holsters LightTuck IWB Holster
The LightTuck is a slim and lightweight carry option made from durable KYDEX material that provides excellent protection for your firearm.
Pros
Slim and lightweight design. Minimalist KYDEX construction offers a low-profile and comfortable carry experience, making it easy to hide your Glock 43. 

Adjustable cant, ride height, and retention. This allows users to personalize the holster to their desired carry position and draw method.

Durable KYDEX material. The robust KYDEX shell provides long-lasting protection for your pistol and maintains its shape despite regular use.

Precision-molded fit. Your sidearm will have a secure and comfortable fit thanks to the holster's precision molding.

Tuckable clip. The LightTuck comes equipped with a tuckable clip, which enables users to tuck their shirt in and boosts their ability to conceal the device.
Cons
Single attachment point. A single clip is used for attachment on the LightTuck, which means that it may not give the same level of stability as holsters that have several attachment points or clips that are broader.
"More comfortable than I thought it would be," says this reviewer.
This Amazon user loves the LightTuck for its comfortability, sturdiness, and lightness.
Bravo Concealment Torsion 3.0 Holster
This innovative holster minimizes printing by angling the weapon grip inward towards the body, thanks to its unique torsion technology.
Pros
Torsion technology. The Torsion 3.0 employs a novel design that angles the gun's grip towards the body, reducing printing and increasing concealability.

Durable polymer construction. The holster's lightweight and durable polymer design offers a long-lasting holster that can handle regular wear and tear.

Adjustable cant and retention. The Torsion 3.0 allows customers to tailor the cant angle and retention level, resulting in a more comfortable and personalized carrying experience.

Ambidextrous design. It is designed to serve both right and left-handed users, giving versatility and ease.

Optional OWB conversion. Using the Bravo Concealment pancake-style belt loops (available separately), the Torsion 3.0 may be converted into an outside-the-waistband (OWB) holster, providing additional carry choices.
Cons
Single attachment point. The Torsion 3.0 has a single clip for attachment, which may not give the same level of stability as holsters with numerous attachment points or broader clips.
This reviewer says that "Flexible attachment points make for easy adaptability."
As Alex Castiglione says of the Torsion 3.0 over on SealGrinderPT: "This holster is uber-comfortable. In fact, when carrying a G43, I often forget I'm wearing it! Printing is minimal. Oh, and did I mention that this holster is versatile enough to carry appendix, or IWB 3-5 O'Clock!"
Safariland 7378 7TS ALS Concealment Holster
The 7378 7TS ALS Concealment Holster is an OWB holster constructed from the innovative SafariSeven material, a proprietary blend of nylon and other advanced materials. SafariSeven is known for its resistance to extreme temperatures, moisture, and harsh environmental conditions. With its non-abrasive nature, the holster safeguards your firearm's finish from unnecessary wear and tear. Combined with the ALS (Automatic Locking System), which provides an extra layer of security, the Safariland 7378 7TS ALS Concealment Holster offers a premium carry experience you can trust.
Pros
Automatic Locking System (ALS). The 7378 7TS has a dependable ALS that secures the gun and allows for a quick, intuitive draw with a simple thumb release.

Durable SafariSeven construction. The tough, non-abrasive material provides long-lasting protection against harsh circumstances while also minimizing wear on the firearm's finish.

Low-profile design. The 7378 7TS has a slim design that allows for unobtrusive OWB carry while lowering the danger of printing.

Paddle and belt slide attachments. The holster comes with both paddle and belt slide attachments, letting users choose their preferred mode of attachment.

Compatibility with Safariland accessories. The 7378 7TS is compatible with a variety of Safariland accessories, including the QLS (Quick Locking System) and leg drop platforms, which allow for even more customization.
Cons
Limited adjustability. When compared to other holsters, the 7378 7TS provides fewer choices for modifying cant and retention, which may not fit all users' requirements.

OWB holsters are less concealable than their IWB counterparts, generally speaking.
An Amazon user thinks the 7378 7TS is a great holster. 
Alien Gear ShapeShift Core Carry Pack
This is not a single holster, but rather a collection of four different holsters. This 4-pack includes holsters for inside-the-waistband (IWB), outside-the-waistband (OWB), appendix carry, and even a shoulder carry.
Pros
Comfortable material. The pack has a breathable neoprene backing and a flexible polymer shell for comfort during extended wear.

Adjustable retention. The ShapeShift technology allows users to customize their retention for a secure fit and smooth draw on their Glock 43.

Several carry options. It provides a comprehensive solution for varied carry preferences, including options for IWB, OWB, appendix, and shoulder carry.
Cons
Bulkier than some alternatives. The ShapeShift system's adaptability comes at a size cost, as it may be thicker than single-purpose holsters.

Price. The Alien Gear ShapeShift Core Carry Pack is more expensive than single-purpose holsters, but its versatility may justify the price for people who need several carry alternatives.
This user recommends the ShapeShift for its comfortability and adjustability. "Good kit for those new to CCW," said a commenter over on Pew Pew Tactical.
This reviewer loves that he can easily convert between carrying positions.
Best Glock 43 IWB Concealed Carry Holster
The right IWB holster will provide you with optimal concealment, comfort, and quick access to your Glock 43. Here are some of the best IWB options for packing your Glock 43.
Crossbreed SuperTuck

Concealment Express IWB KYDEX Holster

Stealth Operator Compact IWB Holster

Tulster Profile IWB Holster

CYA Supply Co. Boltaron IWB Holster

Relentless Tactical The Defender Leather IWB Holster

DeSantis Invader IWB Holster

Galco KingTuk IWB Holster
This reviewer loves the Tulster holster for its concealment and easy accessibility.
This Amazon reviewer likes the KingTuk.
If you're wearing your G43 IWB, grab this pad, apply it to your holster, and thank us later!
Best Glock 43 Appendix Holsters
Appendix carry is a popular option among Glock 43 owners due to its quick access and concealability. Choosing the best appendix holster is critical for having a comfortable and secure carry experience while keeping your firearm easily accessible.
Here's a list of the top appendix holsters for the Glock 43:
Tier 1 Concealed Axis Elite Holster has an integrated magazine carrier and a movable middle section for optimal comfort and customization.

T.REX ARMS Raptor is a minimalist KYDEX appendix holster that provides a secure fit and simple access to your Glock 43 while being lightweight.

Dark Star Gear Orion AIWB Holster is made of sturdy KYDEX and features adjustable cant and riding height for a customizable carry experience according to your tastes.

JM Custom KYDEX AIWB Holster offers a snug and solid grip on your Glock 43 while offering comfortable appendix carry thanks to its precision-molded fit.

Stealthgear AIWB Holster combines a slim design with a breathable Ventcore platform to provide a comfortable and discrete appendix carry option for your Glock 43.
"It disappears on me and is super comfortable in the summer," says this redditor about Stealthgear holsters.
Whatever piece you're packing, if you are wearing it AIWB, grab this holster pad, apply it, and enjoy pure comfort!
Best Glock 43 OWB Holsters
OWB holsters provide several advantages, including faster draw times and a more natural feel while carrying. Here are some of the best OWB holsters for the Glock 43:
Blackhawk SERPA CQC Concealment Holster. The innovative SERPA Auto Lock release system on this holster ensures a secure and straightforward draw. The adjustable cant and belt loop attachment options allow for customization to accommodate different carry preferences.

Galco Combat Master Belt Holster is made of genuine saddle leather, provides a classic, attractive, and comfortable OWB carry alternative. The hand-molded fit and double-stitched seams assure durability and a snug grip on your Glock 43.

Blade-Tech Signature OWB Holster is built of a lightweight polymer material that is both sturdy and comfortable to wear. The adjustable retention and belt width options add versatility and allow for a custom fit.

DeSantis Mini Slide OWB Holster is made of high-quality saddle leather and has a double-seam construction for long-lasting use. The open-top design allows for a quick draw, and the adjustable tension device assures a secure fit for your Glock 43.

OutBags USA LS2G43 OWB Holster is made of genuine full-grain leather and provides a comfortable and elegant carry choice. The basic design keeps everything low-profile, and the thumb break retention strap adds extra security.

SafariLand Slim Pro-Fit Concealment Holster is designed to fit very compact, CCW friendly weapons.
"The grip lock system is amazing," says this redditor about SafariLand holsters.
Best Leather Glock 43 Holsters
For their durability, comfort, and traditional aesthetic, leather holsters have long been a favorite among weapon enthusiasts. Here are some of the best leather holsters for your Glock 43 that offer a combination of design, usefulness, and craftsmanship:
1791 Gunleather 4-WAY Glock 43 Holster allows for several carry positions, including IWB, OWB, cross draw, and appendix, giving versatility and convenience in any situation.

The Defender by Tactical Relentlessness: a handcrafted, American-made leather IWB holster that combines function and style to give a secure fit and comfortable carry for your Glock 43.

Galco Classic Lite Shoulder Holster is a fine leather shoulder holster that provides a comfortable and discreet carry solution for your Glock 43, making it a perfect choice for both casual and business settings.

DeSantis Sof-Tuck IWB Holster has a tuckable construction and an adjustable cant, making it an ideal IWB carry solution for your Glock 43.

Muddy River Tactical OWB Water Buffalo Leather Holster, made of quality leather, provides a robust and pleasant carry experience while delivering a snug fit for your Glock 43.

VersaCarry features a minimalist and innovative design that provides a secure and comfortable carrying experience while allowing easy access to your firearm.
Because of its softness, this redditor prefers the VersaCarry for his Glock 43.
Best KYDEX Glock 43 Holster
KYDEX holsters are a reliable carry alternative due to their good retention, ease of maintenance, and resistance to environmental variables. Here are some of the top Glock 43 KYDEX holsters:
Safariland 7371 7TS ALS: The Automatic Locking System (ALS) is built into this tough KYDEX holster for a secure fit and quick draw. It is made of Safariland's non-abrasive SafariSeven material and is resistant to extreme temperatures and harsh situations.

Black Rhino Concealment TCS is a versatile KYDEX holster designed for IWB or OWB carry. It provides a customizable and comfortable carry experience with adjustable cant and retention.

Vedder Holsters LightTuck is a small and lightweight KYDEX IWB holster with adjustable cant, ride height, and retention for a customized fit and comfortable carry.

CYA Supply Co. Boltaron IWB Holster is made of Boltaron thermoplastic, which is more durable than standard KYDEX. The adjustable cant and positive retention provide a secure and pleasant carrying experience.

Concealment Express IWB KYDEX Holster: With its adjustable cant, retention, and full sweat shield, this minimalistic IWB KYDEX holster gives a secure and comfortable carry experience.
"It has a nice thumb activated retention," says one redditor about his 7371 7TS ALS holster.
On the same thread, another redditor recommends Black Rhino for its fit and finish.
Best Glock 43 Slim Holster
These holsters are meant to be lightweight and discreet, making them ideal for both everyday carry and hidden carry. Here are some of the most slender holsters for the G43:
StealthGearUSA SG-Revolution IWB Holster offers a lightweight and breathable carry alternative that fits to your body for optimal comfort thanks to its compact design and patented ACX-57 polymer material.

Q-Series Stealth Glock 43 Holster is an ambidextrous and minimalist holster with a low-profile design that provides a secure fit and simple access to your Glock 43 without adding extra bulk.

Tulster Profile Holster is a small KYDEX IWB holster with adjustable cant, retention, and a full sweat shield for your Glock 43, making it a comfortable and low-profile carry alternative.

CrossBreed MicroClip IWB Holster combines a slim KYDEX shell with a tiny leather backing to create a comfortable and inconspicuous IWB carry option without sacrificing security or accessibility.

DeSantis Slim-Tuk Ambidextrous Holster is a tuckable IWB holster with a slim design and adjustable cant, providing a versatile and low-profile carry alternative for your Glock 43.

Raven Vanguard is a minimalist holster designed for secure, low-profile carry, keeping your Glock 43 easily accessible and discreetly concealed.
These redditors recommend Raven Vanguard for its minimalist design. 
An Amazon user recommends DeSantis Slim-Tuk. His only complaint is with the belt clips—"I found it carries the weapon just a little too high on the belt."
Best Glock 43 Holster for Women
Women looking for a comfortable and elegant Glock 43 holster will find solutions that are tailored to their specific needs and preferences. Let's take a look at some of the best holsters for women for the G43:
IWB Woman Pink Gun Holster - Houston. This stylish pink holster is constructed of eco-friendly leather and provides a soft and comfortable concealed carry alternative developed particularly for ladies.

Flashbang Holsters Women's Marilyn Holster. This bra-mounted holster, inspired by the iconic actress, provides for quick access and comfortable carry, making it a great alternative for ladies looking for a discreet and secure holster option.

Can Can Concealment Hip Hugger Holster. This adaptable holster, designed to be worn around the hips, offers several pockets for firearms and accessories, giving a comfortable and customizable carry solution for women.

Femme Fatale Ankle SoxXx Holster. This beautiful lace ankle holster offers a discreet and secure carry solution for ladies, making it ideal for use with skirts, dresses, and other wardrobe options when traditional holsters may not be appropriate.

Undertech Undercover Women's Concealed Carry Shorts. These compression shorts come with built-in holsters for secure and discrete carry, making them a comfortable and convenient carry option for active ladies.
This Amazon customer loves the Pink Gun Holster for its quality.
No matter your gender, apply this pad to your IWB holster and experience CCW nirvana!
Best Glock 43 Holster on a Budget
There are various affordable solutions available for Glock 43 owners looking for a dependable and cost-effective holster without sacrificing quality. These low-cost holsters offer a secure and comfortable carry experience while still allowing you to reach your pistol. 
CYA Supply Co. Boltaron IWB Holster. This inside-the-waistband holster is manufactured of tough Boltaron thermoplastic and provides a strong and lightweight carry alternative with adjustable cant and retention at a reasonable price.

Concealment Express IWB KYDEX Holster, with its basic appearance and adjustable features, delivers a secure and comfortable carry experience for your Glock 43 without breaking the bank. 

UTG 3.9" Ambidextrous Pocket Holster. At a low-profile price, this adaptable pocket holster offers a low-profile carry solution for Glock 43 owners, with an ambidextrous design and non-slip bands to assure a secure fit in your pocket.
Glock 43 Holsters FAQ
Is a Glock 43 good for concealed carry?
Yes, the G43 is an excellent concealed carry weapon. Its small size, lightweight build, and dependability make it an excellent pistol for concealed carry. Furthermore, its single-stack design maintains a thin profile, allowing for comfortable carry and concealment in a variety of holsters and carry postures.
Does a Glock 43 jam?
While any semi-automatic firearm, including the Glock 43, is susceptible to jams and malfunctions, Glock pistols are well-known for their dependability and durability. Jams can be considerably reduced with proper maintenance, quality ammo, and proper shooting skills. A G43, when properly maintained, should provide a dependable and consistent shooting experience.
Is the Glock 43 a good choice for a woman?
The slimness, size, and light weight of the G43 make it an ideal CCW for women. This gun's slim 1.02" width is a significant bonus because women aren't crazy about adding thickness to their waistline.
Is it safe to carry a Glock 43 with one in the chamber?
As long as normal weapon safety guidelines are followed, it is safe to carry a Glock 43 with one in the chamber. The G43 has a built-in trigger safety as well as internal safeties such as the firing pin safety and drop safety to help prevent unintentional discharges. Carrying one in the chamber allows for a faster response time in a self-defense situation, but it's critical to use a quality holster that covers the trigger and to practice safe handling at all times.
What type of holster is most comfortable?
One of the most flexible and comfortable holsters on the market is the belly band holster. It can be worn in a variety of positions on your torso, such as on your hip, midback, behind the hip, appendix, and so on. 
What is the difference between Glock 43 and Glock 43x?
Both of these Glocks have the same model number, but with a noticeable 'X' distinction. The 'X' indicates that the G43x is larger than the 43 due to the expanded grip. While the G43 is 4.25 inches tall, the G43x is 5.04 inches taller. The G43x holds 10 rounds, whereas the G43 holds only 6. As previously stated, the G43 contains six plus one, whereas the G43 holds ten plus one.
When loaded, the G43x weighs 23.07 ounces, whereas the G43 weighs 20.64 ounces. And it certainly feels different with your gun holstered or in your hand.
Their widths differ slightly as well. The G43x is .04 inch thicker than the 43 and 1.10 inch wider overall. The barrel length of both pistols is 3.41 inches. Their total lengths differ only slightly: the G43 is 6.26 inches long, while the G43x is 6.5 inches long. 
Can you use the Glock 43x holsters for your Glock 43?
While the Glock 43 and Glock 43X are comparable, there are some minor differences in size, most notably in the grip length. Some holsters developed expressly for the G43 may not perfectly fit the G43X. However, holsters that are designed to fit both models are available. 
Can I use Crossbreed holsters as car holsters?
Yes, CrossBreed holsters can be used as car holsters. They offer safe and comfortable carrying options for your gun, allowing for easy access while driving. Simply ensure that the holster is safely and securely mounted in your vehicle.
Are red dot sights compatible with chest holsters?
Yes, many chest holsters are intended to fit your gun's red dot sights. It is critical to select a chest holster that provides ample space for the sight while also ensuring proper retention and accessibility.
How do pocket holsters for Glock 43 improve concealed carry comfort?
Glock pocket holsters improve concealed carry comfort by equally spreading the weight of the pistol in your pocket, preventing printing, and allowing simple access to your gun.
Are Sticky Holsters a good option for Glock 43 concealed carry?
Sticky Holsters have a no-clip, friction-based design that firmly holds your G43 in place for inside-the-waistband or pocket carry, making them a versatile and comfortable concealed carry solution.
What should I consider when choosing a gun safe for storing my gun?
When purchasing a gun safe, consider aspects like size, lock type, construction, fire resistance, and whether it offers additional storage for accessories such as holster clips and magazine pouches.
Are belt clips and holster clips essential for a secure carry experience?
Belt clips and holster clips aid in the attachment of your holster to your belt or waistline, ensuring stability and easy access to your Glock during concealed carry.
How does an ankle glove holster compare to a slide holster for concealed carry?
For those who prefer lower-leg carry, an ankle glove holster is a discreet and comfortable option, while a slide holster is a more typical belt-mounted option for waist-level carry.
What are the benefits of a belt holster for Glock compared to other carry options?
A belt holster provides simple access, a snug fit, and the option to alter cant and riding height for a customized carry experience, making it a favorite choice for many hidden carriers.
Should I carry extra magazine pouches?
Mag pouches allow you to discreetly and comfortably carry extra ammo, ensuring you have extra rounds on hand in case of an emergency or for range practice. They also add extra bulk and weight. You'll have to decide if the trade-off is worthwhile.
Further Reading
Are Eclipse holsters any good?
Understanding concealed carry reciprocity
Best appendix carry for sitting down
Best ambidextrous concealed carry guns
Are Tenicor holsters any good?