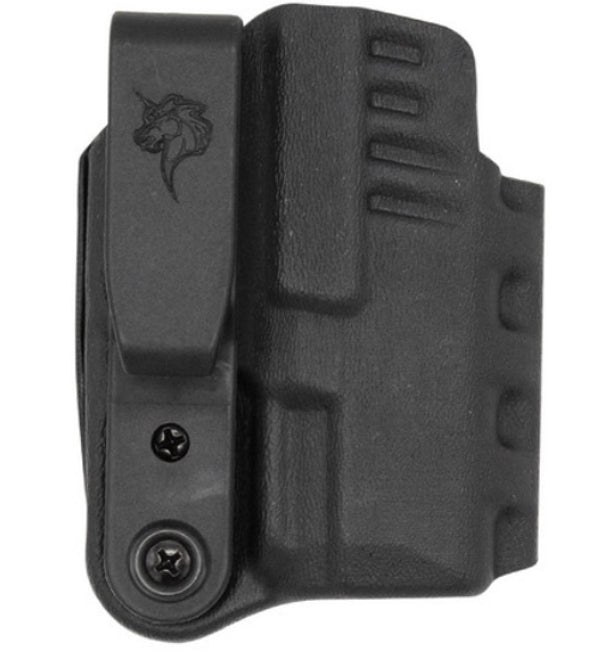 The Springfield Armory Hellcat has made quite a name for itself in the world of concealed carry guns. This microcompact 9mm has impressive capacity, intuitive design, and solid construction.
To get the most from the Hellcat, you need a good gun holster. 
Quick links:
We'll look at the best holster brands, carrying styles, and positions for effective Hellcat concealed carry.
If you're carrying your Hellcat in a KYDEX holster, apply our holster pad for the most comfortable CCW experience of your life
.
Choosing the Best Holster for the Springfield Hellcat
A good Hellcat holster should offer a balance between comfort, retention, accessibility, and concealment. These factors are weighted differently for different folks. Here are some examples:
Someone who packs heat 10 hours a day will probably prioritize comfort more than someone who occasionally carries.

A thin person may prize concealability more than someone with a bit of extra weight.

Someone who works in dangerous situations probably values accessibility more than other people.

An obese CCW enthusiast might prioritize adjustability more than most because they find it difficult to make most holsters conform to their body shape.
Consider the following factors when selecting the best holster for concealed carry, then find a holster that offers the right balance for your needs.
Material. Leather, KYDEX, or a hybrid; each has its own set of benefits in terms of comfort, durability, and retention. 

Carry position. Choose an IWB, OWB, appendix, or ankle location corresponding to your preferred carrying style and daily activities.

Retention. Consider the level of security and ease of draw that best suits your needs, whether passive or active.

Comfort. Check that the holster does not dig into your skin or cause discomfort while you are sitting, standing, or moving.

Our nifty holster pad

will take care of this for you.

Concealment. You want a holster that helps your gun blend in, not one that makes it print worse.

Accessibility. Choose a holster that allows easy and quick access.

Adjustability. Look for holsters with adjustable cant and ride height.
Best Springfield Hellcat IWB Holster
Springfield Hellcat IWB Holster. Image source: https://store.springfield-armory.com/desantis-slim-tuk-ambi-holster-hellcat-hellcat-osp/
When you need to keep your Hellcat close but not draw attention to yourself, an inside the waistband holster is the way to go.
Here are some of the most popular IWB holsters for the Hellcat:
CrossBreed Supertuck: blends the comfort of a leather backing with the durability of a KYDEX shell. The Supertuck's adjustable cant and riding height allow for a personalized fit that meets individual preferences. Sturdy steel belt clips maintain a snug fit, while the leather backing molds to the wearer's body with time, improving overall comfort.

Alien Gear Cloak Tuck 3.5: has a custom-molded retention shell made of strong Boltaron material. The breathable neoprene backing keeps you comfortable even after lengthy wear, while the adjustable cant, ride height, and retention allow for a custom fit. The Cloak Tuck 3.5 also has a lifetime guarantee and a 30-day test drive, giving you confidence in your purchase.

Vedder LightTuck: a precision-molded holster has an adjustable cant (0 to 30 degrees) and riding height for a custom fit. The sweat shield provides additional protection, and the audible retention lock system ensures secure carrying.

Tulster Profile: provides a secure and comfortable carry experience thanks to its adjustable cant (0 to 15 degrees). The smooth edges and low-profile design help conceal the pistol, while the full sweat cover protects it. Tulster holsters are proudly crafted in the United States and are backed by a lifetime warranty.

CYA Supply: another reliable, low-cost solution. For a secure fit, this Boltaron-made holster has an adjustable cant (0 to 15 degrees) and positive retention. The stainless-steel hardware and smooth edges increase durability and comfort, while the sweat guard keeps moisture from the pistol. 
User Reviews
This reviewer tried several brands over the years but found Supertuck to be the best. "It's light and gives you the ability to tuck in your shirt if that is needed," he noted.
This user loves his Alien Gear holster.
For this user, his CYA Supply is the best as "it carries the Hellcat perfectly."
This user recommends the Vedder LightTuck.
"I prefer Tulster Holsters with a sidekick attachment," said this user. 
Get the most out of your IWB carry with our memory foam pads. Attach them to your IWB holster, and say goodbye to discomfort. 
Best Springfield Hellcat OWB Holster
Springfield Hellcat OWB Holster. Image source: https://store.springfield-armory.com/crucial-concealment-covert-owb-holster-hellcat-hellcat-osp/
For individuals who want easier access and a more natural draw, outside-the-waistband (OWB) holsters are an excellent alternative. OWB holsters, while not as concealable as their IWB counterparts, provide a secure and comfortable carry experience for Hellcat owners.
These OWB holsters provide dependable performance and durability, whether for open carry or range use.
Bravo Concealment Adaptive (BCA) 3.0. Designed using in-house CAD technology and 3-D scanning, the BCA 3.0 offers a precise fit within three thousandths of an inch, ensuring a snug and secure hold for your Springfield Hellcat. This long-lasting Kydex-style polymer holster has a slight curve that wraps around your waist for maximum concealment and all-day comfort. The smooth pocket and audible "click" while reholstering provide a speedy draw while protecting the polish of your pistol. The BCA 3.0 delivers a dependable and comfortable carry experience, thanks to gun belt loops designed to pull the rifle close to your body.

Blackhawk SERPA CQC Concealment Holster. Its patented Auto-Lock mechanism assures safe and simple retention, releasing the handgun only during the draw cycle when properly placed fingers are used. This holster provides outstanding concealability because of its slim profile and level 2 retention system. The 'speed cut' design exposes more of the handgun, allowing for a faster draw, improved target acquisition, and compatibility with red dot-mounted weapons. The SERPA CQC includes a belt loop and a paddle platform with adjustable cant to suit personal preferences. 

Safariland 7378 7TS ALS Concealment Paddle Holster is a revolutionary blend of security and convenience, with an open-top design and the Automatic Locking System (ALS) for easy weapon recovery. With its raised inside stand-offs, the 7378 7TS preserves your firearm's surface and readily clears dirt or moisture. It is made of SafariSevenTM, a non-abrasive, weather- and temperature-resistant nylon blend. The heat and cold tolerances of the holster extend from 300°F to -50°F, assuring structural integrity. This adaptable holster can be worn cross-draw and modified to your desired cant thanks to an adjustable, injection-molded belt loop and paddle that fits belt widths up to 1.75".

Galco Combat Master Belt Holster is a professional-grade, hand-molded holster which provides great retention and an appealing appearance. Its high-riding pancake-style design has belt slots on both sides, bringing the pistol close to the body and enabling optimal concealment beneath light clothing. The open-top design enables quick access to the firing grip, which is critical in defensive situations. The Combat Master is made of superior steerhide and has double-stitched seams for added durability and long-term use. This holster blends seamlessly with various clothing styles and is compatible with belts up to 1 ¾" wide.
User Reviews
"I can wear it for hours and forget that I have it on," says this Bravo customer about the BCA 3.0.
This user loves the Blackhawk holster. He recommends it to his family and friends and even bought one more for his Glock 40.
"Great outside the waistband holster. It fits my Hellcat perfectly," wrote this Safariland customer of his ALS holster.
Best Ankle Holster for Springfield Hellcat
ComfortTac Ankle Holster: designed with stability and comfort in mind. Its extra calf strap helps prevent the holster from sliding down during the day, ensuring a secure fit on your leg. Made primarily from neoprene, the ComfortTac provides a comfortable wearing experience. Though the holster isn't specifically designed for the Hellcat, it achieves retention through a simple strap that covers the back of the handgun when holstered. The snap and strap retention system is both functional and secure, keeping your firearm in place all day. Additionally, the ComfortTac features a magazine pouch for increased capacity. This ankle holster is an ideal choice when not wearing boots, as it maintains stability without needing a calf strap.

Alien Gear ShapeShift Ankle Holster: comes in model-specific variations, requiring users to choose one tailored for the Hellcat. This design choice allows for increased adjustability, such as tool-free retention adjustment and an extensive range of ride height options. The ShapeShift features a loop that wraps around the bottom of your foot when wearing boots up to 6 inches tall, preventing the holster from sliding up during firearm draw. The Alien Gear's actual retention on the gun ensures the holster remains stationary as you draw your firearm, providing a secure and reliable experience.

Tagua Holstermart USA ankle holster: made of high-quality leather. While designed for tiny 38 Specials with barrel lengths ranging from 1-7/8" to 2-1/8", some use the Holstermart for the Hellcat. It may take some breaking in to acquire the correct Hellcat fit. The soft backside of the holster, unlike some neoprene choices, promotes comfort and sweat-wicking; however, it can be warmer on the skin. The excellent thumb break keeps the pistol tight, and the leather strap stays on the leg throughout use. 
The Amazon purchaser recommends the Holstermart to anyone who owns a Hellcat. 
Forget about uncomfortable CCW carry. Grab our holster pad, apply it, and thank us later!
Best Shoulder Holster for the Springfield Hellcat
Shoulder holsters distribute the weight of the firearm across the shoulders, making them ideal for extended wear and reducing the potential strain on the waist or hips. 
Shoulder holsters are less discreet in the summer, but can be concealed under a jacket or coat in colder weather. 
Alien Gear Cloak Shoulder Holster
The Cloak Shoulder Holster is model-specific, meaning you can get one designed for the Hellcat. It features adjustable retention to ensure a secure fit for your gun. Users can modify the cant and ride height to reach their favorite carry position.
The Cloak Shoulder Holster is made of breathable CoolVentTM neoprene and is designed to maintain comfort even when worn for extended periods of time. The holster also has adjustable harness straps for a custom fit and two magazine holster carriers on the other side for increased convenience. 
The Cloak Shoulder Holster "works out perfectly" for this self-proclaimed big guy. He carries it while driving and finds it comfortable.
Hellcat Pocket Holster
At 6 inches long and 4 inches tall, the Hellcat is a borderline candidate for pocket carry. You'll definitely be feeling it, though.
If you're going to pocket your Hellcat, try the following holsters:
DeSantis Nemesis

Sticky Holsters MD-4

Elite Survival Systems Pocket Holster
What do users think about carrying their Hellcat in a pocket? Let's see!
This redditor says that the Hellcat fits in a pocket but is "really too big to make it easy." Like we said.
On the same thread, another redditor claims the Hellcat is fine for pocket carry "as long as you don't wear skinny jeans."
Another redditor claims the Hellcat "prints like a cell phone."
Best Leather Holster for the Hellcat
Leather holsters provide a classic look and feel while also providing a comfortable fit for your Hellcat. They can be an excellent choice for those who prefer a more traditional style holster. Here are some great Hellcat leather holsters to consider.
DeSantis Thumb Break Scabbard. Made from premium saddle leather, this holster offers a sleek design with a thumb break for added retention. It can be worn on the strong side or cross-draw.

Galco KingTuk IWB. With its durability and comfort, this leather and KYDEX hybrid holster provides the best of both worlds. It has a metal belt clip and adjustable tension for a comfortable fit.

Tagua BH1 Thumb Break Belt Holster. This holster is made of genuine cowhide leather and has a thumb break for additional security. It also has an adjustable cant and can accommodate belts up to 1.75 inches wide.
Hellcat Holsters FAQ
What is the best concealed carry holster for a Springfield Hellcat?
The best Springfield Armory Hellcat holster for concealed carry is a matter of personal preference. Here are some of the most common favorites: 
CrossBreed Supertuck

Alien Gear Cloak Tuck 3.5

Vedder LightTuck

Tulster Profile

CYA Supply
What holster will fit a Springfield Hellcat?
A variety of holsters are available to fit the Springfield Hellcat, including OWB, IWB, ankle, shoulder, and pocket holsters. It's essential to select a holster that is specifically designed to fit the Hellcat to ensure proper retention and a secure fit.
Is the Springfield Hellcat good for concealed carry?
Yes, the Springfield Hellcat is a great CCW weapon. Because of its small size, lightweight design, and large magazine capacity, it is a popular choice among concealed carry permit holders. Also, the Hellcat's ergonomic design and adjustable sights make it easy to use and accurate for self-defense. 
Is the Springfield Hellcat better than the Glock 43X?
Both the Springfield Hellcat and Glock 43X are excellent options for concealed carry and personal defense. Ultimately, which one is "better" will depend on individual preferences and needs.
The Hellcat has a higher magazine capacity than the 43X, with a standard 11+1 capacity compared to the 43X's 10+1. It also has a slightly shorter barrel length and overall length, which can make it slightly easier to conceal.
The Glock 43X is known for its reliability and durability, with a proven track record over many years. It also has larger aftermarket support, with a wider range of accessories and customization options available.
Does Hellcat come with a single mag?
The Springfield Hellcat comes with two magazines—a patented 11-round mag with pinky extension and a 13-round extended mag.
Do Springfield Hellcats jam?
Several Springfield Armory Hellcat shooters have complained that their gun jams at random. This is by no means common, but it does happen.
Is it safe to carry a Hellcat with one in the chamber?
Carrying a Hellcat with a round chambered is much riskier than the alternative. There are steps that can be taken to mitigate this risk. Always use a quality holster that covers the trigger guard and provides proper retention. Keep your finger off the trigger until ready to fire. 
Additionally, proper training and education on safe handling and operation of firearms is essential to minimize the risk of accidents.
Is the Hellcat hard to rack?
The Springfield Hellcat has a stronger spring than other pistols of comparable size, making it slightly more difficult to rack the slide. However, with proper technique and practice, it is still manageable for the majority of people. Some people may find it more difficult due to a lack of hand strength or physical limitations, in which case tools and techniques to assist with racking the slide are available.
What does OSP mean on Hellcat?
OSP stands for "Optical Sight Pistol." The Springfield Hellcat OSP has a milled slide that allows for easy attachment of micro red dot sights. 
What is the difference between Hellcat and Hellcat Pro?
The main differences between the Springfield Hellcat and the Hellcat Pro are as follows:
Sights. The Hellcat Pro has fiber optic front and rear sights, whereas the regular Hellcat has a tritium/luminescent front sight and a tactical rack rear sight.

Barrel. The Hellcat Pro features a longer 4-inch barrel, while the standard Hellcat has a 3-inch barrel.

Slide. The Hellcat Pro has a machined slide with enhanced serrations, whereas the Hellcat has a standard slide with standard serrations.

Grip. The Hellcat Pro has a custom grip with removable inserts for a more personalized fit, whereas the standard Hellcat has a standard grip.

Magazine. The Hellcat Pro comes with two 13-round magazines, while the standard Hellcat comes with one 11-round and one 13-round magazine.

Price. Because of the extra features, the Hellcat Pro is generally more expensive than the standard Hellcat.
Is Hellcat or XD-S better?
Both the Springfield Hellcat and the Springfield XDS are reliable and popular options for concealed carry.
The Hellcat is a newer model with a larger capacity and a smaller size that makes it easier to conceal. It also has a more ergonomic design and better sights than the Springfield XD-S. However, some people may find the Hellcat harder to rack.
The XD-S is a proven model that has been around for several years. It has a slightly larger frame than the Hellcat, but it is still a compact option for concealed carry. It's also less expensive and has a simpler design with fewer features.
What is a holster system?
A holster system is a combination of a holster and other accessories that make carrying your firearm more comfortable and convenient.
What is the Hellcat RDP?
The Hellcat RDP is a variant of the Springfield Armory Hellcat that includes a red dot sight and a threaded barrel for attaching a suppressor.
What are the most useful concealed carry holster accessories?
Here are some of the most useful holster accessories:
gun belt

holster claw

magazine carrier

flashlights and knives
What is the difference between a paddle holster and a slide holster?
A paddle holster has a "paddle" or "duck bill" section that fits inside the waistband, and the gun holster overlaps the waistband. A belt slide holster is a holster that slides over a belt.
What are some common types of firearm accessories?
Here are some of the most common types of gun accessories you should consider:
gun holsters

slings

gun cleaning kits

tactical flashlights

scopes

magazine loaders

suppressors
Where do you wear a mag carrier?
People always wear their magazine carriers on the non-dominant side. Right-handed people usually carry their mag carriers on the left side, and lefties carry theirs on the right side. 
What is cant on an appendix holster?
Cant refers to the angle at which the holster is positioned on the body. In the context of an appendix holster, the cant is the angle at which the holster is tilted forward or backward. This angle can be adjusted for a more comfortable and concealable fit, as well as a faster draw. A modest forward cant is often preferable for appendix carry since it provides for a more natural and speedier draw while reaching for the pistol. 
What are the benefits of using a drop leg holster for my gun?
A drop-leg holster allows you to easily access your firearm while freeing up space around your waist for other gear. It can also be more comfortable for extended wear.
What are the advantages of a modular holster system?
A modular holster system allows you to customize your holster setup for different situations or firearms. You can switch out holster shells or add accessories to fit your needs.
Can I use a belly band holster for my Sig Sauer P365?
Belly band holsters are versatile and can accommodate many gun models, including the P365. However, make sure the belly band you want is compatible with your gun.
How do carry belts differ from regular belts?
Carry belts are made to support the weight of a firearm while also preventing sagging and discomfort. They are typically wider and thicker than regular belts and may include extra support features such as reinforced stitching or a rigid insert.
What is the point of a chest holster?
A chest holster is commonly used for hunting, camping, or any other activity that necessitates quick access to a gun. A chest holster allows the wearer to carry a pistol while keeping their hands free, which is very handy when trekking, climbing, or navigating tough terrain. It also gives the firearm a comfortable and secure fit while dispersing the weight equally across the chest.
What makes the LCP Max a good choice for concealed carry?
The Ruger LCP Max is an excellent choice for concealed carry for several reasons:
It is extremely small and lightweight, making it easy to conceal and carry daily.

It has an improved trigger and grip design, making it more comfortable to shoot accurately.

The LCP Max has a number of safety features, such as manual thumb safety and a magazine disconnect safety. 
How does the MP Shield EZ compare to other popular concealed carry options like the MP Shield or HK VP9?
The Shield EZ is specifically developed for those who struggle with the slide on other guns, making it a perfect choice for those who are new to firearms or have hand strength or mobility concerns. It has a low recoil and an easy-to-rack slide. The MP Shield and HK VP9 are also popular concealed carry choices, but they are not as well-designed as the Shield EZ. The MP Shield has a low profile and is lightweight; the HK VP9 has great accuracy and a configurable grip.
What are some unique features of the CZ P10C that make it a popular choice for concealed carry enthusiasts?
The CZ P10C is known for its unique features, which make it a popular choice among concealed carry enthusiasts:
Its compact size and lightweight design make it easy to conceal and carry for extended periods.

The P10C has an ergonomic grip design that provides a comfortable and secure hold on the firearm.

The trigger on the P10C is also highly regarded, with a short reset and crisp break.

The P10C also has a low bore axis, which helps reduce felt recoil and improve accuracy.

The ability to change the backstraps quickly and the ambidextrous slide stop make it a versatile choice for both left- and right-handed shooters.
Further Reading
Understanding concealed carry reciprocity
Best ambidextrous concealed carry guns
Best comfortable concealed carry
Are Tenicor holsters any good?
Best concealed carry for small frame