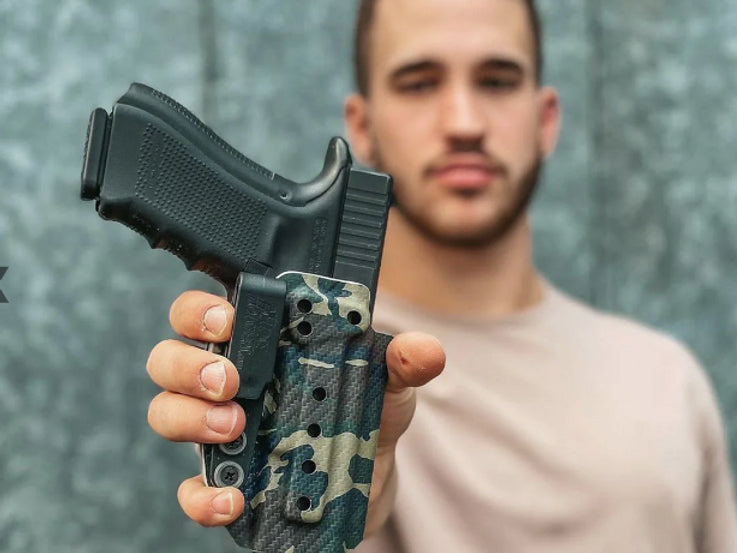 Are Eclipse holsters any good? Some love them, some hate them, and others are neutral. Let's dive into the good, the bad, and the ugly about Eclipse holsters for concealed carry.
Quick links:
Pros and cons of Eclipse holsters
These holsters have been generating a lot of talk among gun owners, but are they worth the hype? We'll look more closely at Eclipse holsters and assess their quality, comfort, and value for money. 
Apply our holster pad to your Eclipse holster and enjoy comfort.
About Eclipse Holsters
Eclipse Holsters is a company based in the United States that specializes in designing and manufacturing holsters for a wide range of firearms. They take pride in producing products of exceptional quality, durability, and comfort.
The company offers a wide range of models, including hybrid, IWB, and OWB holsters, with customizable options to fit the customer's needs. Eclipse Holsters ensures that its products are of the highest quality by using high-quality materials and modern manufacturing techniques.
Pros and Cons of Eclipse Holsters
When looking for the best holster, it makes no difference how good your pistol is if you can't rely on it being well-protected, easy to draw, and easy to handle. It needs to be the right holster for you, your style of carry, and your gun.
Eclipse has earned a fan following for its unique designs and attention to detail.
Pros
Superior quality construction for durability and longevity.

Eclipse makes

inside-the-waistband

(IWB), outside-the-waistband (OWB), and hybrid holsters.

Color, print, and attachment options are all customizable.

Adjustable retention for security. 

Comfortable fit allows for simple draw and re-holstering.

When compared to other high-end holster companies, their price point is quite reasonable.

Eclipse has a lifetime warranty.
Cons
Limited availability of left-hand holsters.

Some users have reported discomfort as a result of the holster's rough edges.

A few customers have complained about the fit and finish of their holsters, necessitating a return or exchange.

Customization options may raise the price and lengthen the time it takes to get the holster.

Incompatibility with certain guns.
On the YouTube channel 1775 or Bust, a reviewer appreciated how his Eclipse holster concealed his Glock 19x while still being quite comfortable to wear.
Eclipse IWB Holsters
Eclipse IWB holsters. Image source: https://eclipseholsters.com/collections/iwb-eagle-holster-standard-iwb/products/in-the-waistband-holsters-iwb-1
Eclipse IWB holsters are made of high-quality KYDEX and leather for durability and longevity.
Their adjustable retention system allows the user to tailor the level of retention, enabling quick and easy access to the pistol. Eclipse IWB holsters are fully customizable, with a wide range of attachments, colors, and prints.
Here are the different Eclipse IWB holsters:
IWB Eagle Holster has a minimalist design and is made of KYDEX with an adjustable retention system. 

IWB Delta Holster. This hybrid holster combines KYDEX's durability with the comfort of leather. The Delta is an

appendix carry holster

. 

IWB Intrepid Holster. This

IWB holster

is a low-profile holster with a high level of functionality. Users like the ability to adjust retention, as well as the sweat guard.

IWB Sirius Holster. Made of KYDEX, the Sirius holster has an adjustable cant for a personalized fit.

IWB Zero G Holster. The IWB Zero G holster has a design that evenly distributes the weight of the weapon, reducing pressure on the hip. The Zero G holster also has an adjustable retention system and a sweat guard.
"Comfortable and well made," says this reviewer about his IWB Delta holster.
This reviewer loves the concealability of the IWB holster for his 1911. 
If you're carrying your holster IWB, apply our holster pad and experience CCW nirvana!
Eclipse OWB Holsters
Eclipse OWB holsters. Image source: https://eclipseholsters.com/collections/owb-holsters
Eclipse's OWB holsters are made of KYDEX. All of the following OWB holsters feature an adjustable retention system. 
The Orion holster has a sweat guard and a paddle attachment that allows for easy attachment and dismounting from your waistband.

The Sirius holster has a low profile and a comfortable fit and allows quick and easy access to the pistol.

The Gemini holster is a hybrid (KYDEX and leather) and can be customized in terms of color and attachments.
David Workman at Shooting Illustrated reviewed the Gemini holster. 
My holster needs to be quick to access and easy to use. The Gemini is both. Despite its slim design, the mouth is easy to find for reholster. And with simple adjustable retention, I can play with the draw for what I need.
A YouTube reviewer at Gun Locker 75 loved the Orion for its comfort and durability. 
Eclipse Intrepid Holsters
Eclipse's Intrepid holsters are designed for beltless carry. The holster's UltiClip secures it to any garment, including jeans, leggings, workout attire, sweatpants, or backpacks. Its slim profile is great for concealability. It holds a single mag and is ideal for discreet and accessible magazine storage without the need for a belt.
Intrepid has an adjustable retention system and sweat guard, two features popular with Eclipse fans.
The Intrepid holster is available in a variety of basic colors, camo patterns, and special print options popular with female concealed carry enthusiasts. 
"Recommended for everyone." This reviewer really likes the Intrepid.
"The Eclipse Intrepid is a decent holster," says this redditor, though he thinks there are better options out there.
Uncomfortable holsters can ruin your day. Luckily for you, our holster pads are here to make any KYDEX holster comfortable!
Eclipse Eagle Holster
Eclipse Eagle holster. Image source: https://eclipseholsters.com/collections/iwb-eagle-holster-standard-iwb/products/in-the-waistband-holsters-iwb
This holster has a minimalist design and is made of KYDEX with an adjustable retention system. It features auto-locks and provides an audible click for reassurance that your holster isn't going anywhere. People like this holster for shooting sports because of its fast draw.
The Eagle can be customized in terms of color, print, and attachments. Customers may personalize their holster to match their style. The holster is made to fit a wide range of weapons, including Glock, Sig Sauer, Smith & Wesson, and more.
This redditor recommends the Eagle as a good starter holster. Compared to the Vedder LightTuck, this holster is "a comparable but superior product for the same price."
Experience the magic of our holster pad for your Eagle holster!
Eclipse Holsters for Glocks
Eclipse holsters are popular with Glock owners and come in both IWB and OWB mode. They offer a precise and secure fit for your Glock. Adjustable retention systems ensure your firearm is firmly held in place while remaining accessible.
Eclipse Holsters offers custom molding services, allowing you to create a uniquely tailored holster that perfectly accommodates your specific Glock model.
The Glock holster models are designed for both IWB and OWB mode, giving the user a range of alternatives.
Carry your Glock with comfort. Grab our holster pad, apply it, and thank us later!
Eclipse Holsters FAQ
Where is Eclipse Holsters located?
Eclipse Holsters is located in Williamsburg, Virginia.
What is the best holster to protect a gun's finish?
To protect your concealed carry gun's finish, you want a holster that does not rub against the gun and that protects it from external scratches. A holster with a sweat guard or other protective features can also help prevent moisture and sweat from harming the finish of the pistol. 
A holster that is custom-molded to your firearm will give you the finest protection and save you unnecessary wear and tear.
The best way to safeguard a gun's finish is to clean and maintain it on a regular basis. Wiping down the gun after use, keeping it in a cool, dry area, and using a high-quality oil to avoid rust and corrosion are all part of this.
What type of IWB holster is most comfortable?
The most comfortable type of IWB holster is the one that has a GunZee holster pad between the holster and your body. 
Some people prefer a minimalist holster, such as the Eclipse Sirius IWB holster, because it has a low profile and a secure fit. Others may prefer a hybrid holster, such as the Eclipse Delta IWB holster, which blends KYDEX toughness with leather comfort.
The backing material is an important consideration when selecting an IWB holster for comfort. Holsters with a soft backing, such as leather or neoprene, may be more comfortable against the skin, but holsters with a firmer backing, such as KYDEX or carbon fiber, may give a more secure grasp on the pistol.
Another item to consider is the holster's design. Some IWB holsters have adjustable cant angles and riding heights, allowing the user to tailor the holster's fit and comfort. Additionally, some holsters have sweat shields or other protective features that can help keep moisture and sweat at bay.
Is KYDEX a good holster?
KYDEX is a popular and durable material for holsters. It is resistant to impact, chemicals, and severe temperatures, making it an excellent choice for a heavy-duty holster. KYDEX holsters can also be shaped to fit the exact firearm, ensuring a secure and snug fit.
What is the point of a wing on a holster?
A wing on a holster is a feature that improves the holster's ability to hide the pistol. The wing is often found at the bottom of the holster and serves to bring the handgun's grip closer to the body, decreasing printing (the visible outline of the firearm through clothes) and enhancing overall concealment. The wing functions by providing leverage against the gun belt, allowing the holster to swivel and slant the handgun grip inward, toward the body. This results in a more comfortable and secure holster fit, as well as improved concealment.
What is the difference between the Intrepid and the Ultra Clip?
The Intrepid and the Ultra Clip are two different holster attachment options offered by Eclipse Holsters.
The UltiClip connection system on the Intrepid Holster allows it to be worn without a belt. The UltiClip is a metal clip that can secure the holster to any garment, including jeans, leggings, workout wear, sweatpants, backpacks, and more. The Intrepid Holster is compatible with a wide range of clothing alternatives, making it a versatile and convenient option for people who dislike the feel of a belt or do not want to change their wardrobe to accommodate belted pants.
The Ultra Clip, on the other hand, is a distinct attachment option that may be used with any Eclipse holster that has a normal clip. The Ultra Clip is designed to give the holster a secure and snug fit while also allowing the user to connect the holster to clothing without the use of a belt. The Ultra Clip is composed of high-strength polymer and may be attached to waistbands as thick as 1.5 inches. It is also adjustable, allowing the user to alter the holster's fit and retention.
What are red dot sights good for?
Red dot sights improve accuracy and target acquisition speed. They enable the shooter, independent of head position or eye dominance, to rapidly and simply line the firearm with the target. They're great for self-defense, competition shooting, and hunting.
What are mag pouches?
Mag pouches are used to store spare magazines or ammo for firearms. They are a must-have item for everyone who carries a weapon for self-defense or other reasons. Mag pouches enable the user to rapidly and readily obtain spare ammo during an emergency or lengthy combat.
What is the Belt-Lok mode?
Beltlok mode is a holster attachment system that allows the user to attach the holster to a belt without removing the belt from the pants. It is unusual in that it secures the holster to the belt using a locking mechanism, avoiding the need for extra attachment hardware or equipment.
What is the Mod-Lok system?
The Modlok system is a holster attachment system that provides quick and easy holster connection and disengagement from a belt or other attachment system. The Modlok system employs a locking mechanism to secure the holster to the attachment point while also allowing for quick and easy removal when necessary.
What kind of holster is the Blade-Tech Total Eclipse 2.0?
The Blade-Tech Total Eclipse holster is a versatile holster that may be worn OWB or IWB. It is designed to fit a variety of weapons and includes an adjustable retention mechanism that allows the user to alter the level of retention to their liking. The Total Eclipse 2.0 also has attachment choices such as the Beltlok mode and the Modlok system, allowing the user to select the attachment option that best meets their needs. 
What types of guns can be used with Blade-Tech holsters?
Blade-Tech holsters are designed to accommodate a wide variety of firearms, including various models produced by the following manufacturers:
Glocks

Sig Sauer

Springfield Armory

Ruger

Smith & Wesson
What does a trigger guard do?
A trigger guard is a loop built into the frame to create an obstruction around the trigger. This helps to avoid accidental discharges by preventing random objects (even fingers) from making contact with the trigger.
What is adjustable cant?
Adjustable cant means you can adjust the angle at which a gun rests against your body. Often, adjusting just a degree forward or back can make all the difference to your comfort.
Further Reading
Understanding concealed carry reciprocity
Best appendix carry for sitting down
Best comfortable concealed carry
Are Tenicor holsters any good?