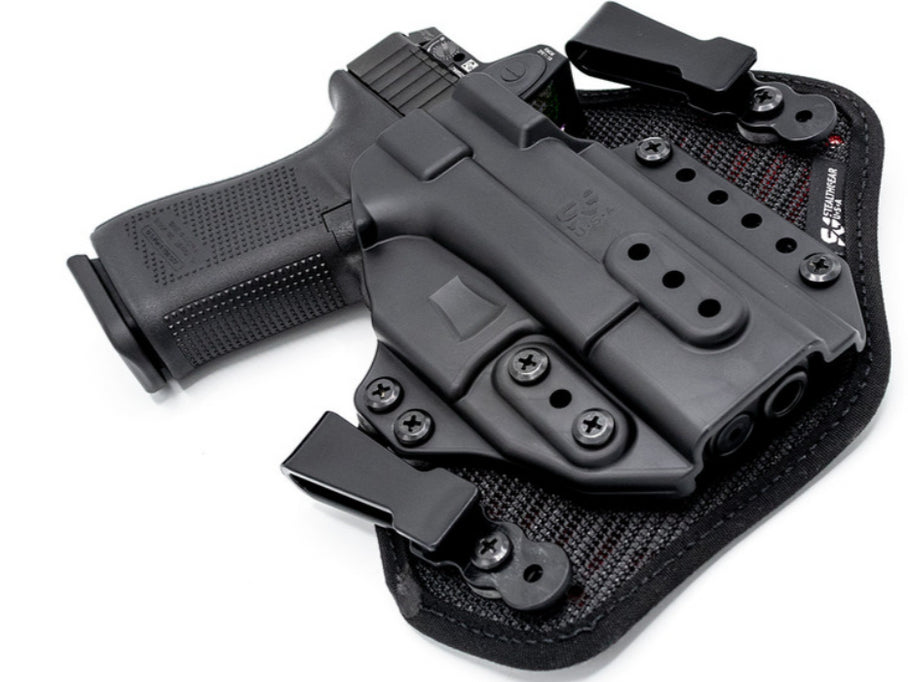 Petite frames and concealment can be uneasy bedfellows. With compact concealed carry guns, streamlined holsters, and strategic clothing choices, even the slightest figures can conceal carry. 
Quick links:
Best concealed carry gun for small hands
Best 9mm for a woman with small hands
Small handguns for off-body carry
Arm yourself with knowledge—and a discreet, confidence-inspiring concealed carry setup. Read on to master concealed carry as a small-framed gun owner.
No matter your size, you deserve comfort! Apply a Gunzee foam pad to your holster and breathe a sigh of relief!
Concealed Carry for Small Women
Are you a small gal packing heat?. Let's explore winning concealed carry strategies for your build. From perfectly proportioned pistols to holsters hugging your form. 
Who says you can't carry comfortably with a compact carriage?
Firearm and Carry Position
People usually like to think that short or small women cannot carry a full-size pistol, but that is not true. The caveat is that if you choose a full-size gun, you need to find the right position and the best carry holster for your style.
Many petite gals find that appendix carry with an inside-the-waistband holster works well for them. If you find IWB carry uncomfortable, get the Gunzee holster pad, and your problems should be solved.
The best way to find the right carry position is to experiment until you find one that is comfortable for you and allows you to draw quickly, safely, and without hesitation. 
Holster Options
Can Can Concealment Hip Hugger.
Image source: https://www.cancanconcealment.com/collections/hip-hugger-holsters/products/classic-hip-hugger-holster
The right concealed carry holster makes all the difference. Here are some of the most popular holsters for small women:
The Can Can Hip Hugger holster allows you to position your holster along your waistline (appendix, at the hip, behind the hip, cross draw, or small of the back). It can also be worn low on the hips or high on the waist, under or over clothing, and has magazine and accessory pockets that are great for saving space along your waistline. The Hip Hugger is an excellent choice for beginners and those who are unsure which position is best for them. It also has a universal fit and can be worn with any gun model (including revolvers).

The Dene Adams Corset holster keeps the gun high at the waist and away from the waistline, which makes it a perfect option for moms who may have to carry kids and who want the gun to be out of the way. It can be worn with skirts and pants and the fit is also universal.

The Flashbang Bra holster attaches securely to the center of the bra with an adjustable strap. This innovative design allows for easy access while keeping the firearm concealed and out of sight during daily wear.
Choosing the Right Clothing
Selecting the ideal conceal carry clothing involves strategic choices to disguise the outline of your firearm and create a proportional, balanced look.
Here are some tips:
Opt for tops with busy prints, patterns, graphics or textures that help break up the outline of the firearm. Plaids, florals and stripes are great choices. Solid colors tend to show printing more.

Flowy, draped tops provide more room to conceal without overly billowing or tenting at the waistband. Look for asymmetric hem designs that offer extra fabric.

Loosely woven fabrics like linens and textured knits disguise better than stiff, heavy materials. Lightweight fabrics drape and move with you.

V-neck and scoop neck tops draw the eye upwards and create a slimming effect to balance bulk at the waist. Avoid straight, crew or turtle neck styles.

Pair untucked oversized button-down shirts or blouses with leggings to hide the waistband region entirely.

Cardigans, jackets and blazers add an extra layer of concealment when worn unbuttoned and untucked.

For dresses, choose wrap styles, flared skirts and A-line cuts to balance bottom fullness. Maxi lengths also help proportionally.

Scarves worn loosely around the neck help conceal chest and waist outlines. Infinity styles offer easy all-day wear.
Small Guy Concealed Carry
Tier 1 Concealed Axis Slim.
Image source: https://www.tier1concealed.com/products/new-axis-custom?variant=12494035746887
If you're a slender fellow, tailor your concealed carry for total comfort and discretion with these strategies:
Choose compact, lightweight firearms that feel natural in your hands. Ergonomic grips enhance control.

Slim profile handguns minimize printing. Adjustable sights dial in accuracy.

Select holsters designed for small frames. Prioritize snug, custom-molded fits that hug your form.

Opt for adjustable retention and ride height to find your perfect position.

Consider

appendix holsters

or inside-the-waistband rigs for effective waistline concealment.
These CCW holsters are popular among the small guy concealed carry population:
StealthGearUSA Ventcore Mini accommodates subcompact and slim firearms often carried by small guys. Its ventilated back pad minimizes sweat for all-day comfort. Adjustable ride height, cant, and retention customizes the fit for petite proportions.

CrossBreed Holsters Appendix Carry. The hand-molded pocket creates a custom fit for small frames. Padding reduces pressure points for comfort. Can be positioned appendix-style to center and conceal bulk. Adjustable clips cater the ride height and cant to the individual.

Vedder Holsters LightTuck's adjustable ride height, cant, and retention enables small guys to fine tune their optimal position and tension. Slim Kydex construction avoids printing. Suitable for appendix, strong-side, or cross draw carry.

Dara Holsters Slick Side AIWB caters to small guys with its ultra-slim profile, minimal material, quick on/off design, and availability for subcompact single-stack pistols fitting petite proportions.

Tier 1 Concealed Axis Slim features a unique shock cord connection that offers flexibility and easy concealment. Its ambidextrous design caters to small guys looking for a versatile carry option.
This Quora user suggests getting a small gun and dressing roomy.
What is the Best Concealed Carry Revolver for Small Hands?
For concealed carriers with petite hands, comfort is paramount. Finding a handgun that feels natural in your grip builds confidence.
When selecting a concealed carry gun, small-handed shooters should prioritize fit above all. Consider key factors to discover the perfect petite-proportioned pistol:
Grip size and shape: make sure the grip is narrow and comfortable for your hand size, allowing for a secure hold and proper trigger reach. Try out replaceable back straps and grip panels to find the optimal grip fit for your hand size.

Manageable recoil: choose a firearm with manageable recoil for better shooting control, especially if you have small hands or limited grip strength. Prioritize compact, lightweight designs to minimize carrying fatigue.

Overall size and weight: choose a compact and lightweight firearm that is easy to shoot and will not cause discomfort over time.

Trigger reach: check the distance between the backstrap and the trigger to ensure proper finger placement and smooth operation. Also measure your hand size against the trigger reach distance specs to ensure proper placement.

Ergonomics: to accommodate your hand size, look for a handgun with an ergonomic grip design and customizable features such as replaceable back straps or grip panels. Look for rubberized grip options to enhance comfort and control.

Controls accessibility: check that the location of the safety, slide release, and magazine release is accessible and comfortable for your hand size and finger length.

Caliber: consider the firearm's caliber, balancing stopping power with recoil management and overall size. The 9mm has a versatile caliber balancing stopping power and manageable recoil.

Magazine capacity: consider the capacity of the handgun, keeping in mind that single-stack designs often have slimmer grips for small hands but may have lower round capacity.

Holster options: check to see if holsters for your chosen firearm are available that will provide comfortable and secure carry for your body type and preferred carry position.

Personal preferences: always try out different models to see which one feels the most comfortable, provides the best control, and meets your specific concealed carry requirements.
Here are some popular CCW handgun options for those less-well-endowed in the hand department
Glock 42 is a slimline concealed carry pistol chambered in .380 ACP with a single-stack design that makes the grip smaller and more manageable for those with smaller hands. 

Glock 43 or 43X: when compared to other Glock models, this 9mm single-stack micro compact pistol has a slimmer grip profile, making it ideal for those with small hands. The 43 combines dependability, manageable recoil, and a small size, making it ideal for concealed carry.

Smith & Wesson M&P Shield M20 Compact has a narrow grip that is easy for those with smaller hands to hold and control.

Sig Sauer P238 is a 1911-style pistol chambered in .380 ACP with a single-action trigger. Its small size and lightweight design make it ideal for people with small hands who prefer a classic 1911-style grip and manual safety.

Sig Sauer P365: this micro compact carry pistol has a large capacity in a small package, as well as a slim grip profile that is ideal for small hands. The P365 has an ergonomic grip and night sights for increased accuracy in low-light situations.

Ruger LCP II is an ultracompact .380 ACP pistol and a popular choice for those with small hands. The LCP II has a better trigger guard, grip texture, and sights than the original LCP, which improves its overall usability and shootability.

Springfield Armory XD-S Mod.2: the slim grip profile of this single-stack 9mm optic ready pistol is ideal for smaller hands. The XD-S Mod.2 provides improved control and comfort during use thanks to its improved grip texture and high-hand beavertail.

Walther PPS M2 is a slim, single-stack 9mm concealed carry pistol. It can be adjusted to fit different hand sizes thanks to its ergonomic grip and replaceable backstraps. This means that even people with small hands can hold it comfortably and securely.

Kimber Micro 9 is a 9mm with a slim design and the same controls as a 1911, making it a great choice for shooters with small hands who like classic designs. Its lightweight aluminum frame and small size make it easy to carry and conceal.

Kahr PM9 is a lightweight, ultracompact 9mm pistol with a slim, single-stack design that is ideal for shooters with small hands. Its smooth, consistent trigger pull and textured grip ensure comfortable shooting and good control.
Sig Sauer P365 "fits my hands perfectly," says this redditor.
One redditor recommends Micro 9 in the same thread, while warning about a "weak mag release spring;" another redditor claims that a "break in period is definitely a thing."
It's not about the size of your hands; it's about the warmth in your heart—and what's with that holster digging into your waist? Try this pad, and thank us later. 
What is the Best 9mm for a Woman With Small Hands?
The 9mm caliber offers versatility for self defense, target shooting and competition. With hundreds of options, you'll be able to find the perfect CCW gun for those little hands. An effective 9mm CCW pistol should:
Fit comfortably in petite paws

Provide manageable recoil

Enable optimal shooting control

Allow smooth slide manipulation
With an ill-fitting, snappy pistol, small-handed shooters may struggle with accuracy, comfort and confidence. Selecting a 9mm tailored for petite proportions ensures preparedness and proficiency.
Here are some top choices that cater to the needs of women with smaller hands:
Smith & Wesson Shield EZ offers a user-friendly design with its easy-to-rack slide and reduced recoil. The Smith & Wesson Shield features a slim profile, adjustable grip inserts, and an intuitive manual safety.

Glock G43 is a compact pistol with a slim frame and customizable grip options. Its manageable recoil and straightforward operation make it suitable for individuals with smaller hands.

Sig P365 Macro boasts a comfortable grip, crisp trigger, and high capacity for its size.

The Sig Sauer P365 SAS was created for the serious CCW user who appreciates smoother draws, faster sight acquisition, and more effective engagements at realistic distances. This pistol accomplishes this by taking the SIG Anti Snag (SAS) treatment to a whole new level.

Walther CCP M2 offers an ergonomic grip and a soft-recoil gas-delayed blowback system. Its slide is easy to manipulate, making it a great option for women with small hands.

Ruger LC9s: this striker-fired pistol combines a slim profile with a manageable trigger pull and reduced recoil. It features textured grips for a secure hold and offers a compact and lightweight design suitable for everyday carry.
Check out our article on the top concealed carry firearms for women for additional options and helpful advice.
What is a Good Small Handgun for a Purse?
For the fashion-forward woman packing heat, dedicating a handgun for purse carry combines style and protection. With the right concealed carry purse featuring a secured compartment, off-body carry allows you to keep your firearm close in a chic everyday accessory. 
Choosing the perfect petite purse pistol requires matching needs to find your ideal fit.
As we explore suitable small handguns, remember—your concealed carry purse is simply a stylish holster housing lifesaving protection. Let's discover the perfect purse-sized companions to keep you safe without sacrificing your signature look.
Ruger LCR is a lightweight revolver known for its compact size and snag-free design. With its small polymer frame and smooth lines, it can easily be stowed in a purse while providing reliable self-defense capability.

Glock 43 and 42 are popular options for concealed carry due to their slim profiles and compact dimensions. These pocket pistols offer a balance between firepower and ease of concealment, making them suitable for purse carry.

Sig Sauer P320 Subcompact is a versatile and reliable semi-automatic pistol. It features a modular design that allows for various grip sizes, ensuring a comfortable fit for different hand sizes. Its compact size makes it a viable choice for purse carry.

Heckler & Koch P30SK is a subcompact pistol that offers a high level of ergonomics and shootability. Its compact design, combined with its ambidextrous controls and adjustable grip options, makes it an ideal candidate for purse carry.

Glock 26 is a subcompact semi-auto that accepts larger Glock magazines for capacity flexibility. Its "Baby Glock" size makes it very easy to conceal in a purse.
CCW for Small Frames FAQ
What handgun is best for small hands?
There are a lot of great guns on the market that are suitable for people with small hands. Here are some of them:
Glock 42

Glock 43x

SW Shield

Sig P938 

Ruger LCP II

Springfield XD-S

Ruger LCP Max

Walther PPK
What is the smallest concealed carry handgun?
Here are some of the smallest handguns for ultimate concealability:
NAA Mini revolver

LifeCard

Bond Arms Stinger Derringer

Ruger LCP

Classic J-Frame
What is a good size for concealed carry?
For most individuals, a compact or subcompact firearm with a barrel length ranging from 3 to 4 inches and an overall length between 6 to 7 inches is often preferred. This size strikes a balance between ease of concealment and shootability. 
A shorter barrel length helps with concealment, while the overall length ensures a comfortable grip and control.
What is the best 9mm carry for small hands?
Here is a list of most popular 9mm handguns for individuals with small hands:
Glock 43

Smith & Wesson M&P Shield

Sig Sauer P365

Springfield Armory Hellcat

Ruger LC9s

Walther PPS M2

CZ P10 Subcompact

HK VP9SK

Kahr CM9

Beretta Nano

Kimber Micro 9
What is the strongest small pistol?
The following small pistols are generally recognized for their robustness and ability to handle high-pressure rounds:
Glock 29 (10mm)

Smith & Wesson M&P Shield (various calibers)

Sig Sauer P320 (various calibers)

Springfield Armory XD Mod.2 (various calibers)

Ruger LCR (various calibers)
Is 9mm big enough for personal defense?
Yes, the 9mm pistol is big enough for personal defense. It offers a good balance between manageable recoil, magazine capacity, and stopping power. The 9mm round has been widely adopted by law enforcement agencies and military forces around the world. 
With modern bullet designs and advancements in ammunition technology, 9mm cartridges can deliver reliable terminal performance, making them suitable for self-defense situations.
What is the slimmest compact 9mm?
Smith & Wesson CSX is the slimmest compact 9mm handgun available on the market today. 
Are smaller guns harder to shoot?
Smaller handguns are generally harder to control. This is because a smaller handgun has a shorter grip and less surface area to hold. Shorter barrel lengths are less accurate to aim than guns with long barrels. It makes it harder to control the weapon as it recoils.
Are compact pistols better?
Compact handguns are easier to conceal than their larger counterparts, making them an excellent choice for those who wish to carry a firearm without drawing attention to themselves.
Compact pistols sacrifice some accuracy and usability for their concealability, so you'll have to find the perfect balance.
What is the skinniest Glock?
The 42 is Glock's smallest pistol, and as a single stack chambered for .380 Auto, it has slimmer proportions than even the smallest of the Baby Glock 9mm pistols. It is less than an inch wide, slightly more than 4 inches tall, and slightly less than 6 inches long—small enough to fit entirely in an outstretched hand.
What are the best pocket holsters?
When it comes to pocket carry, there are several top choices for pocket holsters that are easily concealable and comfortable. Here is a list of some of the best pocket holsters available:
Sticky Holsters Pocket Holster

Desantis Nemesis Pocket Holster

Uncle Mike's Pocket Holster

CrossBreed Pocket Rocket Holster

Galco Pocket Protector Holster
What is a mouse gun?
Mouse guns are generally defined as those small pistols that are chambered for calibers that are lighter and less powerful than the 9mm, like the .22 LR, .32 ACP and .380 ACP. 
What is a muzzle flip?
Muzzle rise, muzzle flip, or muzzle climb refers to the tendency of a firearm's muzzle to rise up after firing.
What are some of the best pistols for concealed carry?
The following pistols are popular for concealed carry.
Shield M20

P320 XCompact

MP Shield M20

Walther PPQ

CZ P10C

Smith & Wesson M&P Shield Plus

Springfield Hellcat

Sig Sauer P365 XL

Taurus G3C
Further Reading
What is concealed carry reciprocity?
The best 9mm concealed carry guns
What is the best ambidextrous concealed carry gun?
What is the best CCW gun for new shooters?
What is the best CCW holster for women?
The best Micro Kimber 9 holster
The best Springfield Hellcat holster
Are Eclipse holsters any good?
Are Tenicor holsters any good?