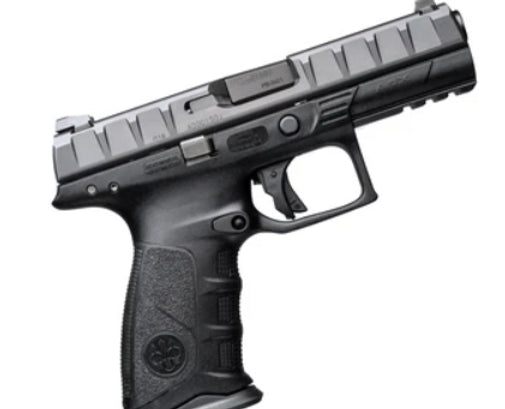 There aren't many concealed carry guns designed specifically for left-handed shooters. There are a fair number of good CCW guns that are ambidextrous, though.
Quick links:
How to choose an ambidextrous gun?
Ambidextrous handguns with safety
Best handguns for left-handed shooters
Try our Gunzee holster pad and say goodbye to uncomfortable CCW carry.
What are Ambidextrous Guns?
An ambidextrous gun is a handgun that's designed to work for right-handed or left-handed use equally well.
These firearms feature ambidextrous slide releases, magazine releases, and safety selectors, allowing for easy manipulation and use regardless of the shooter's dominant hand. 
Let's take a look at the best ambidextrous CCW guns.
Heckler & Koch VP9
Heckler & Koch VP9. Image source: https://hk-usa.com/hk-models/vp9/
The HK VP9 incorporates a range of upgrades, such as 17-round magazines, a new sight configuration with a high-visibility front sight and black serrated rear, and an optional optics-ready cut.
The VP9 features an adjustable grip frame that accommodates different hand sizes. With interchangeable backstraps and grip panels in 27 unique configurations, it ensures a custom fit for every shooter.
The VP9 delivers a short, light take-up and a crisp, single-action trigger break with a quick reset. Its ambidextrous controls, including charging supports and magazine release, cater to both left-handed and right-handed shooters.
The VP9 combines a striker-fired ignition system with a modified Browning operating system, resulting in reliable and accurate performance.
The VP9 features a durable polymer frame with an integrated Picatinny accessory rail for accessory attachment. Its cold hammer-forged barrel guarantees longevity, while the hostile environment finish protects against wear and corrosion.
Left-handed YouTuber AmbGun compared the VK9 and the Walther PPQ. The VK9 came out ahead.
Glock 19 Gen 5
Glock 19 Gen 5. Image source: https://us.glock.com/en/pistols/g19-gen5-fs-us
The Glock 19 Gen 5 is a compact 9mm pistol. The newly designed frame omits finger grooves, allowing for instant customization of the grip using different backstraps to accommodate any hand size.
The Glock 19 caters to both left-handed and right-handed shooters with its reversible magazine catch and ambidextrous slide stop lever. Notable enhancements include slight modifications to the rifling and barrel crown, resulting in improved precision. 
With its Safe Action® system, the Glock 19 Gen 5 ensures reliable performance. The pistol offers various mag capacity options, ranging from the standard 15 rounds to the optional 17, 24, 31, or 33 rounds. 
Over on the Tactical Hive, Dorr Overby did a deep review of the G19 Gen 5.
Though it has ambidextrous slide stops, I generally don't use them, nor have I swapped my magazine release to the left side. If you are a left-handed shooter, I'm sure it will perform for you as it did me. The gen 5 Glock 19 performs very well during range drills. 
If you're wearing your G19 IWB, get our holster pad and enjoy pure CCW comfort!
Beretta APX
Bereta APX. Image source: https://www.beretta.com/en/product/apx-P0020
The APX offers a selection of full-size polymer and metallic framed setups in both hammer and striker-fired operating systems.
Designed with input from military and law enforcement professionals, this semi-automatic pistol undergoes rigorous testing to ensure superior performance in durability, reliability, ergonomics, trigger, and modularity. 
The APX features a removable serialized chassis frame, allowing for easy customization with replaceable grip frame housings. With three interchangeable back straps, users can achieve the perfect fit and feel
The APX boasts aggressive slide serrations for effortless manipulation and offers ambidextrous controls, including a reversible magazine release button and an ambidextrous slide stop. With a crisp trigger break at 6 lbs. and a short reset, the APX stands as the ultimate striker-fired pistol in the Beretta lineup.
The reviewer recommends the APX "to both experienced and new shooters."
CZ P-07
The CZ P-07, introduced in 2009, set a new standard with its convertible Omega trigger system. This innovative design simplifies the hammer ignition method of the CZ 75, allowing for easy disassembly and reassembly without specialized tools.
What sets the P-07 apart is its versatile decocker/safety system. Whether you prefer a cocked and locked carry or a decocked double-action first pull, the P-07 offers quick and effortless switching between a safety and a decocking lever.
In 2014, the P-07 underwent updates to enhance the user experience, including rounded edges, forward cocking serrations, interchangeable backstraps, metal sights, and improved trigger pulse, and hammer designs. With its ambidextrous slide stop and reversible magazine release button, the P-07 is a handgun for left handed and right handed shooters.
On LynxDefense, "Michael" talks about the P-07's ambidexterity.
So, let's talk about how the decocker works on this gun. It is an ambidextrous decocker, which is one of the only controls that is ambidextrous on this gun. 
It functions quite well when you have the hammer cocked to the rear. It's very easy to pull down and it's quite large. It is polymer, but it does have a good texture. Pulling it down is very easy and light.
It's worth noting that while it's easy to use you're not going to accidentally decock your gun and even if you did, it just goes into double action.
Sig Sauer P938
The Sig Sauer P938 is a compact single-action, single-stack 9mm carry pistol. With a steel slide and an aluminum frame, it offers a sturdy construction. Notable features include a checkered front strap for improved grip, an exposed and skeletonized hammer, and a crisp trigger with a short reset.
The P938 comes with ambidextrous controls, including a thumb safety and an external extractor for enhanced reliability. Equipped with high-profile Siglite sights, it ensures accurate target acquisition. The pistol offers versatility with its choice of a flush-fit 6-round magazine or an extended 7-round magazine.
On Concealed Nation, The Firearm Guy talks about the P938.
The nitron finish on the slide has a nice look and feel. The slide has both front and rear serrations which provide a good purchase when charging the gun. The frame mounted ambidextrous thumb safety allows easy access for both right and left handed shooters.
Carry in comfort with our holster pad.
S&W J-Frame Revolvers
Smith & Wesson makes some of the best J-frame revolvers, and most of them are highly ambidextrous. They're made of lightweight stainless steel or aluminum alloy and are easy to handle.
J-frames are available in .38 Special and .357 magnum. Its small size and snag-free design make it easy to carry and draw from concealment.
J-frames feature a double-action-only (DAO) trigger guard system, ensuring consistent and reliable ignition with every pull. 
J-Frames have a cylinder capacity of 5 or 6 rounds, depending on the gun model, providing ample firepower in a compact package. Its compact grip design allows for a comfortable and secure hold, while its fixed or adjustable sights ensure accurate target acquisition. 
Many S&W J-Frames also offer ambidextrous features, making them suitable for both left-handed and right handed shooters. The cylinder release latch is designed to be easily accessed and operated from either side of the revolver, ensuring seamless manipulation for all users. 
On the Crossbreed website, Travis Pike praises the S&W Bodyguard as the best J-frame revolver.
The Bodyguard's laser controls are ambidextrous, and the gun lacks a standard cylinder release. Instead, an ambidextrous model is positioned where a hammer would traditionally be. Best of all, the Bodyguard's price is quite low, often coming in at under 400 dollars. This makes it the cheapest combination of laser and gun you could find.
How to Choose the Right Ambidextrous Concealed Carry Gun
Here are some key considerations to help you choose the best ambidextrous CCW gun:
Ergonomics: assess how the gun feels in your dominant hand. Pay attention to grip safety, texture, and overall comfort. A firearm that fits well and allows for a natural and secure hold will enhance your shooting experience.

Controls: evaluate the placement and operation of ambidextrous controls, such as slide release, magazine release, and safety. Ensure they are easily accessible and intuitive for both left-handed and right-handed use.

Caliber and purpose: determine the intended use of the firearm, whether it's for self-defense, concealed carry, competition shooting, or target practice. Select a caliber that suits your needs and consider factors such as recoil management, ammunition availability, and terminal ballistics.

Reliability and durability: research the gun's reputation for reliability and durability. Look for models with a proven track record of performance and longevity, as these factors are essential for a dependable firearm.

Comfort: get a caliber that you feel is most comfortable for shooting. If you are a beginner, do not go for an ambidextrous gun that will intimidate you. For example, some people find the 9mm pistol difficult, while others find it easy. Get yourself a gun you will have the most control over. Make your shooting experience more comfortable with the

right CCW holster

and

our holster pad

.

Budget: determine your budget range and find a balance between quality, features, and affordability. Remember that investing in a reliable and reputable firearm is crucial for safety and satisfaction.
The Benefits of Ambidextrous Guns
Many right-handed shooters may wonder why they should choose an ambidextrous firearm. There are many benefits to ambidextrous handguns:
Versatility: ambidextrous guns can be operated with either hand. This is a big benefit if your dominant hand is injured.

Tactical advantage: in tactical or self-defense situations, ambidextrous controls enable quick and efficient firearm manipulation, allowing shooters to perform reloads, malfunction clearances, and other essential actions without compromising speed or accuracy.

Training efficiency: ambidextrous handguns simplify training for instructors and shooters alike. Whether conducting training sessions or transitioning between different shooters with varying dominant hands, the consistency in firearm controls enhances the learning process and overall proficiency.

Save money: if your household has someone left-handed, you can share. 
No matter your dominant hand, get a Gunzee holster pad and wear your gun with comfort!
Ambidextrous Handguns With Safety Features
Ambidextrous handguns with safety features offer enhanced functionality and convenience for both left-handed and right-handed shooters. These firearms are equipped with a range of ambidextrous safety features, including:
Ambidextrous slide stops allow for easy manipulation and release of the slide from either side of the handgun.

Ambidextrous mag releases enable quick and effortless magazine changes using either hand.

Ambidextrous safety lever provides the ability to engage or disengage the safety mechanism with either hand, enhancing user control and firearm handling.

Reversible magazine release button allows the shooter to configure the magazine release for left-handed or right-handed operation, accommodating individual preferences.

Decocker/safety selector offers the option to carry the firearm with the hammer cocked and the safety engaged, or decocked for a double-action first pull of the trigger, providing versatility and user choice.

Ambidextrous bolt release found in ambidextrous long guns, this feature allows for the release of the bolt or bolt carrier from either side of the firearm.
Best Handguns for Left-Handed Shooters
Left handed shooters need a gun that is designed for southpaws, or at least one with ambidextrous controls. Here are some of the best left-handed handguns:
The Smith & Wesson M&P Shield EZ features ambidextrous controls, including an ambidextrous slide stop and reversible magazine release, allowing this pistol for lefties to be operated with ease.

The Walther PPQ M2 offers an ambidextrous slide stop and reversible magazine release, providing left-handed shooters with versatile controls. Its ergonomic design and smooth trigger make it a popular choice.

The FN 509 boasts ambidextrous slide stop and magazine release buttons, ensuring left-handed shooters can operate the pistol comfortably and efficiently.

The Glock Gen 5 handguns feature ambidextrous slide stop levers, allowing left-handed shooters to manipulate the slide with either hand. The reversible mag release accommodates left-handed operation.

The CZ P-10C offers ambidextrous slide stop levers, enabling left-handed shooters to easily engage and release the slide. Its ergonomic grip and smooth trigger make it a popular choice for both left and right-handed shooters.
Ambidextrous FAQ
What pistols are fully ambidextrous?
Several pistols are designed to be fully ambidextrous, allowing both left-handed and right-handed shooters to operate them comfortably. Here are some notable examples of fully ambidextrous pistols:
Hekler & Koch VP9

Glock 19 Gen 5

CZ P-07

Sig Sauer P938

Smith & Wesson J-Frame

Cabot Gun Southpaw
Is a Glock 19 ambidextrous?
The Glock 19 is not considered a fully ambidextrous pistol. While it features a reversible mag release button that can be swapped to the opposite side for left-handed shooters, other controls like the slide stop lever and manual safety are designed for right-handed operation. However, the Glock 19's ergonomic design and ambidextrous magazine release make it reasonably comfortable for left-handed shooters.
Are Sig Sauer pistols ambidextrous?
Sig Sauer pistols are known for their ambidextrous features, with many models offering ambidextrous controls to accommodate both right-handed and left-handed shooters. The specific ambidextrous features may vary depending on the model, but common ambidextrous elements include ambidextrous slide stop levers, reversible magazine release buttons, and ambidextrous safety selectors.
Is the SIG P320 ambidextrous?
The P320 was designed to be ambidextrous in handling, sporting a catch lever on both sides of the slide and a user-reversible magazine release, and all other operating controls are designed so they can be operated from either side.
Can a Glock be ambidextrous?
While Glocks are not inherently ambidextrous, they can be modified or customized to accommodate left-handed shooters. Aftermarket accessories and modifications, such as ambidextrous slide stop levers, magazine release extensions, and reversible magazine release buttons, can be installed to make a Glock handgun more user-friendly for left-handed individuals. 
Some Glock models, such as the Gen 4 and Gen 5 series, offer reversible magazine release buttons as a factory option, allowing the shooter to configure the pistol for left-handed use.
Does handedness matter for guns?
Handedness can matter for guns, especially when it comes to ergonomics and controls. Most firearms are designed with right-handed shooters in mind, with features such as the placement of the magazine release, slide stop, and safety controls optimized for right-handed operation. 
Many modern firearms offer ambidextrous or reversible controls that can accommodate left-handed shooters as well. These include ambidextrous slide stop levers, magazine releases that can be easily swapped to the opposite side, and reversible safety switches. Also, left-handed shooters may need to consider factors such as grip size and ergonomics to ensure a comfortable and secure hold on the firearm. 
Is the Beretta M9 ambidextrous?
The Beretta M9 has an ambidextrous external safety lever, allowing both left and right-handed users to engage or disengage the safety mechanism.
Is the Beretta 92 ambidextrous?
Yes, the Beretta 92 series of pistols is known for its ambidextrous features. The Beretta 92 pistols typically feature ambidextrous slide-mounted safety/decocker levers, allowing both left-handed and right-handed shooters to easily manipulate the safety or decocker the firearm. 
Additionally, some models may also have ambidextrous magazine releases, enabling quick and efficient magazine changes for shooters of any handedness.
What Glock is ambidextrous?
While most Glock models are designed primarily for right-handed shooters, there are a few that feature ambidextrous controls or have options for ambidextrous enhancements. Here are some examples:
Glock 19X

Glock Gen5 MOS (modular optic system) models
What are the best concealed carry gun holsters for women?
Here are some of the most popular CCW holsters for female enthusiasts:
CrossBreed Supertuck IWB Holster

Can Can Concealment Hip Hugger Holster

Flashbang Betty Bra Holster

Sticky Holsters AnkleBiter

Femme Fatale Thigh Holster

Gun Tote'n Mamas Concealed Carry Purse
Are there mag carriers for left-handed guns?
Yes, there are mag carriers specifically designed for left-handed shooters. These mag carriers are crafted to accommodate left-handed draws and provide convenient access to spare magazines. They are often adjustable and can be positioned on the opposite side of the dominant hand for quick and efficient reloads.
Which gun models are left hand friendly?
Here are some of the most popular left handed friendly pistols:
Charter Arms Southpaw

Savage Arms

Beretta PX4 Storm Compact

Beretta APX Centurion

Palmetto State Armory

Walthers PDP
Are there left hand friendly carry holsters?
There are carry holsters specifically designed to accommodate left-handed pistols and shooters. These holsters feature features such as ambidextrous clips or belt loops, adjustable cant angles for optimal draw, and reversible components to cater to left-handed preferences. 
They provide a comfortable and secure way to carry a firearm for left-handed individuals while allowing quick and easy access when needed. You can choose between IWB holsters, OWB holsters, gun belts, and other holster types to find the one that suits all your needs.
What is the firing pin on a gun?
A firing pin is the round protrusion that strikes the primer of a cartridge, which in turn detonates the priming compound and ignites the propellant. Basically, without a firing pin, the gun does not go boom; it is inoperable.
How do red dots on firearms enhance accuracy and target acquisition for home defense?
Red dot sights improve accuracy and target acquisition in home defense scenarios by providing a clear aiming point and allowing for rapid target acquisition. The illuminated red dot helps shooters quickly align the firearm with the target, enhancing accuracy and increasing the shooter's effectiveness in critical situations.
What effect does barrel length have on firearms with firing pins?
The barrel length of a firearm, in conjunction with the firing pin mechanism, affects the bullet's muzzle velocity, energy, and trajectory. Longer barrels generally provide increased velocity and potentially better accuracy, while shorter barrels offer enhanced maneuverability in various shooting scenarios.
What are recommended safety features for home defense firearms?
When considering home defense guns, prioritize safety features such as ambidextrous controls, reliable firing pin mechanisms, night sights for low-light situations, and customizable trigger pulls. These features contribute to safe handling, improved accuracy, and effective self-defense in home defense scenarios.
Further Reading
What are the best AIWB holsters?
What are the best AIWB holsters for women?
How to make seated appendix carry more comfortable?
What are the best CCW guns for new shooters?
The best CCW holsters for fat guys
What is the best holster for sitting?
Are Eclipse holsters any good?
Are Tenicor holsters any good?