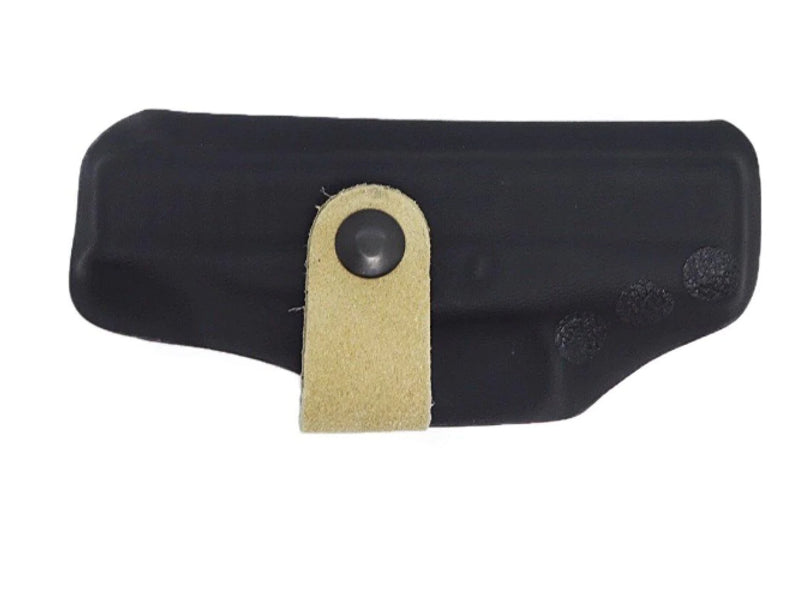 Women have special concerns when it comes to concealed carry, and a good holster can make all the difference for them. Ladies, don't worry; this post will reveal the best concealed carry holsters for ladies, ensuring a seamless balance of comfort, style, and functionality. Dive in and find the perfect companion for your trusted handgun.
Quick links:
Female concealed carry options?
Belly band holsters for women?
Best holster for petite women?
Best holster for plus size women?
Whatever holster you use, our memory foam pad will make it much more comfortable.
CCW is Different for Women
Women face unique challenges in the world of concealed carry. Here are a few of the frustrations they commonly face.
Limited gender-specific options: women often find that many holsters marketed as unisex are actually designed primarily for men, lacking considerations for women's body types and comfort.

Clothing fit and printing issues: women's tighter-fitting clothing can make it challenging to conceal firearms without printing, causing concerns about maintaining a low profile and drawing unwanted attention.

Inadequate trigger coverage: some holsters do not provide sufficient coverage of the trigger, posing safety risks.

Discomfort and irritation: ill-fitting holsters can cause discomfort, rubbing, and irritation against the skin, making it uncomfortable to wear for extended periods and discouraging consistent carry.

Limited options for different carry positions: women often struggle to find holsters that cater to their preferred carry positions such as appendix, back, or hip carry, limiting their choices based on comfort and accessibility.

Limited color and style choices: holsters designed for women may have limited color and style options, restricting their ability to align with personal preferences and fashion choices.
If you're a gun-toting woman, all is not lost. There are some excellent holster options on the market. 
What To Consider When Choosing a CCW Holster For Women
"Carrying a gun isn't supposed to be comfortable, it is supposed to be a comfort," remarked one of the reviewers on the Well Armed Woman website. She's right, to a degree. But let's not totally give up on comfort. The right holster can really make a difference. So can our memory foam holster pads. Pair the two, and you've got a recipe for increased comfort. 
When choosing a concealed carry holster, a woman should consider the following:
Accessibility. Concealed carry firearms are intended to be used in self-defense situations and should be easily accessible at those times. A good, female-friendly holster should be soft and flexible so the gun can be drawn quickly and effortlessly in an emergency.

Concealability. Women frequently wear fairly tight clothing; the holster should help to increase concealment as much as possible.

Safety. There should be no index-finger-required release mechanisms and a complete cover over the trigger guard. The thumb of your strong hand should be able to manipulate the active retention of the holster. Also, the holster's mouth must remain open while the firearm is drawn.

Durability. The resistance of the holster to moisture, chemical solvents, lubricating oils, and temperature variations is critical. Sweat or regular use should not degrade the holster.

Adjustability. Adjusting the holster's height, cant, and retention is critical to ensuring a woman can carry her holster comfortably and securely.
Female Concealed Carry Options (Best Holster Styles For Women)
Women have unique considerations that influence their choice of holsters. They want comfort, ease of access, and concealability in their preferred wardrobe. Above all, women seek holsters that blend functionality with style. Here are some of the different holster styles and carry positions available for women.
Belly band holsters: ideal for women seeking flexible positioning and convenience, offering a snug embrace around the waist and easy access to the firearm. They may not be suitable for intense physical activities and can cause discomfort or require adjustments for optimal positioning.

Inside-the-waistband (IWB) holsters

 

fit snugly between clothing and skin and are generally discreet. They may require clothing adjustments for proper concealment. KYDEX IWB holsters are prone to digging into one's body, especially while sitting. To counteract the gouging,

 

buy our holster pad

, apply it to your holster, and enjoy IWB comfort.

Shoulder holsters provide comfortable and accessible concealed carry by positioning the firearm across the chest. They work well for those who spend extended periods sitting or driving. However, they may not fit well on narrower shoulders and can be less suitable for physically active lifestyles or exposed shoulder attire.

Outside-the-waistband (OWB) holsters offer ultimate accessibility, comfort, and speed. They're harder to conceal and may require clothing layering or other considerations to prevent printing and unintentional exposure.

Bra holsters: discreet and easily reachable options that fit snugly beneath the bosom. They offer a unique combination of security and accessibility. However, they may not be suitable for all body types or breast sizes, and accessing the firearm may be challenging.

Ankle holsters may have limitations regarding firearm size and accessibility, requiring additional training and potentially causing discomfort.

Thigh holsters are stylish and discreet for concealed carry with skirts and dresses. They may cause discomfort during extended wear and require secure attachment to prevent shifting or sagging.

Bag and purse holsters integrate into daily life, but require vigilance to ensure firearm security and may result in compromised draw speed due to indirect attachment.
This redditor likes IWB for normal CCW and thigh holsters when wearing a dress.
This redditor's girlfriend prefers belly band holsters.
CrossBreed Supertuck IWB Holster
CrossBreed SuperTuck holster.
Image source: https://www.crossbreedholsters.com/supertuck-iwb-holster.html
CrossBreed Supertuck IWB holsters combine innovative design with exceptional craftsmanship, ensuring a secure and comfortable carry experience. They're constructed with a premium leather backing and a molded KYDEX pocket, ensuring a snug and secure fit. The adjustable cant and ride height allow for a variety of transport positions, accommodating individual preferences.
Pros
Custom-molded KYDEX shell for a perfect fit

Premium leather backing for added comfort

Adjustable cant and ride height for a personalized fit

Tuckable design for maximum concealment

Durable construction for long-lasting use
Cons
May require a break-in period for optimal comfort

Potential difficulty when reholstering with one hand
This YouTube reviewer loves the SuperTuck for its comfortability and accessibility.
"I really like it," says one reviewer at the official SuperTuck site.
Can Can Concealment Hip Hugger
Can Can Concealment Hip Hugger
Image source: https://www.cancanconcealment.com/collections/hip-hugger-holsters/products/classic-hip-hugger-holster
The Can Can Concealment Hip Hugger is a belly band that has multiple pockets for firearms, magazines, and everyday essentials while providing a snug fit and ease of access.
Pros
Comfortable, wide elastic band for a secure fit

Multiple pockets for versatile carry options

Designed specifically for women's body shapes

Ambidextrous design for right or left-handed users

Available in various sizes and colors to suit individual preferences
Cons
Not suitable for larger, heavier firearms

May cause printing when wearing tight or thin clothing
This reviewer loves the Can Can holster for its comfortability. 
"Amazing is the best word I can find to describe," says another reviewer about the Can Can holster on the same thread.
Carry your firearm with comfort. Get our magic holster pad and breathe with relief.
Flashbang Betty Bra Holsters
One area where women have the edge over men in concealed carry: the bra holster. Carrying a gun in your bosoms isn't for every woman, but for those with the right body proportions, it can work well. The Flashbang Betty is the queen of bra holsters, using a strap and snap system to keep your piece in place.
Pros
Designed specifically for women's concealment needs

Discreet and secure placement under the bra band

Quick draw capability with a simple upward motion

Adjustable cant for a customized fit

Available in various sizes to accommodate different firearms
Cons
Not compatible with all bra styles or sizes

May require practice to master the draw technique

Some users may experience discomfort during extended wear
This Amazon user's wife finds the Flashbang holster to be extremely comfortable and appreciates the fact that it conceals the gun as well as being a good IWB holster.
This reviewer has used the Flashbang since 2014 and loves it.
Sticky Holsters AnkleBiter
Sticky Holsters AnkleBiter is a discreet and comfortable way to carry a small firearm. This holster is an excellent choice for those seeking an alternative carry position, as it combines Sticky Holsters' signature non-slip material with a secure ankle strap.
Pros
Low-profile design for discreet carry

Comfortable, adjustable ankle strap for a secure fit

Compatible with a variety of small firearms

Ambidextrous design for both right and left-handed users

No need for clips or loops, thanks to the non-slip material
Cons
May be less accessible than waist or hip holsters

Potential for discomfort during extended wear or physical activity

May require longer clothing to maintain concealment
For this Amazon user, the AnkleBiter is the best concealed carry ankle holster ever.
Femme Fatale Thigh Holsters
Femme Fatale Thigh Holsters.
Image source: https://femmefataleholsters.com/Garter_Holsters_2.php
The Femme Fatale Thigh Holster is perfect for women who prefer wearing skirts or dresses. It wraps snugly around the thigh and has an adjustable garter strap. 
Pros
Designed for women wearing skirts or dresses

Adjustable garter strap ensures a secure and comfortable fit

Discreet and stylish design

Compatible with various small to medium-sized firearms

High-quality materials for durability and long-lasting wear
Cons
Accessibility may be less convenient compared to waist or hip holsters

May require careful clothing choices to avoid printing

The garter strap may need occasional readjustment during extended wear or physical activity
"Drawing is smooth and snag-free. While I tested it, I was wearing a cotton maxi-dress. Accessing the gun was quick and not awkward in any way," says one reviewer on her blog.
The YouTube reviewer at the Guns and Lace channel loves the Femme Fatale thigh holster for the quality of its material and easy concealment. 
In The Ultimate Guide to Dressing for Concealed Carry, one reviewer stated: "I wear the Femme Fatale lace thigh holster often, and it has not lost its grip; it really stays on, even over stockings. There is a wide pocket the gun slips into, and it will not slip out."
Gun Tote'n Mamas Concealed Carry Purse
These fashionable handbags have a dedicated, lockable compartment designed to contain a concealed weapon securely while keeping it accessible. With a variety of styles, colors, and materials, these purses offer a combination of form and function that accommodates each woman's individual preferences and needs.
Pros
Stylish designs for a fashionable appearance

Dedicated, lockable compartment for secure firearm storage

Ambidextrous access for both right and left-handed users

Wide variety of designs, materials, and colors to suit personal preferences

Allows for easy integration into everyday life
Cons
May not be as secure as body-mounted holsters

Potential for purse snatching, leading to loss of firearm

Accessibility may be hindered in crowded or confined spaces

May require regular maintenance to ensure proper function of locking mechanism and zippers

Not the speediest draw
"Not only is this bag real leather, unlike other more expensive bags, but it holds my gun like a glove," says an Amazon user about the Gun Tote'n carry purse.
"This Gun Tote'n Mamas concealed carry handbag is just about everything I could ask for in a gun-friendly purse," says another reviewer of this purse.
Best Appendix Carry Holster For Women 
Despite traditionally being more popular among men, appendix carry is equally effective and adaptable for women. 
Advantages
Speed. The biggest benefit of an appendix holster for women is the speed and safety of the gun's access point. When carrying AIWB, your firearm is close to your hands, which are at your side. This ensures the pistol is readily available in the event of an emergency.

Security. Another benefit of these holsters is security. The front of your body is more under your control, allowing you to shield your weapon more easily with your hands and arms.
Disadvantages 
Mobility. The main drawback of appendix carry for women is that the gun can be felt when bending over or sitting down due to its position in the groin area.

Discomfort. Another downside of this type of holster is the potential discomfort of a belt and added bulkiness of the holster.
Here are some of the best appendix carry holsters for women:
StealthGearUSA SG-Ventcore AIWB Holster is designed for comfort and breathability, with patented Ventcore technology that improves airflow and decreases sweat. Because of its compact appearance and adjustable cant, it's a fantastic alternative for women looking for a personalized appendix carry solution.

Tulster Profile Holster's adjustable cant and good retention allow for a secure and tailored fit. The Tulster Profile Holster, made of high-quality KYDEX, provides a smooth, low-drag draw while preserving its shape for easy re-holstering.

T.REX ARMS Raptor Appendix Holster is designed for versatility and adaptation, with adjustable retention and a thin design that works well for women's concealed carry demands. Combining a sweat guard and a flared opening allows for simple re-holstering and increased comfort during long wear. This holster is made of tough KYDEX and is designed to withstand daily use while providing consistent handgun retention.
No matter your gender, make your AIWB holsters comfortable with our holster pads. 
Women's Gun Holster For Running
A decent running holster should balance security, accessibility, and comfort, ensuring the weapon stays in place throughout intense activity without causing discomfort or impairing performance.
Here are some common options for running holsters for women:
Belly band holsters are elastic bands that wrap around the waist or hips firmly, providing a snug fit and versatile positioning for a pistol. Some models have extra pockets for necessities like keys, cash, or pepper spray.

Concealed carry sports bras are designed to hold a small firearm and provide a unique and covert carry option. The weapon is usually concealed between the breasts or under the arm, making it easier to access during physical activity.

Running shorts with built-in holsters. Women can carry their firearms securely and comfortably thanks to specially made running shorts with built-in holsters. These shorts, made of moisture-wicking fabrics, give a discreet carry alternative without needing extra attachments.

Ankle holsters are a realistic choice for those who prefer to carry their firearm lower on their body. These ankle holsters are designed to securely retain tiny firearms securely, ensuring the weapon remains in place throughout runs.
This redditor recommends belly band holsters.
Make your running even more comfortable with our holster pads and thank us later.
Best Bra Holsters
While some ladies don't mind getting dressed up in camouflage, jeans, and boots, others like their fashion. For ladies with the right body type, a bra holster can allow inconspicuous carry of a microcompact while wearing whatever you like.
Let's look at some of the most popular bra holsters for women.
Flashbang Betty Bra Holster is a covert and easily accessible carry solution designed to fit securely beneath the bra band. Its adjustable cant ensures a tailored fit, easily accepting a variety of tiny weapons.

Marilyn Bra Holster is named after the legendary actress. This vertical bra holster provides a secure and comfortable carry for women with larger busts. It conceals the pistol beneath the arm and allows rapid access when needed.

Booby Trap Bra Holster blends comfort and functionality by including a hidden carry option. It has a holster pocket in the center for a balanced feel and easy access to the firearm during athletic activities.

Lethal Lace Universal Bra Holster is a versatile lace wrap holster that can fit a range of guns and body types. It can be worn in various locations, including behind the bra, giving ladies a versatile concealed carry option.

Femme Fatale Undercover Bra Holster attaches to the bra band for a secure fit and provides a sleek and covert carry option. Its simple design allows for smaller weaponry and rapid access when needed.
"I can tell it's there, but it isn't uncomfortable," says this YouTube commenter about her Marilyn bra holster.
Belly Band Holsters For Women
Belly bands are a versatile and relatively comfortable hiding solution that many women use successfully. As a result, you can wear them in a variety of settings. Whether you're dressed for work or headed to the gym, they provide the comfort and security you need.
They can be worn high or low on the body, providing tremendous mobility. Some of them have two gun holsters. Also, many include a pocket for critical papers, cash, and credit cards, as well as a place for a spare magazine. It is ideal for medium and small frame revolvers and semi-automatic handguns. Finally, for added adaptability, they can be worn "high" under the breasts or "low" on the hips.
Here are some popular belly band holsters for women:
ComfortTac Ultimate Belly Band Holster

Concealed Carrier Belly Band

Bravobelt Belly Band Holster

Crossbreed Modular Belly Band

Alien Gerar Cloak Tuck 3.5

Tactica Defense Fashion Belly Band
"This is a great belly band holster. The safety of having the firearms trigger covered in the holster is priceless. Plus, each belly band holster shell is molded for the specific firearm model. When sitting, the band of the holster does not roll or bunch up. Having perfect retention is not too shabby either," says a reviewer of the Tactica belly band holster on her blog.
An Amazon user is very happy with her choice of the ComfortTac belly band holster.
Forget about uncomfortable holsters. Grab our magic pad, apply it, and enjoy CCW nirvana!
Best Women's CCW Clothing
The best women's CCW (concealed carry weapon) clothing blends fashion, usefulness, and personal safety in a seamless manner. These clothes are intended to conceal a firearm while enabling quick and easy access when needed.
There are a variety of alternatives available to fit diverse interests and lifestyles, ranging from attractive concealed carry leggings with built-in holsters to exquisite jackets with strategically placed pockets. UnderTech UnderCover, Alexo Athletica, and 5.11 Tactical specialize in women's specific concealment requirements, providing apparel that is both functional and stylish. Women can preserve their sense of style while carrying self-defense gear by wearing the appropriate CCW apparel.
Let's look at some fantastic ideas for concealed carry:
UnderTech Womens Concealment Short Shorts

UnderTech Undercover Concealment Tank Shirt

5.11 women's holster shirt

Graystone holster shorts for women

CCW Tactical holster shirt

Tactical yoga pants

Tactica corset holster

Garter gun holster - Concealed Weapon Thigh Carry for Ladies

UnderTech Undercover Concealment Women's Shorts

Hip Hugger Classic Concealed Carry Gun Holster
This lady found the UnderTech Undercover "extremely comfortable. Despite being clingy, it's not hot, and as a woman who wears an undershirt, it's not even noticeable when worn on its own."
This Amazon user loves the magnets inside her Garter gun holster for her Glock 42.
"Another great option for wear with skirts or pants are the compression shorts by UnderTech Undercover. I will wear this with skirts, but mostly I wear the holster with sweatpants for when I walk my dog. I trust the holster to jog with as well, as the elastic band holds a gun very snugly," stated a reviewer at the Ultimate Guide to Dressing for Concealed Carry.
Best Holster for Petite Women
When it comes to CCW for women, there are more options than ever. Petite women may still face difficulties when it comes to concealed carry. Let's explore holster suggestions for petite women to solve their CCW challenges. 
StealthGearUSA SG-Ventcore AIWB Holster. This appendix carry holster provides a comfortable and secure fit for small ladies because of its thin design and breathable materials.

CrossBreed MicroClip IWB Holster. Because of its minimalistic design and adjustable cant, this inside the waistband holster is ideal for petite women.

Can Can Concealment Hip Hugger Elite Holster. Because it is adaptable and adjustable, this belly band holster is great for women with smaller frames.

Flashbang Betty Bra Holster. It is a bra-mounted holster that is both covert and secure.

Sticky Holsters SM-2. This compact and lightweight IWB holster features non-slip material to grasp the waistline securely.

DeSantis Nemesis Pocket Holster. This low-profile, non-slip holster is designed to stay in place during the draw.
Best Holster for Plus Size Women
Finding a holster that can be worn comfortably, discreetly, and safely while still allowing effective access to the pistol in an emergency is already a difficult problem, and concealed carry for larger women presents additional difficulties. Most holsters are made by men, for men, with their bodies and fashion preferences in mind. For plus-size women, the challenges are even greater.
Here are some suggested options for plus-size women to consider:
Belly band holsters

IWB holsters

Bra holsters

Sticky holsters

Concealed Carry Purse
"I wear it right under my breast in a comfortable position as to where all I have to do is raise my shirt very little and I have complete control," says one reviewer who recommends a belly band for all women. 
For her Glock 26, this plus size woman wears an IWB holster at the 2.5 to 3 o'clock position comfortably.
Holster For Women FAQ
What is the best concealed carry style for a woman?
Belt carry, also known as on the waist carry, is the most popular and common method of concealed carry among women. The gun is handy, and the grip is in the right place for a quick draw. For these reasons, it is the first and best option for most women.
What is the most discreet gun holster for women?
A thigh holster is a popular, discreet gun holster for women. As long as you're concealing a small firearm, the thigh holster is incredibly concealable and won't cause too much discomfort.
What is the smallest gun for females?
The Ruger LCP II is a tiny gun for females to carry. With a weight of less than 11 ounces (10.6 ounces, to be exact), this 380 is an excellent choice for concealed carry. The slide requires only modest effort, making it appropriate for persons with limited arm strength. It moves smoothly as well.
Why is it important for a holster to properly cover the trigger guard?
A holster that properly covers the trigger is critical for ensuring safe handgun carry because it protects the trigger from incidental contact or snagging on clothing or other objects when carrying.
Should women wear IWB or OWB?
IWB holsters excel in concealment and versatility, allowing for a more discreet carry option. They are generally more comfortable and provide good accessibility. They may be bulkier and slower to draw from than OWB holsters. OWB holsters offer better accessibility, faster draws, and increased comfort due to the reduced pressure against the body. But, they are more challenging to conceal, may require specific clothing choices, and expose the firearm to external elements
How do women conceal carry with a dress?
Concealed carry is more challenging with a dress, as dresses tend to be very form-fitting. Here are some possible options:

Appendix carry: utilize an appendix carry holster designed for deep concealment.

Belly band holsters: wear a flexible belly band holster around the waist or higher on the torso.

Thigh holsters: attach a thigh holster securely to the leg under the dress.

Purse carry: consider a concealed carry purse with dedicated compartments.

Clothing with built-in holsters: explore dresses or clothing items with built-in holsters or concealment pockets.
The smaller the gun, the easier it will be to conceal.
Is a paddle holster better than a belt holster?
When comparing a paddle holster to a belt holster, here are some factors to consider:
Comfort: paddle holsters are known for their ease of use and quick on/off capability. They provide a comfortable fit and can be easily adjusted for different body types. On the other hand, belt holsters may require threading through the belt loops, which can be more time-consuming and less convenient.

Retention: both paddle holsters and belt holsters offer secure retention of the firearm. Paddle holsters typically rely on friction or tension to hold the gun in place, while belt holsters often have adjustable retention mechanisms for a customizable fit.

Concealment: belt holsters generally provide better concealment since they ride closer to the body, hugging the natural contour of the waistline. Paddle holsters, due to their design, may extend further away from the body and may not be as easily concealed.

Accessibility: paddle holsters allow for quick and easy access to the firearm, as they can be easily attached or removed without the need to thread through belt loops. Belt holsters may require more effort to put on and take off, but they offer a secure and accessible carry method once properly attached to the belt.

Versatility: belt holsters are often compatible with a wider range of belts, allowing users to choose the style and width that suits their preference. Paddle holsters may have limitations in terms of belt compatibility.
Ultimately, the choice between a paddle holster and a belt holster depends on individual preferences, comfort, concealment needs, and the specific context of use.
What size are belt clips?
Standard sizes are typically 1.5–1.75", but if you're unsure of your belt's width, you should measure it before purchasing clips.
Are KYDEX mag pouches good?
When used correctly, KYDEX magazine pouches are extremely useful and versatile. The most significant advantage of KYDEX carriers is that they secure the magazine without adding much bulk. Because the KYDEX is molded to a specific magazine type, it will have a snug fit with adjustable retention.
What is the difference between KYDEX and leather holsters?
The differences between KYDEX and leather holsters can be summarized as follows:
Material: KYDEX holsters are made from a durable thermoplastic material called KYDEX, while leather holsters are crafted from animal hide, typically cowhide or horsehide.

Retention: a KYDEX holster will usually have adjustable retention mechanisms, allowing users to customize the level of retention. A leather holster relies on the natural flexibility and molding properties of the material for a secure fit.

Maintenance: KYDEX holsters are relatively easy to clean and require minimal upkeep. Leather holsters may need periodic conditioning to maintain their suppleness.

Concealment: KYDEX holsters have a slim profile, minimizing printing and aiding in concealment. Leather holsters may have a bulkier profile but can contour to the body over time.

Draw and reholstering: KYDEX holsters provide a smooth and consistent draw, while leather holsters may require a break-in period for optimal performance.

Durability: KYDEX holsters are highly durable, retaining their shape and properties over time. Leather holsters, while durable, may require occasional maintenance and can be susceptible to moisture damage.

Aesthetics: KYDEX holsters have a modern appearance with various color options, while leather holsters offer a classic and traditional look.
Further Reading
Are Eclipse holsters any good?
Best appendix carry for sitting down
Are Tenicor holsters any good?
Best concealed carry for small frame