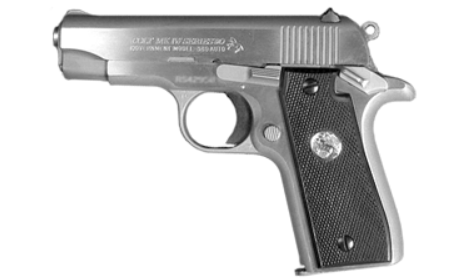 The perfect caliber for concealed carry balances stopping power, accuracy, capacity, shootability, and concealment. These factors are often at odds with one another. Your "perfect caliber" will depend on which criteria matter most to you.
While bigger bullets may sound like a good idea, they have their downsides. In general, 9mm is the most universally-loved concealed carry caliber, but each person needs to weigh the tradeoffs to figure out what's best for them.
Quick links:
No matter the caliber you choose, you deserve comfort. We have developed the perfect holster pad to make any concealed carry comfortable.
What is caliber?
A gun's caliber—the diameter of its barrel and the matching bullet—is more than just a number. It shapes the entire shooting experience.
Seemingly small differences, bring major changes in power and feel. The right caliber blends just enough punch with precision handling. It makes the bullet fly true from a tight, perfectly fitted barrel.
Caliber choices are a big deal. Hopefully, you're clearer after reading this article.
What are the common handgun calibers?
Let's dive into the most common handgun calibers, and evaluate each one along criteria that matter. We'll see the tradeoffs each caliber makes, and you can decide which basket of tradeoffs is most appealing.
Ultimately, each caliber offers tradeoffs, prioritizing capacity, concealability, stopping power, or some other quality. Let's look at each in turn.
9mm
The 9mm Luger (also known as 9x19mm Parabellum) is the most popular concealed carry caliber, and for good reason. It offers manageable recoil and decent stopping power.
9mm strikes a good balance between power, shootability, capacity, affordability, availability, and size. While not tops in any one category, its overall combination of attributes makes it a very attractive package.
Availability
It's easy to find a large caliber selection of 9mm ammunition on the shelves of most sporting goods and firearms stores. Even during times of high demand, such as the Obama presidency, the sheer volume of 9mm ammo manufactured ensures its availability.
The 9mm is also a standard issue for many law enforcement and military sidearms, further bolstering supply. 
Recoil management
Compared to larger rounds like .40 cal, the 9mm offers relatively mild recoil that many shooters find manageable. While not as soft-shooting as .22 LR, the 9mm allows for quicker follow-up shots than heavier calibers. This makes it well-suited for defensive shooting applications where controlling recoil is important.
Less recoil also helps new shooters master fundamentals with 9mm handguns.
Cost per round
In addition to availability, 9mm enjoys cost savings over other defensive calibers. Typical 9mm can be found for significantly less per round than premium offerings like .45 ACP or .357 Magnum.
The ability to practice affordably with 9mm helps shooters maintain proficiency. The low cost also allows for regularly replenishing defensive ammo stocks.
Stopping power
With modern bullet designs and velocities averaging over 1,000 fps from shorter barrels, 9mm delivers decent stopping power for concealed carry needs.
Ammunition variety
From full metal jackets to high-end hollow points, the 9mm caliber enjoys endless ammunition options. Shooters can fine-tune loads for target practice, self-defense, and range specifics. 
Defensive 9mm ammo in particular sees constant innovation and variety, with popular options including 124gr, 147gr, standard pressure, and +P loadings.
Handgun selection
With nearly every major ammo manufacturer producing pistols in 9mm, you can find a wide variety of concealed carry guns in this caliber. Full-size, compact, micro compacts, and subcompact 9mm handguns provide a vast range of choices to suit every shooter's needs. The popularity of 9mm ensures healthy resale markets and aftermarket support too.
Disadvantages
The 9mm also has some downsides to consider:
Less stopping power than larger calibers 

Overpenetration risk with full metal jacket (FMJ) rounds
.380 ACP
Designed by John Moses Browning in 1908, the .380 ACP (Automatic Colt Pistol) cartridge is a shorter, lighter-caliber option for very small concealed handguns. In general, .380 is the worst in this list at stopping an adversary, but one of the best at concealment.
Availability
The .380 ACP is a widely produced caliber, though less so than 9mm. The ammunition can readily be found on shelves at most sporting goods stores and gun shops. It enjoys continued production from all major ammunition manufacturers.
Recoil management
The .380 ACP produces less recoil than the 9mm, especially in small concealed carry pistols. However, tiny .380 guns can difficult to control due to their small size—there's simply less to hold onto. 
Cost per round
Typically .380 ACP costs around 1.5 times more compared to 9mm FMJ practice ammo. The higher cost makes routine practice more expensive.
Stopping power
If stopping power is your most important determinant, skip the .380 and opt for a bigger load. 
Ammunition variety
While the variety of .380 ACP loads is more limited than larger calibers, there are still a number of options to choose from. Some of the most common loads are affordable FMJ practice ammo, as well as modern hollowpoints engineered for self-defense. Shooters can find options tailored for small pistols. 
Handgun selection
Several prominent gun manufacturers now produce small single-stack semi-automatic handguns in .380 ACP. The round's size prioritizes concealment. You have many compact, subcompact, and microcompact .380 ACP handgun options to choose from, including the Ruger LCP, Smith & Wesson Bodyguard 380, and Glock 42.
Disadvantages
Some disadvantages of .380 ACP for concealed carry are:
Worse stopping power than larger calibers

Shorter effective range than larger calibers

Small-frame guns sacrifice accuracy and recoil control
.38 Special
.38 Special cartridge for revolvers
Image source: https://ammo.com/handgun/38-special-ammo
The .38 Special cartridge (for revolvers) provides moderate recoil and offers a good balance of power and accuracy.
Availability
As one of the most popular revolver cartridges, .38 Special ammunition is available at most gun retailers. Ammunition supply remains steady across major manufacturers. 
Recoil management
Compared to magnum rounds, the .38 Special has more manageable recoil, especially in compact revolvers. However, lightweight snub-nose .38s can still be snappy. The moderate recoil eases accurate follow-up shots in double-action shooting. With proper grip and stance, even beginners can grasp marksmanship fundamentals with the .38's limited muzzle rise.
Cost per round
For a full-power revolver cartridge, the .38 Special is relatively affordable to shoot. Typical prices are comparable to 9mm ammo. 
Stopping power
The .38 Special—loaded to higher pressures with modern hollowpoint bullets—provides okay stopping power for self-defense. Premium +P loads boost velocity for improved terminal ballistics. However, the .38 Special is still at the lower end of recommended defensive calibers.
Ammunition variety
Whether training with wadcutters, plinking with a lead round nose, or carrying self-defense JHP, there's a vast range of .38 Special loads to choose from. The extensive options allow pairing ammunition specifically to gun size and intended use.
Handgun selection
Many quality revolvers are available in .38 Special from major manufacturers like Smith & Wesson, Ruger, and Colt—everything from snubnoses to 4-inch barrels. The popularity of .38 Specials revolvers ensures a robust used market as well with lots of affordable options.
Disadvantages
As with all other calibers, the .38 Special also has some downsides:
Small revolvers have only 5-6 round capacities.

Recoil may be sharp in very light snub-nose guns.

Revolver-only; if you want to carry a semi-auto, keep looking
.357 Magnum
.357 MAGNUM FULL METAL
Image source: https://geco-ammunition.com/en/ammunition/products-overview/pistol-revolver-cartridges/geco-full-metal-jacket-flat-nose-pr/
With supersonic velocities from short barrels, the potent .357 Magnum revolver cartridge is excellent for self-defense, and also for hunting medium-size game. However, its sharp recoil requires solid shooting fundamentals to control.
Availability
As one of the most popular handgun cartridges for over 80 years, .357 Magnum ammunition is widely produced by all the major manufacturers, including Remington, Winchester, Federal Premium, and Hornady. High production volume ensures consistent availability and stock levels at retailers.
Recoil management
With far greater pressure and recoil than .38 Special rounds, the .357 Magnum requires a firm grip and strong fundamentals to manage recoil. The sharp impulse is best controlled in all-steel revolver frames.
Shooters need to brace themselves for the kick, especially with lightweight snub-nosed carry revolvers.
Cost per round
For defensive ammunition, .357 Magnum cartridges cost notably more than .38 Special when buying new factory loads. However, this higher cost per shot is justified by the significant jump in muzzle velocity and energy on target compared to .38 Special. 
For practice, .38 Special rounds can be used to save money. Reloading spent .357 Magnum brass can also reduce the cost per round.
Stopping power
The .357 Magnum has built a proven reputation over decades for providing excellent stopping power with proper ammunition selection. The FBI has long recommended a minimum of 1,200 fps out of 4-inch barrels for defensive handgun loads. 
With modern hollowpoint bullets, the .357 Magnum can readily achieve 1,300-1,500 fps velocities out of 2 to 6-inch barrels, resulting in deep penetration and reliable expansion. Premium loads weigh from 125 to 158 grains, giving very attractive terminal ballistics.
Ammunition variety
One advantage of the .357 Magnum is the wide range of ammunition styles and bullet weights available. On the lower end, target wadcutters are available from 148-158 grains.
For defensive use, hollowpoint options range from lighter 125-grain bullets for 3-inch barrels up to heavy 158-grain loads that require longer barrels to reach optimal velocity. 
Handgun selection
The popularity of the .357 Magnum ensures the availability of revolver models from all major gun manufacturers including Smith & Wesson, Glock, Beretta, and more. 
Barrel lengths range from 1.8-inch snub-nosed concealed carry to 5-inch hunting revolvers capable of harnessing the .357 Magnum's full potential. 
Disadvantages
Challenging recoil takes extensive practice to master

Heavy recoil makes rapid fire difficult

Expensive ammo

Revolver-only
.40 S&W
The .40 S&W was developed in the 1990s as an alternative to the 9mm and .45 ACP for law enforcement and self-defense needs. It provides more stopping power than 9mm in a more compact package than the .45 ACP.
Availability
As one of the most popular law enforcement and civilian handgun cartridges, .40 S&W is widely available from all major ammunition manufacturers. It can be commonly found in stock at sporting goods stores and gun shops with a diverse range of loads to choose from.
Recoil management
The .40 S&W generates snappier felt recoil than 9mm, due to higher pressures and heavier bullets. Proper grip technique and fundamentals help mitigate recoil for faster follow-up shots. The sharper impulse can be harder to control for new shooters compared to a 9mm.
Cost per round
Practice ammunition in .40 S&W tends to cost slightly more than 9mm loads. However, the difference in cost per round is not extreme. 
Stopping power
With modern hollowpoint loads, the .40 S&W provides very good stopping power and penetration from self-defense oriented handguns. It offers a step up from the 9mm in terms of bullet diameter, weight, and energy on target. The .40 S&W meets FBI recommendations for penetration of out-of-duty pistols.
Ammunition variety
From round nose to hollowpoints, .40 S&W features a diverse ammunition landscape for practice, self-defense, and competition. Bullets from 155 to 180 grains are available from all major manufacturers to suit different barrel lengths. There are also lighter specialty loads.
Handgun selection
The .40 S&W is widely available in subcompact, compact, and full-size pistol models from nearly every major handgun maker. The cartridge fits in frame sizes similar to the 9mm. There is also extensive aftermarket support.
Disadvantages
The .40 S&W also has some downsides for concealed carry:
Increased recoil over 9mm, especially in subcompact models

Overpenetration risks with full power loads

More expensive than 9mm

Guns tend to be bulkier than 9mms, sacrificing concealment
What factors should I consider?
When you choose a concealed carry caliber, you're always making tradeoffs between the following factors
Stopping power

Managing recoil

Capacity

Accuracy

Availability of ammo

Ammo price
Stopping power
Stopping power involves a combination of factors like penetration depth, shot placement, and the limitations of each caliber:
Penetration depth. The ideal is 12-18 inches of penetration in ballistic performance to ensure the bullet reaches vital organs and blood vessels. Overpenetration and underpenetration are less effective.

Shot placement. Hitting critical central nervous system areas like the head or upper spine generally has the greatest stopping effect, regardless of the caliber used. This is more an issue of accuracy, but affects stopping power so we mention it here.

Caliber limitations. While larger bullets have the potential to stop threats faster with greater tissue damage, even large calibers may require multiple accurate hits to stop an attacker. No caliber or load guarantees one-shot stops in all scenarios.
Recoil
Properly managing recoil helps ensure accurate follow-up shots during stressful defensive shootings. The .380 ACP and 9mm have less recoil than larger rounds. Gun size and weight also factor in, with larger, heavier guns having lower recoil than small, light guns of the same caliber. The lowest-recoil combo is a smaller caliber in a big frame.
Reduced sight recovery time. Less felt recoil results in a faster return to the target for the next shot. Large magnum loads lengthen the return-to-target time.

Improved accuracy. Effectively managing and minimizing recoil allows the shooter to concentrate on fundamentals like trigger control and sight alignment. This often translates into improved shot accuracy.
Capacity
More ammunition capacity is generally better. For a concealed carry handgun of a given size, smaller calibers allow for more rounds over larger calibers. For instance, 9mm pistols often hold 2-4 more rounds than similar-sized .40 S&W or .45 ACP models.
Accuracy
Caliber choice can significantly impact shooting accuracy with handguns in a few key ways:
Recoil slows the time to get back on target quickly for follow up shots, which reduces accuracy. Smaller calibers generally have milder recoil.

Sight radius: larger calibers often have a longer barrel to safely contain the cartridge pressure (although you can get longer-barreled guns for lower calibers as well). This greater distance between front and rear sights provides a longer sight radius. This longer reference makes it easier to line up the sights precisely, improving accuracy potential.

Ballistic trajectory: the ballistic arc of a bullet is straighter for higher velocity calibers. In contrast, smaller calibers tend to have a more pronounced arc that is more sensitive to range.

Mechanical accuracy: some calibers are inherently more accurate due to tighter manufacturing tolerances and precision chambering. Rimfire .22 LR has looser tolerances than centerfire match-grade calibers like .45 ACP. The tighter the tolerance, the more accurate the ammunition.

Sight visibility: larger handguns allow larger, easier to see sights like fiber optics. Small sights on small guns are harder to see clearly. Visibility aids accuracy.
Availability of ammo
Availability is one factor out of many, and not even the most critical (you can always stockpile). 
Common calibers are more…common, and usually easier to get your hands on. 
Ammo price
The cost of practice and defensive ammunition is a big factor, as ammo can really add up, cost-wise.
Common rounds like 9mm can be found for as little as $0.16-0.20 per round for steel-case range ammo and $0.25-0.30 per round for quality brass practice loads. Boutique calibers like .327 Federal can cost $1 per round or more just for practice ammo.

Bulk 9mm ammo for 1,000 rounds can be purchased for $150-200. In contrast, specialty rounds like .357 SIG and .45 GAP may not have bulk pricing options readily available. You may be limited to 50 round boxes at over $30-40.

Modern 9mm defensive rounds such as Federal HST 124gr typically run $0.75-1.00 per round when buying 20-round boxes. Less common calibers like .357 Magnum can have defensive loads priced at $2 per round or higher.
Best caliber FAQ
What is the best caliber for concealed carry?
The 9mm is a very popular choice and the most likely contender for "best caliber" for concealed carry. It offers a good balance of power, capacity, availability, and shootability. Each shooter's priorities are different, though, and each caliber offers tradeoffs over the others.
Is a .380 more powerful than a .38 Special?
The .380 ACP does not offer more power than the venerable .38 Special. Even typical .38 Special loads with lead round nose bullets will generate around 200-300 ft-lbs of energy, while .380 ACP only reaches the 200 ft-lb range even from longer barrels. However, modern .380 defensive ammo has improved the round's effectiveness to make it a viable option. But it still trails behind the capabilities of a .38 Special +P hollowpoint.
What handgun do Navy SEALs use?
The Navy SEALs have access to an extensive armory of handguns, but two of their most famously used models are the Sig Sauer P226 and Glock 19 pistols, both chambered in 9mm. SEALs helped test and evaluate the P226 in the 1980s, while the Glock 19 is now issued as the standard sidearm.
Is a .38 or 9mm better for concealed carry?
The 9mm offers increased magazine capacity in small semi - autos. It also provides less perceived recoil and quicker follow-up shots. However, the .38 Special +P a snub-nose revolver remains a highly effective choice for concealed carry with proper ammunition. It comes down to shooter preference.
Is 9mm or .45 better for concealed carry?
The .45 ACP brings proven stopping power, while 9mm offers increased magazine capacity, quicker follow-up shots, and more affordable practice. A 9mm handgun is generally smaller and lighter when concealed. While personal preference rules, the 9mm has key advantages that make it a commonly chosen caliber for concealed carry.
What does more damage .380 or 9mm?
The 9mm clearly exceeds the .380 ACP in potential damage due to its larger diameter, heavier bullets, and higher velocities. Testing shows 9mm defensive loads penetrate deeper and expand more reliably than .380 hollowpoints. 
However, modern .380 ammo has narrowed the gap. In the end, shot placement trumps caliber - multiple .380 hits to vital organs can still potentially stop a threat.
Is a 9mm or .22 better for concealed carry?
A 9mm is a far better choice than a .22 LR for concealed carry purposes. Not only is the .22 rimfire an unreliable cartridge for defensive use, but it also does not provide adequate stopping power. The 9mm offers proven effectiveness with proper ammunition selection.
What caliber pistol do most police use?
The most common police handgun caliber is the 9mm, adopted by most departments across the country in the late 1980s and 1990s. Prior to this shift, .38 Special revolvers and .357 Magnum revolvers were standard issue. 
Since then, the 9mm has taken over as the predominant police caliber due to high magazine capacities combined with adequate stopping power using modern hollowpoint ammo.
Further reading
What is the best Glock for women?
What are the best concealed carry guns for seniors?
How do I choose the right concealed carry firearm?
What is the most customizable 9mm subcompact?
What is the best concealed carry holster for sitting?
What is the best Taurus G2C holster?
What is concealed carry reciprocity?
What is the best 9mm single-stack pistol?
What is the best optics ready compact pistol?