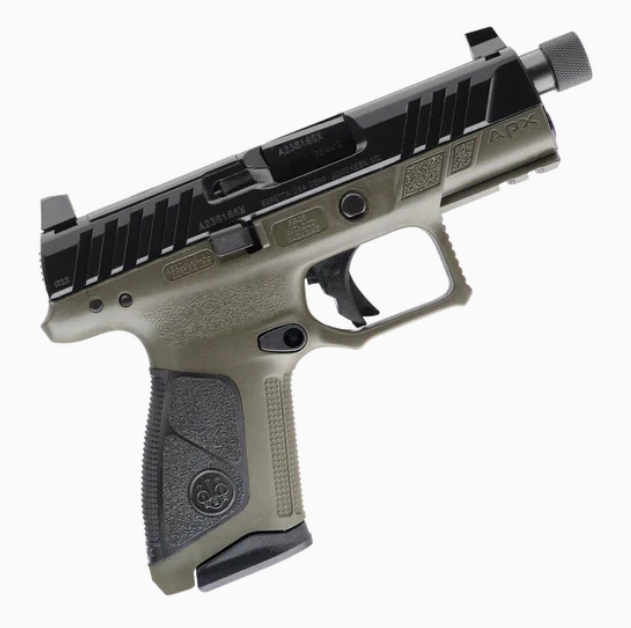 What is the best Beretta for concealed carry?
For concealed carry, you need a gun that's accurate and packs a punch yet is small enough to keep hidden. Beretta offers several CCW pistols that check all the boxes. 
Quick links:
Let's dig into the best Beretta options, from the tiny .22 LR Pico to the slim 9mm Nano to the micro .380 Mustang. 
If you carry your Beretta in a KYDEX holster, we've developed an amazing memory foam padding that will make your EDC smooth and comfortable.
How do I choose the right Beretta?
Here are the factors you should consider when deciding which Beretta is right for you:
Size and weight. When carrying concealed, small and light is best. Large, heavy pistols print through clothing and feel burdensome. Beretta's tiny .380s and .22s disappear in a pocket or ankle holster. Slim 

9mm guns

 

such as the APX and PX4 Compact Storm conceal well in an appendix carry or other IWB holster.

Caliber. Large calibers like 

.45 ACP 

bring stopping power but kick like a mother and hold less ammo. Milder shooting, higher capacity 9mm and .380 models allow faster follow-up shots—a priority for many concealed carriers. The .380 Pico trades knockdown for featherweight dimensions.

Capacity. More rounds in the magazine means fewer reloads. Compacts like the 13+1 APX and 14+1 PX4 Storm provide substantially more shots before swapping mags. Ultracompacts like the 6-round Pico and 7-round Nano sacrifice capacity for micro size.

Ergonomics. Your pistol should point and handle naturally. Ideal ergonomics include mild recoil, balanced weight, and a grip contouring to your hand. This results in a handgun that shoots smoothly and accurately.

Reliability. Beretta's rigorous testing ensures excellent reliability across its compact semi-auto line.

Price point. Budget-friendly models start around $300. Premium options run $600+. Set your price threshold and find the best Beretta you can afford.
Now that you know what to look for, let's take a look at some of the best Beretta guns out there.
Beretta Pico
BERETTA PICO. Image source: https://www.guncritic.com/product/beretta-pico-pistol/
Caliber: .380 ACP

Capacity: 6+1 rounds (extended mag)

Length: 5.1 inches

Height: 3.7 inches

Width: 0.725 inches

Price: $300+
The Beretta Pico is a semi-automatic handgun in .380 ACP caliber with a 6-round capacity magazine. It has a single-action trigger mechanism with a knurled cylindrical slide stop for positive activation. The ambidextrous magazine release button is reversible for left or right-hand use.
The Pico's rounded edges and snag-free design slip smoothly into concealment. In operation, it takes cues from the classic 1911 yet includes modern upgrades like a double-action trigger and no magazine disconnect.
The Pico's compact size does make magazine changes slower than larger .380s. But this trade-off enables lightweight pocket carry. Some models feature night sights, granting dead-on aim even in low light—impressive for such a tiny pistol.
For new shooters and those with small hands seeking an easily concealable yet shootable self-defense pistol, the Pico is an excellent choice. Its tiny-yet-capable design caters directly to those needing a slim everyday carry sidearm.
Beretta Nano
Caliber: 9mm

Capacity: 6+1 or 7+1 rounds (extended mag)

Length: 5.63 inches

Height: 4.17 inches

Width: 0.9 inches

Price: $450+
The Beretta Nano is a subcompact, striker-fired, locked-breech, recoil-operated semi-automatic pistol. It is Beretta's first striker-fired model. The Nano holds six rounds of 9mm in a single-stack magazine, with one in the chamber. It is good to know it can fire with or without a magazine inserted.
The Nano promotes safe concealed carry through multiple built-in safeties. A trigger lever, visible striker block, and right-side striker deactivation button prevent mishaps without impairing needed access. This allows owners to securely field strip without pulling the trigger.
While most concealed carry pistols lack adjustable sights, the Nano provides interchangeable 3-dot sights. This customizable accuracy enhances its capabilities for defensive use.
Despite a lightweight frame, the Nano maintains composure when firing and conceals effortlessly. Its pleasant shooting experience and affordable price compared to similar micro-compacts add to the appeal as an everyday companion.
The Beretta Nano, with its lightweight design and reliability, is an ideal handgun for women and seniors—those who prioritize simplicity and ease of use in a concealable package.
Beretta APX Compact
APX A1 COMPACT TACTICAL. Image source: https://www.beretta.com/en-us/product/apx-a1-compact-tactical-FA0054
Caliber: 9mm or .40 S&W

Capacity: 10 or 13 rounds

Length: 6.7 inches

Height: 4.9 inches

Width: 1.27 inches

Price: $500+
The Beretta APX Compact is a striker-fired, polymer-framed semi-automatic pistol. It holds 13 rounds of 9mm or 10 rounds of .40 S&W in a double-stack magazine, with one in the chamber. The steep-angled grip enables a high hold while aggressive texturing provides a secure grasp.
For safe carry, the APX Compact has a trigger lever safety and visible striker block. This allows easy field stripping without pulling the trigger. The reversible magazine release and ambidextrous slide stop are a great addition to its adaptability.
While many compacts lack adjustable sights, the APX Compact has steel sights with ample windage and elevation adjustment. This enhances its capabilities for defensive use.
The APX Compact manages recoil well for its size. The ergonomic grip angle and texturing keep it stable in hand, allowing for fast follow-up shots. It delivers the accuracy and reliability expected from more expensive polymer compacts.
The combination of easy handling, adaptable controls, and good performance make it a great choice for those with smaller hands who prioritize a slim, snag-free firearm. The APX Compact's mild recoil and ergonomics also suit newer shooters looking to train with an accurate, reliable semi-auto.
"The Beretta APX Compact is remarkably easy to shoot. Though the slide seemed chunky to me right out of the box, once loaded I found it well-balanced. It has a very natural grip angle, resulting in feeling like I could get on target more quickly than with many other guns. It has well thought-out grip texturing (there's more texturing on the front and back of the grip than the sides) and smart ergonomic details like the double-undercut trigger guard." —Mel Dixon, NRA Women
Beretta PX4 Storm Compact
Caliber: 9mm

Capacity: 12 or 14 rounds

Length: 7 inches

Height: 5 inches

Width: 1.4 inches

Price: $650+
The Beretta PX4 Compact is a double-action/single-action semi-automatic pistol with a polymer frame and steel slide. It chambers 9mm in a double-stack magazine, holding 13+1 rounds. The PX4's defining feature is its rotating barrel breech lock system, rather than the typical tilting barrel design.
This rotating action noticeably dampens felt recoil, making the PX4 an exceptionally soft shooter. The bore axis sits reasonably high, yet the muzzle rise is minimal. The pistol seems to recoil straight back into the hand, staying on target for fast follow-up shots. The smooth impulse keeps the shooter focused on the front sight and cognizant of each shot's impact.
The grip has an upright angle with deep indentation at the top and ample texturing. This enables a high hold that points instinctively. The single-action trigger has a short, crisp break while the double-action pull is smooth despite some overtravel. Controls like the reversible mag release and ambidextrous slide stop add to the PX4's adaptability.
Military and law enforcement use the PX4 worldwide which proves its good reputation. While the rotating action needs proper lubrication, it has proven ultra-resilient in endurance testing. 
The PX4 is a good choice for new shooters and those who love smaller, lightweight handguns.
This redditor loves his Storm.
Beretta M9A3 Compact
Caliber: 9mm

Capacity: 15+1 rounds (extended mag)

Length: 7.8 inches

Height: 5.2 inches

Width: 1.5 inches

Price: $950+
The Beretta M9A3 Compact is a 9mm short recoil-operated semi-automatic pistol. It holds 15+1 rounds in its flush-fitting magazine.
The Beretta M9A3 is an updated version of the classic M9 service pistol. It retains the iconic Beretta open-slide design but with modern enhancements for durability, ergonomics, and accessory use.
The M9A3 features a threaded barrel with a robust thread protector that locks in place, preventing loss while shooting. Optics-ready suppressor-height night sights have generous windage and elevation adjustment. Further adapting to suppressors, the M9A3's fixed barrel axis eliminates the need for a booster.
Ergonomics improve with a removable wrap-around grip mimicking the original M9 profile, or slimmer Vertec-style grips with aggressive checkering for a more secure hold. The oversized mag release aids those with smaller hands.
Internals also see an upgrade. The crisper 4.9-pound single-action trigger enhances precision, while the double-action pulls smoother. The chrome-lined bore increases durability and reliability. Enhanced accuracy matches Beretta's reputation, while ruggedness exceeds military specifications.
This YouTube review of the M9A3 gave it high marks; it's worth a watch.
Beretta 84FS Cheetah
Caliber: .380 ACP

Capacity: 13+1 rounds

Length: 7.1 inches

Height: 4.8 inches

Width: 1.38 inches

Price: $915+
The Beretta 84FS Cheetah is a short semi-automatic pistol in .380 ACP caliber that holds 13+1 rounds with the standard magazine. 
Blowback operation meets a DA/SA trigger in the current FS models. The aluminum frame wears a combat-ready de-cocker that doubles as a safety. Inside, a firing pin block and mag disconnect supplement external safeties. Dot-and-moon sights align quickly on target, aided by the 4.9" sight radius.
Functionally, the FS runs like clockwork. Minimal play between slide and frame speaks to Beretta's excellent fit. A smooth cycle and matte finish give it a utilitarian look that matches the precise operation. The DA/SA trigger offers a long heavy pull for the first shot, then light single-action follow-ups. It's ready to repeat if needed.
The machined front blade draws the eye, while the rear notch drifts for adjustment. Though fixed, accuracy is on point. The FS platform balances heritage with modern touches, blending into a reliable, usable package.
Shooters with small hands love the 84FS Cheetah because of its narrower grip and slide compared to a full-size 92. It is also a good choice for female shooters looking for a 9mm self-defense pistol.
Beretta Bobcat
Beretta Bobcat. Image source: https://www.beretta.com/en-us/product/21a-bobcat-inox-FA0032
Caliber: .22 LR, .25 ACP

Capacity: 7+1 or 8+1 rounds (extended mag)

Length: 4.9 inches

Height: 3.6 inches

Width: 0.9 inches

Price: $410+
The Beretta Bobcat is not your typical EDC choice with its .22 and .25 calibers. However, there are some who don't mind carrying it.  It holds 7+1 or 8+1 rounds depending on the magazine. The Bobcat uses a double-action-only trigger with an automatic firing pin block safety to prevent accidental discharge.
One of the most unique things about the Bobcat is its tip-up barrel design. This makes it easy to load and unload the pistol, even with one hand. The Bobcat also has a very simple safety mechanism, which makes it easy to operate quickly and efficiently.
The Bobcat's accuracy is also great. Despite its small size, the Bobcat shoots surprisingly well, even at longer ranges. This makes it a viable option for self-defense, as well as for target shooting and plinking.
The Inox is one of the most popular versions of the Bobcat pistol. The stainless steel finish makes it more resistant to corrosion and wear. It is also easier to clean than the blued version.
Buy our holster pad and get the best of the EDC carry of your Bobcat.
History of Beretta 
Beretta is one of the oldest active firearms manufacturers in the world, with roots dating back to 1526 in Italy. The company was founded by Bartolomeo Beretta near Venice. Early productions included muskets and artillery for Venetian rulers.
In the 1600s, the Beretta family expanded production to include sporting firearms and pistols. Beretta invented some early breechloading systems in the 1700s and supplied arms to Napoleon's army.
The company became known for producing high-quality firearms throughout the 1800s and early 1900s. In 1915, Beretta developed one of the world's first submachine guns for Italian forces in World War I.
Beretta continued manufacturing reliable military firearms through World War II and the Cold War era, supplying Italian armed forces as well as many other NATO nations. The company's Model 92 pistol evolved to become the standard issue sidearm for the U.S. military as the M9 in 1985.
Today, Beretta remains family-owned and continues supplying military, law enforcement, and civilian markets worldwide. The company produces a wide range of pistols, rifles, shotguns, submachine guns, and other firearms.
What accessories can I add to my Beretta?
Enhance and customize your Beretta for different applications through a wide range of accessories:
Night sights with tritium inserts and fiber optic sights provide visibility in low light. Red dot optics provide an open sight picture for faster target acquisition.

Mounted pistol lights with LED illumination give better sight in darkness. Common light models include the Streamlight TLR-6 and SureFire XC1.

Lasers such as the Crimson Trace CMR-208 Rail Master universal green laser sight mounted under the barrel help with accuracy.

Extended magazines provide greater ammunition capacity. Floor plate mag extensions add grip length.

Upgraded match-grade triggers like the Langdon Tactical Pico Trigger Job Kit offer a smoother pull and cleaner break.

Options like Hogue Beretta 92 rubber grips provide enhanced texture and cushioning to improve the grip feel.
Best holsters for Beretta
The right CCW holster can make a world of difference for your Beretta. 
Inside the waistband (IWB)
Popular IWB holsters compatible with Beretta handguns are:
The Vedder LightTuck IWB gun holster is made from molded 0.8mm thick KYDEX for durability and retention. It enables configuring ride height, cant angle, and retention pressure for the user's preference. The available claw attachment pushes against the belt to prevent printing.

The Tulster Profile IWB holster uses 0.08" KYDEX for structural rigidity while minimizing bulk. The undercut trigger guard area allows a grip high on the Beretta for quick draws. The adjustable cant supports appendix, hip, or crossdraw positioning.

The Relentless Tactical Defender Leather IWB holster has a leather backing for comfort against the body, combined with a 0.093" KYDEX shell for pistol retention. The leather backing curves to match the hip contour, with an adjustable cant up to 15 degrees.
If you're wearing your Beretta in a KYDEX IWB holster, apply one of our holster pads to the body side of your holster for maximum comfort.
Appendix carry
Quality appendix holsters for Beretta compacts include
The Agis Elite features a modular mounting system to customize fitment using concealment wedge and/or claw attachments.

The TR Holsters Appendix Rig uses a rubberized outer layer for grip against the body and minimal printing under clothes.

The Vedder LightDraw has an adjustable cant angle and low-profile belt clips.
Outside the waistband (OWB)
OWB holsters such as the Safariland 7TS ALS Pro-Fit accommodate rail-equipped Beretta pistols. This Level I retention holster has an automatic locking system upon re-holstering. 
The BlackHawk OWB Serpa Active Retention model has a passive locking mechanism to secure the firearm.
Shoulder holsters
The Galco Miami Classic II is a premium leather shoulder holster fitting the Beretta 92/M9 series. It features a center-cut design to spread weight evenly across the back and shoulders.
The Alien Gear Shapeshift shoulder holster has breathable neoprene padding and interchangeable parts.
Beretta FAQ
Is Beretta good a concealed carry firearm?
Beretta makes several compact pistol models well-suited for conceal carry, like the Nano, Pico, and APX Compact. These micro-frame Berettas offer minimal imprinting under clothing. They provide substantial firepower in small packages, making them great concealed carry options. 
Is the Beretta 92FS a good concealed carry gun?
With its full-size frame and 4.9-inch barrel length, the Beretta 92FS is not an ideal everyday concealed carry pistol for most people. While a good shooter and military and police main service sidearm, the 92FS's larger dimensions make consistently concealing it under clothing a challenge. 
Is a Beretta better than a Glock?
There is no definitive "better" between Beretta and Glock pistols. Beretta is known for finer craftsmanship and elegant designs. Glocks offer rugged simplicity. 
For concealed carry, Beretta's slimmer compacts may imprint less than chunky Glocks. Accuracy is comparable, though Beretta's triggers feel smoother to some shooters. Glock offers vast aftermarket support. 
Reliability and durability are excellent for both brands. For military and police use, Glock may be preferred for the lighter trigger and larger magazine capacities.
What 9mm pistol is good for concealed carry?
Many excellent 9mm pistols work well for concealed carry. Top micro-compact 9mm choices include the Beretta Nano, Smith & Wesson Shield, Sig Sauer P365, Springfield Hellcat, Glock 43, and Ruger Max 9. Their slim, short profiles disappear under clothing. 
Other slightly larger 9mm carry options include the Beretta APX Compact, Sig P320 XCompact, CZ P-10 C, and Walther PPQ SC. 
What is the most famous Beretta pistol?
The Beretta 92FS is arguably the most famous and iconic Beretta pistol. Adopted by the U.S. military in 1985 as the M9, it gained widespread use and recognition through the 1990's and 2000's wars. 
Its distinctive open slide design and straight backstrap cut make the 92FS instantly recognizable. The 92FS had prominence in movies and video games for decades, further cementing its fame.
Is a Beretta good for self-defense?
Beretta pistols are great self-defense weapons. Full-size Berettas such as the 92FS provide high magazine capacities and steady shootability under stress. 
Compact Berettas like the Nano and Pico offer portable protection with minimal imprinting for concealed carry. 
Premium features on models like the APX Combat enhance defensive shooting capabilities. The smooth, consistent trigger pulls of Berettas enable precise shot placement if defending oneself. 
Is Beretta M9 the same as Beretta 92?
The Beretta 92 is the civilian version of the pistol, while the Beretta M9 is the military version. The M9 was adopted by the US Armed Forces in 1985 as their service pistol. While the M9 and Beretta 92 are both 9mm semi-automatic pistols with similar designs, the M9 has more ruggedized features to withstand military use compared to the commercial Beretta 92.
Why did the army stop using Beretta?
In 2017, the U.S. Army began replacing the long-serving Beretta M9 with the Sig Sauer P320-based M17/M18 as the new service pistol. 
Some key factors: 
The M9's 15 rounds lost out to the M17's 17 rounds. 

The Army wanted a modular pistol with changeable grips and slides. 

The M17's striker-fired operation differed from the M9's DA/SA mechanism. There were desires for accessory rails and threaded barrels. 

Older M9s showed wear after decades of use. 
Despite the M9's proven service, the Army adopted the M17 for enhanced capabilities. 
Further reading
What are the best AIWB holsters for women?
What is the best single-stack subcompact 9mm?
How to make seated appendix carry more comfortable?
What are the best concealed handguns for seniors?
Which guns are the best for summer?
Which CCW position should I choose?
How to choose the best CCW pistol?