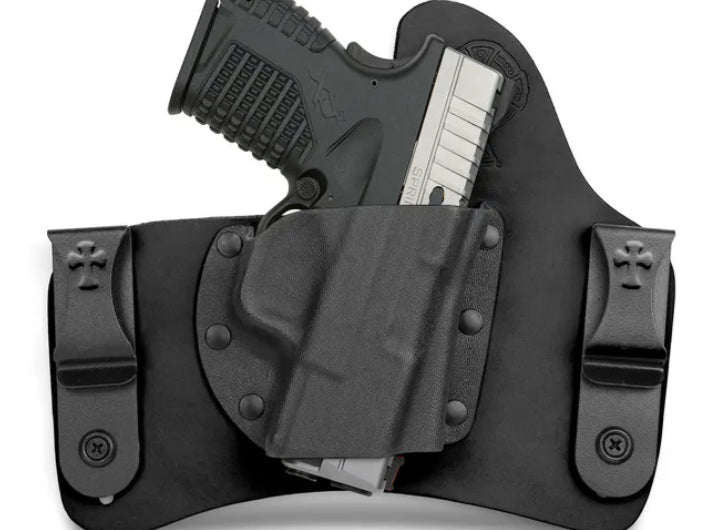 Female concealed carry enthusiasts love appendix carry, but they need a good holster. 
Quick links:
Making the holster work for your body
How to draw from an AIWB holster?
Of all the IWB positions in which you can pack a firearm, appendix carry, often abbreviated AIWB, is one of the most popular. The right appendix carry holster can make a world of difference for women.
Let's look at your options and find the best appendix carry holster for you.
Whatever holster you use, our memory foam pad will make it much more comfortable.
StealthGearUSA Ventcore Mini
StealthGearUSA Ventcore Holsters.
Image source: https://stealthgearusa.com/ventcore-1-0-iwb-mini-holster/
The StealthGearUSA Ventcore Mini holster is designed with patented Ventcore technology, which sets this concealed carry holster apart.
Ventcore technology incorporates strategically placed laser-cut ports, allowing maximum breathability and airflow. Women love its hard holster shell that provides reliable protection for the firearm, while the high-performance mesh backing wicks away moisture from your body. This ensures all-day comfort, especially during hot weather conditions.
One notable feature of the Ventcore Mini holster is its compatibility with red dot sight attachments. Depending on your firearm model, you can choose either the Red Dot Compatible (RDC) cut or the 'No Cut' option. The RDC cut provides extra space to accommodate red dot sights, enhancing versatility and customization options.
What sets StealthGearUSA holsters apart is their meticulous custom designs tailored to specific firearms. This precision results in perfect grip clearance and complete trigger guard coverage while holstered, ensuring quick and secure access when seconds matter most.
The Ventcore Mini holster comes equipped with polymer straight clips that strike a perfect balance between strength, weight, and spring retention. Additionally, it is compatible with suppressor sights, guaranteeing a secure fit even if your firearm is not equipped with suppressor sights.
Crafted with rust-resistant, black-oxide coated stainless steel fasteners, the Ventcore Mini holster is built to last. Its durable construction and attention to detail make it a reliable choice for everyday carry for women.
User Reviews
Over on Breach Bang Clear, Sara Liberte gave the Ventcore Mini high marks.
So what is the deal with this holster, why is it so comfortable? Well, it's made of a breathable, laser-cut ventilation mesh in combination with an integrated moisture shield, and padding cells. They call this patented tech "VentCore". It really does do what they say, "more comfortable carry with reduced sweating and irritation" Who isn't down for that?
Vedder Holsters LightTuck
Vedder LightTuck. Image source: https://www.vedderholsters.com/lighttuck/
One of the standout features of the LightTuck is its adjustable ride height. With three levels of adjustment, you can find the perfect AIWB position that suits your preferences. Whether you like it high, mid, or low, this holster has you covered.
Another impressive feature is the adjustable retention. You have the freedom to customize the tightness to your liking, ensuring a secure and comfortable fit every time you holster your weapon.
Versatility is key with the LightTuck, as it offers 30° of adjustable forward and reverse cant. This means you can wear your gun in various positions, from the standard 3-5 o'clock to the appendix and cross-draw.
Putting on and taking off the LightTuck is effortless, thanks to its sleek design. Your retention remains consistent, providing secure storage when not in use and seamless re-holstering when needed.
Crafted with .080" KYDEX, the LightTuck is incredibly thin yet exceptionally strong. It boasts a reinforced shell, allowing for convenient one-handed reholstering. Weighing only a few ounces, it adds minimal weight to your carry gun, ensuring optimal comfort throughout the day.
The LightTuck features a rock-solid spring steel clip with a patented design that is tuckable and leaves no visible print along your beltline. It comes in two sizes, fitting standard belts up to 1.5" or larger gun belts up to 1.75".
With full sight channels, the LightTuck accommodates standard sights, most suppressor sights, and even loaded chamber indicators. Customization options are available for modified setups or larger aftermarket sights at no additional charge.
A full sweat shield is something women appreciate about this AIWB holster. It keeps your gun clean and sweat-free, while an optional claw attachment enhances concealment by pulling the grip closer to your body. Vedder offers both right and left-hand draw options for all their holsters, ensuring accessibility for all users.
User Reviews
On Primer Peak, Tammy Bartels gave her review of the LightTuck.
The retention on the LightTuck is fantastic. Vedder touts that their "fit is so precise you will hear an audible 'click' every time you holster your gun, reassuring you that your gun is securely in place". I put the LightTuck through several hard sessions and never had an issue with retention. The Vedder LightTuck holster has a ton of adjustability. Getting it just right is key to comfortable carry. 
CrossBreed AIWB Holster
The CrossBreed AIWB Holster is purpose-built for popular small to medium firearms, offering a comfortable and accessible solution for appendix carry enthusiasts. With its no-cant design, it is specifically designed for appendix carry.
CrossBreed takes pride in its meticulous craftsmanship, and this holster is no exception. It features a hand-molded pocket that ensures a perfect fit for your firearm. This attention to detail guarantees a secure and reliable experience.
One notable advantage of this holster is its versatility. While primarily designed for appendix carry, it can also be positioned for cross-draw carry. This adaptability ensures that you can find the most comfortable and convenient position for your needs.
Women love the thoughtful design and quality materials of this holster. It sits securely and comfortably against the body and boasts durable construction and reliable retention, ensuring the safety and security of your firearm.
User Reviews
On The Truth About Guns, Sara Tripton gave high marks to the Crossbreed holster.
I was genuinely surprised by the leather's feel. As advertised, it felt smoother than your average holster and, dare I say it, sexy against my skin. Equally important, and unlike several other holsters in my burgeoning collection, the WACH's screws and rivets are virtually flush with the leather. No cold metal against my skin.
Tier 1 Axis Slim
Designed as an evolution of the original AGIS holster, the Axis Slim introduces a unique twist to enhance performance. It uses a military-grade shock cord, allowing the firearm to flex closer to the body independently of the magazine. This improves concealment by reducing printing and enhancing the overall fit against the body.
The flexibility of the Axis Slim goes beyond just better concealment and is something that makes this holster a good option for female CCW enthusiasts. The shock cord connection enables the holster to adapt to your body's movement and positioning. Whether getting in and out of vehicles or bending over, the holster flexes where needed without compromising on security or comfort.
The Axis Slim offers customization options as well. The shock cord can be easily replaced, providing longevity and allowing users to switch to different colors to suit their preferences or style. This feature ensures the holster remains functional and visually appealing over time.
The Axis Slim is built to withstand regular use and offers reliable retention for your firearm. The attention to detail and use of durable materials make it a reliable choice for everyday carry.
User Reviews
This user loves her Axis Slim for its comfort.
Dara Holsters Slick Side AIWB
The Dara Slick Side AIWB holster is crafted from durable black .093" Boltaron/KYDEX material. It offers reliable performance and a sleek appearance that is popular with a lot of ladies.
One notable feature of the Slick Side holster is its adjustable rubber retention system, which allows users to customize the level of retention to their preference. This ensures a secure fit for the firearm while allowing for a smooth draw when needed.
To enhance concealment, the holster comes with a removable claw that tucks the grip of the gun inward, minimizing printing. This feature enables comfortable and discreet AIWB carry in various clothing styles.
The Dara Slick Side holster offers versatility in terms of clip options. It comes with a slim, tuckable clip available in 1.5" or 1.75" sizes, accommodating different belt widths and providing stable attachment to the waistband.
Adjustability is another highlight of this holster. It features an adjustable cant angle, allowing users to customize the tilt of the holster by 15° forward or reverse. This versatility enables finding the optimal carry position for individual comfort and draw preference.
The Slick Side holster provides a full sweat shield, ensuring minimal contact between the firearm and the body while keeping the slide clean and sweat-free. The covered mag release and trigger guard add an extra layer of protection and peace of mind.
User Reviews
"The thin, tuckable belt clip slips right into the spot between the buckle and first belt loop, while the added tuckable feature is perfect for business casual," says this YouTube review of the Dara holster.
Make AIWB comfortable by attaching our memory foam pad to your holster. 
Advantages of Appendix Holsters
Appendix carry holsters have some advantages over other holster types.
Enhanced Concealment
By positioning the firearm in front of the body, these holsters allow for better concealment under various clothing styles commonly worn by women, such as dresses, skirts, or form-fitting attire. 
AIWB minimizes printing and offers a more streamlined silhouette, enabling women to carry with confidence while maintaining their personal style. With enhanced concealment, women can discreetly and comfortably carry their self-defense firearms, empowering them to stay safe and prepared in any situation.
Quick and Easy Access
With the firearm positioned in the appendix position, it allows for a fast and instinctive draw, enabling women to respond swiftly to potential threats. Because of the holster's proximity to the dominant hand and natural body mechanics, it is easier to access the firearm quickly, reducing draw time and making it an excellent choice for personal protection. 
Increased Retention and Security
Appendix holsters typically feature robust retention systems, ensuring that the firearm stays securely in place during daily activities. They usually also have adjustable retention mechanisms, such as friction or retention screws, offering enhanced security and peace of mind.
Improved Weapon Retention
The placement of the holster in the appendix position allows for better weapon retention during physical activities or close encounters. This position also reduces the chances of an attacker gaining control of the weapon.
Comfortable for All-Day Carry
Many appendix holsters are designed with ergonomic features, such as adjustable ride height and cant, providing a comfortable and customized fit. Women can adjust the holster to their preferred position, finding the right balance between comfort, concealment, and accessibility for prolonged periods of carry. 
Disadvantages of Appendix Holsters
Some ladies don't care as much for appendix carry. Here are some of the more common complaints.
Potential Discomfort for Some Body Types
The appendix carry position may be uncomfortable or impractical for women with certain body types, such as those with shorter torsos or larger midsections. 
Limited Clothing Options
Appendix carry may require adjustments to clothing choices, as certain styles or clothing with tight waistbands may not accommodate the position of the holster effectively. Women may need to consider their wardrobes and make adjustments to accommodate the placement of the appendix holster without compromising concealment or comfort.
Increased Muzzle Awareness
Due to the holster's position in close proximity to the body's centerline, extra attention must be paid to the muzzle direction during the draw and re-holstering process.
Comfort While Seated
Sitting for extended periods can be less comfortable with an appendix carry holster due to the firearm's position and potential pressure points. Depending on body type and individual comfort preferences, appendix carry may cause discomfort or pressure points when sitting for prolonged durations. See our guide to the best holsters for sitting to maximize your comfort, and be sure to use a GunZee holster pad.
Say goodbye to uncomfortable AIWB carry. Apply our memory foam pad to your holster and thank us later!
Making the Holster Work for Your Body
Make your holster work for you and your body type. Let's explore the key considerations and practical tips to optimize your concealed carry experience.
Ride height: choose the ride height that works best for you. High ride height offers quick draw and comfort but may cause printing. Mid-ride strikes a balance, while deep concealment sacrifices draw speed.

Cant: the holster's angle, or cant, affects draw accessibility. Fixed or adjustable, choose a cant that suits your body and desired draw position.

Safety, security and comfort: ensure the gun sits snugly against your body to avoid printing. Find a torso placement that allows a natural and comfortable grip, and adjust the holster's position along your belt line for optimal comfort. Luckily,

our memory foam holster pad 

will help you make any AIWB holster the most comfortable ever.

Concealment: Use add-ons such as a concealment claw or wedge to solve printing issues. For better concealment, move your holster closer to your belly button.
How to Draw From An Appendix Holster
Once you've mastered the fit and look of your concealed carry gear, it's time to master the art of the AIWB draw.
Clear any obstructions like clothing or accessories with your supporting hand.

Get a firm, high grip on your gun with your strong hand.

Take your weapon out of your holster in a vertical, outward motion.

Bring the muzzle up and point it at your target.

Rotate the gun and get a two-handed grip.

Go to a compressed ready position or present on the target.
AIWB for Women FAQ
What are the drawbacks of appendix carry?
Inexperienced gun owners are at a higher risk of accidentally shooting themselves, which is the biggest drawback for many people considering appendix carry. Accidents usually happen when re-holstering.
Is appendix carry very uncomfortable?
Because the appendix position places the majority of the holster (below the beltline) and the entire length of the barrel of your gun right into your body's main "hinge" as you sit, it can be quite uncomfortable to sit for long periods of time while carrying this way. 
What is the best position for appendix carry?
Appendix carry is concealed inside the waistband in the 1-2 o'clock position, or right in front of your hip.
Is appendix carry fast?
Appendix carry is one of the fastest positions to draw from, ideal for competition target shooting and defensive training alike, allowing you to retrieve your weapon quickly.
Why is appendix carry so popular?
Appendix carry is popular because it allows for quick and easy access to the firearm because it is located in an area where your dominant hand can easily reach it. AIWB carry is also easier to conceal for some women.
What is the best cant angle for appendix carry?
Most people prefer a 7.5° reverse cant, depending on the firearm. This will align the barrel with your groin's natural fold, preventing leg or belly poking. If you're carrying a small gun, a straight draw is also acceptable.
Are belly bands a good option for concealed carry for women?
Belly bands are an excellent choice for female concealed carry. They conceal a wide range of firearms well, are comfortable because they lack hard sides like KYDEX or plastic, and are less expensive than other types of holsters.
Belly band holsters are also one of the most versatile holster options for women's self defense. They're exactly what they need to effectively carry their firearms with the variety of clothing styles they wear.
What are the best types of CCW holsters for women?
The best women's holsters for concealed carry are:
thigh holster shorts

ankle holsters

IWB holsters

concealed carry leggings

belly bend holsters

corset holsters

bra holsters
Are OWB holsters easy to conceal?
Outside the waistband holsters are generally more challenging to conceal than IWB gun holsters. But with the right clothing and positioning, it is possible to conceal an OWB holster effectively. Factors such as the size of the firearm, holster design, and clothing choice play a significant role in concealing an OWB holster.
How does body shape impact the selection of a concealed carry holster?
Body shape plays a crucial role in choosing a concealed carry holster. Factors like body size, curves, and clothing preferences influence the type of holster that offers comfort, a proper fit, and effective concealment. 
Are outer thigh holsters a practical choice for women's concealed carry?
Outer thigh holsters can be a decent option for women's concealed carry, particularly for those who prefer carrying on the leg. 
What are concealment leggings and how do they assist in carrying a firearm?
Concealment leggings are specialized garments designed for discreetly carrying a firearm. These leggings feature built-in holsters or pockets strategically positioned to provide secure concealment while maintaining comfort and style. They offer an alternative to traditional holsters and can be a practical choice for women interested in concealed carry.
Why is ear protection important for firearm enthusiasts?
For those who enjoy using firearms, ear protection is essential to preventing hearing damage from the loud noise of gunfire. Wearing appropriate ear protection, such as earmuffs or earplugs, reduces the risk of long-term hearing loss and ensures a safe and enjoyable shooting experience.
How does a hip hugger holster provide effective concealment and comfort?
A hip hugger holster is designed to be worn around the hips, providing a secure and discreet method of carrying a firearm. The holster's unique design hugs the body, offering enhanced concealment and comfort while ensuring quick and easy access to the firearm when needed.
What are some important considerations when learning to draw your gun safely and efficiently?
When learning to draw your gun safely and efficiently, focus on fundamentals such as proper grip, stance, sight alignment, and trigger control. Practice drawing from various positions, maintain muzzle awareness, and seek professional firearm training to develop safe and effective drawing skills.
What makes Alien Gear holsters a popular choice among concealed carry enthusiasts?
Alien Gear holsters have gained popularity due to their innovative designs, quality craftsmanship, and versatility. With features like adjustable retention, customizable carry positions, and comfortable materials, Alien Gear makes good holsters for women.
Are AIWB holsters good for home defense?
Because of the high risk of femoral artery damage in the event of a negligent discharge, AIWB holsters may not be the best option for home defense. Risk of "shooting off" or damaging private parts and the groin area in general.
Why is Springfield Armory a trusted brand for firearms?
Springfield Armory has established a reputation as a trusted brand in the firearms industry due to its commitment to quality, reliability, and innovation. Their wide range of firearms, including pistols and rifles, offer excellent performance, ergonomic designs, and the latest features, making them a popular choice among firearm enthusiasts.
What makes Sticky Holsters a unique option for concealed carry?
Sticky Holsters stand out as a unique concealed carry option due to their innovative design. These holsters feature a special non-slip material that adheres to clothing or the body, providing secure retention without needing clips or loops.
What are mag carriers and how do they enhance my carry system?
Mag carriers are accessories that securely hold spare firearm magazines, enhancing your carry system by providing convenient access to additional ammunition. They ensure you have an adequate ammo supply for self-defense and faster reloads in critical situations.
Who has the best concealed carry corset holsters?
Here are some of the most popular concealed corset holster manufacturers:
Dene Adams

Can Can Concealment

CrossBreed Holsters

UnderTech UnderCover

Femme Fatale Holsters
Further Reading
What is the best holster for the Glock 43?
What's the best concealed carry holster for women?
What's the best Hellcat holster?
What are the best concealed carry guns for new shooters?
What are the best concealed carry guns for women?